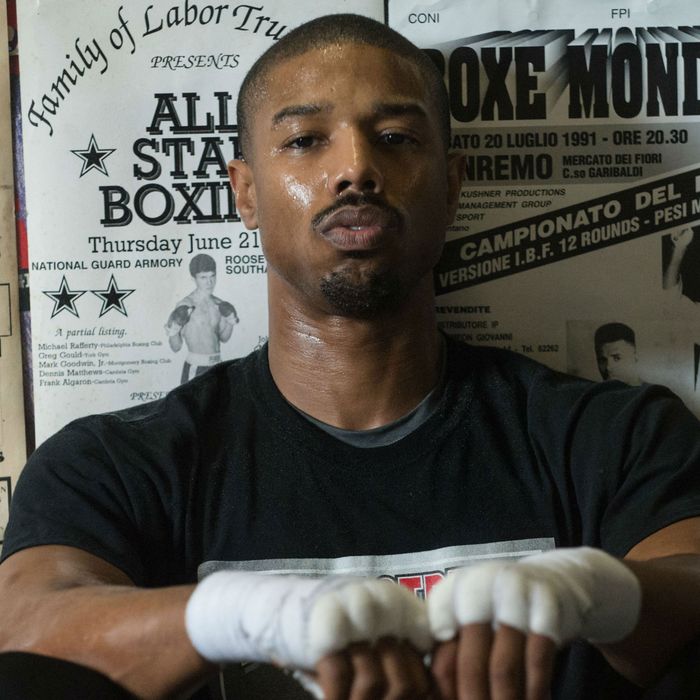 It's been 38 years since audiences first watched Rocky Balboa trade haymakers with Apollo Creed in Rocky's climactic bout, a fight that was as thrilling as it was physiologically improbable. The latest installment in that franchise, Creed, once again has fans and critics cheering for its stirring, albeit familiar, underdog-boxer tale. It also mercifully skips over the more bureaucratic aspects of the modern boxing landscape, which would have put a damper on Adonis Creed's tale. Upsets and long-shot scenarios have forever been a part of the sweet science's appeal, but how blurred are the lines between Don's ascension and the realities of the business of boxing? We take a closer look.
There are many spoilers ahead.
Creed: While working a white-collar day job on the side, young Adonis Creed, having been blackballed by the L.A. boxing community due to his parentage, regularly travels to Mexico to compete in underground fights.
Credence: Unsanctioned boxing matches have been around since the advent of the Queensbury Rules. Known in boxing parlance as 'smokers,' this type of bout was widely popular throughout the early to mid-1900's, filling Elks Clubs and Knights of Columbus halls across the country. While pros often participated, the action didn't register on a fighter's record. "They were never considered professional bouts," explains boxing historian and Showtime analyst Steve Farhood. Today, smokers are far less common and are strictly for amateurs. Pros looking to pad their records — and make an easy buck – need not head south of the border. Many travel to southern states like North Carolina and Alabama, or to the Dominican Republic, where local boxing commissions are notoriously lax and regularly permit gross mismatches.
Creed: Under Rocky's tutelage, Creed begins training at Mickey's Philly gym. Soon enough, he gets set up in a pro match against Leo "the Lion" Sporino, the son of the gym's owner and holder of a 17-0 record.
Credence: The movie positions the seeming mismatch as payback by Sporino's father, whose requests to have Rocky train his son were rebuffed. Although Creed looks ready for his first pro fight, stepping into the ring against the Lion would never happen. For one, facing Creed would be a lose-lose proposition for Sporino. If Creed pulls off a huge upset, the Lion's career is derailed. If the Lion beats Creed, it would be seen as a joke – a seasoned vet beating up a kid with a 0-0 record. Not to mention that Sporino – at this point in his career – would be fighting in nothing less than ten-round fights. A boxer making his pro debut, especially in this day and age, would fight no more than four or six rounds.
Creed: Anxious to make a name for himself, Creed does everything in his powers keep his identity a secret — but he can only do so much. After the truth emerges, his famous last name gets him a shot at the title.
Credence: Over the years, there's been no shortage of boxing scions with famous last names like Duran, Frazier, Hearns, Camacho, Pryor, Ali, and Mayweather. Unquestionably, having a Hall of Fame boxer for a father has its perks. "It's easier to get through the door," says Lou DiBella, a New York–based promoter who's worked with Aaron Pryor Jr. and Thomas Hearns Jr. That edge equates to better management, bigger purses, and a higher profile. Yet the biggest benefit of having a legendary father may be the lifelong immersion. "Look at someone like Floyd Mayweather," says DiBella. "It's a huge advantage knowing the science of the game since you were a baby." Of course, fame has its downside — most notably, as Creed saw firsthand, the expectations. Boxing-world titles, despite the number of weight classes and sanctioning bodies, are not easy to come by (nobody "buys" a world title), and the pressure of a household name doesn't help. A handful of father-son tandems have won titles including Floyd and Tracy Harris Patterson, Leon and Cory Spinks, and Julio Cesar Chavez and son Julio Jr., but they're the exception. "It's like any field," warns DiBella. "Just because you're the son of a famous actor doesn't mean you're going to win an Academy Award."
Creed: In a prefight scuffle, reigning champ "Pretty" Ricky Conlan breaks the jaw of his opponent (and No. 1 ranked challenger). Needing a new opponent, Conlan's team turns to Creed.
Credence: While Creed stepping in to get his big shot makes for a compelling Hollywood script, it wouldn't happen in real life. The reason? Money and politics. Since the 1970s, pay-per-view has served as boxing's golden goose. Any bout between the pound-for-pound champ and the No. 1 contender would have the makings of a mega PPV event. Maybe not to the degree of Floyd Mayweather vs. Manny Pacquiao earlier this year, which drew $400 million, but certainly on the level of the recent Miguel Cotto–Canelo Alvarez fight (Cotto was guaranteed $15 million, Canelo $5 million). A broken jaw obviously means a fighter can't get in the ring, but a postponement is far more likely than a different – and untested — fighter. In 2009, Mayweather, while preparing for a PPV bout against Juan Manuel Marquez, injured a rib in training camp. No new opponents were considered and the July date was quickly rescheduled for September. If Conlan were to take on the young Creed it would almost certainly not be on PPV, but instead moved to pedestrian cable TV. Since the champ needed one last big fight before going to jail so he could leave his family with a bucket of cash, there's no way he'd slum it with an up-and-comer.
Creed: The young Creed only has one professional fight, the win against Sporino, under his belt when he is offered a title shot against the undisputed, undefeated champ.
Credence: Much of the beauty of boxing is its lack of convention. While it's rare that such an inexperienced pro would get a title shot, it's not impossible. Other than declaring oneself a pro, there are no formal requirements and/or prerequisites to getting any bout. "There have been two examples where a fighter made his pro debut in a title fight," explains Farhood. The first was a 1957 bout between heavyweight champion Floyd Patterson and 1956 Olympic gold medalist Peter Rademacher (Rademaker got KO'd in the sixth). The second was light flyweight champ Luis Estaba's 1978 four-round stoppage of Rafael Lovera (Lovera never fought again). The closest recent example? In 2014, in just his second pro fight, Vasyl Lomachenko (one of the best all-time amateurs) fought for the featherweight title (he lost a split decision but won the title in his subsequent fight). What wouldn't fly, however, is Conlan's manager being able to spin Creed's 15 fights in Mexico as pro bouts. If they were unsanctioned, there's no way they'd get appended to his pro record.
Creed: The climactic title fight is a classic war. In the end, Conlan squeaks by with a split decision and retains his title. We know star Michael B. Jordan and director Ryan Coogler are talking sequels — so where does the fight's outcome leave Creed?
Credence: Typically, both fighters would have ample options. If Conlan had participated in consecutive brutal bouts, his handlers might prefer to next match him against an easy opponent. Or he might opt to face his initial opponent, the one whose jaw he broke (presumably the public would be even more excited for what has become a very personal grudge match). Creed, on the other hand, could choose to build his record (he's only 1-1 at this point) through a series of well-matched fights (meaning opponents who give him trouble, but not too much trouble). This would provide much-needed experience and seasoning, and help him develop as a pro.
But the preference for both sides, from a financial standpoint, would very likely be a rematch, and soon. "You'd want to put it together immediately," explains Eric Bottjer, a matchmaker at Roc Nation Sports. "Creed wants the title, and wants it as soon as possible. And from Conlan's point of view, with every fight you never know what you have left. When you're facing a young fighter, you know they're only gonna get better." Of course, there's a wrinkle in that plan: Conlan was recently convicted on a gun charge and is soon to be serving a seven-year jail sentence. According to the movie's timeline, there doesn't seem to be a window for a rematch — fighters need months to recover and then retrain. In 2006, Shane Mosley fought a rematch against Fernando Vargas in about four-and-a-half months; even that felt fast.
Assuming, then, that Conlan does go to jail before a rematch can be held, his titles would be vacated and it would be up to the new top fighter, the one mending his broken jaw, to determine his opponent for what would become a new title fight. He may very well want to capitalize on the buzz and challenge Creed, who has proven himself a worthy opponent and, presumably, much more of a draw. But as noted above, Creed might not want to do that. The Conlan fight established him as a legitimate boxer, meaning he can be more calculating about the next few matches he takes. Would he want to chase a title again right away? Or take the time to fight mid-level opponents and refine his skill set? Hell, maybe he wants to switch to the UFC. We'll have to wait for Creeds 2–15 to see.