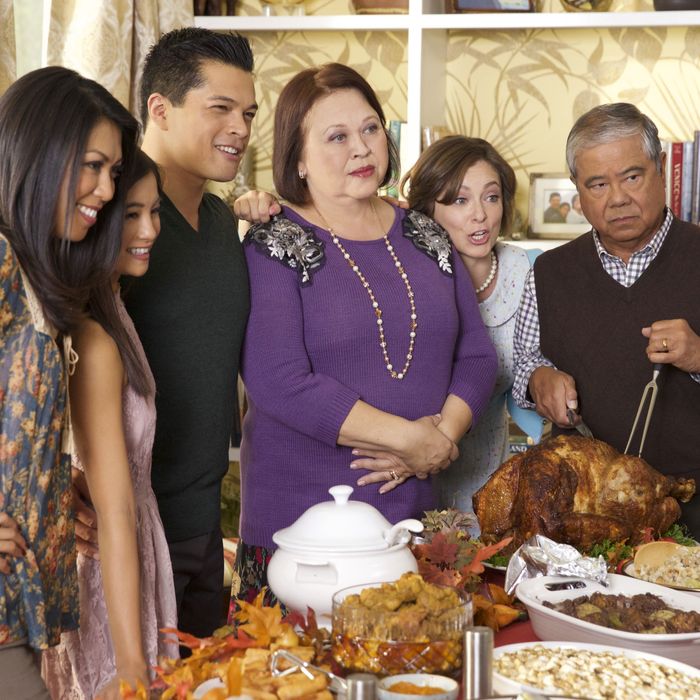 From left: Tess Paras as Jayma, Coryn Mabalot as Jastenity, Vincent Rodriguez III as Josh, Amy Hill as Lourdes, Rachel Bloom as Rebecca, and Alberto Isaac as Joseph.
Photo: Tyler Golden/CW
On Monday's episode of Crazy Ex Girlfriend, Rebecca cooks a traditional Filipino dish called dinuguan to impress Josh's family at their Thanksgiving celebration. By the time it came to filming the scene that included eating the pork blood stew, the meal looked more like carnitas than the hearty soul food it was meant to be.
"The dinuguan had been sitting on set all day in the heat, so it no longer looked accurate," said episode writer Rene Gube. "I started thinking about whether I'd say so because the props guy was working his ass off, and if I slowed down production, we might run overtime, and it would cost thousands of dollars. But [executive producer Aline Brosh McKenna] saw my face and asked what was wrong. When I told her, she immediately stopped everything and said, 'It's done, we'll fix it.'" This might be perceived as a minor course-correction in other circumstances, but for the Filipino-American actor and writer, it was proof that his bosses are committed to representing Filipino culture authentically on the CW musical comedy — the first TV series to depict Filipino-American family life, with a large Filipino cast of actors, in a single episode. "I was encouraged every step of the way to make it truthful and accurate," Gube said. "That's something I've never felt the agency to do by my previous bosses."
Created by internet sensation Rachel Bloom and McKenna (The Devil Wears Prada), Crazy Ex Girlfriend is the story of Rebecca Bunch (Bloom), a Manhattan lawyer who drops her life to follow her high-school boyfriend, Josh Chan, to the Los Angeles suburb of West Covina, California. Vincent Rodriguez III plays Josh, and, as a Filipino-American, he served as the inspiration for Josh's ethnicity, Brosh McKenna told Vulture. Before producers cast Rodriguez, the part was vaguely sketched as "Asian bro" with the understanding that the writers would assign ethnicity when they found the right actor.
"When I had my final call with Aline and Rachel, I asked them why Josh was an Asian guy and not a white guy," Rodriguez said in an interview. "They said they'd both grown up in Southern California near the beach. Of all the bros and attractive men they'd encountered, there were definitely Asians among them who were just as hot and as cool and attractive." His ethnicity is also representative of a large swathe of the area's demographics — of the approximately 3.5 million Filipino-Americans in the U.S., about a quarter of the population is concentrated in Southern California.
"[Aline and Rachel] said, 'We've never seen that on TV before.' I found that so interesting because I grew up with Joshes all around me, so the idea of playing this part felt right to me," Rodriguez said. "It's cool to have this be my breakout role because it means so much more to me personally that I'm playing a role that is altering network history and putting Filipinos more on the map. The show is not about the fact that Josh is Filipino, but the fact that it was an active choice that was made, and it was treated with such integrity, is what's important."
Gube, who performs with Upright Citizens Brigade and knew Bloom through those improv circles, was hired after the Crazy pilot was produced. His shared ethnicity with Rodriguez was a coincidence, but it has become critical in conceiving stories, Brosh McKenna said. Gube was pivotal, she noted, in creating the part of compassionate stud Father Brah — played by Gube himself — and in fleshing out Josh's family, who were introduced in Monday's episode.
Gube was previously a writer and actor on TBS's Ground Floor, where he recalls sneaking his ethnicity into a script just one time. "I fought all year to get one joke in that identified me as a Filipino person," he said. "I saw how much that meant to Filipino people on Twitter, and I can relate because growing up, there was only Rob Schneider and Lou Diamond Phillips. To have an opportunity to create a fully developed Filipino character, a male romantic lead, I've never seen that before, and I was super excited about that. It is a great opportunity to show a Filipino family on network television, and show how American that Filipino family truly is."
Every detail of the Thanksgiving episode — from the casting to the dialect to the food — was carefully considered. "It was very close to home and felt very real on set," Rodriguez said. "We're really focused on the family values and the environment Filipino families create at Thanksgiving. Rene is a great resource in terms of what we're trying to accomplish with a Filipino family on television and the kinds of things that need to be in place."
While dinuguan isn't a dish typically served on Thanksgiving, Rodriguez said, Rebecca bringing it rang true because of her desire to impress the family. "Having Josh be from a warm, large, ethnic family was important to us because that's something Rebecca doesn't have," Brosh McKenna added. That family consists of Lourdes, Joseph, Jayma, and Jastenity. Josh's mom, Lourdes, is played by Amy Hill, whom Brosh McKenna remembered from working on a project together 20 years ago. Hill is half-Japanese, while the rest of Josh's immediate family was played by Filipino-American actors: Alberto Issac was cast as his father (Joseph), and Tess Paras (a friend of Bloom's she had wanted to cast for a while) and Coryn Mabalot play his sisters (Jayma and Jastenity, respectively). To round out Josh Chan's extended family, the show's casting director chose mostly Filipino-American background actors.
"The last time I'd seen that many Filipinos was at my Thanksgiving," Gube said. "It was an amazing feeling."