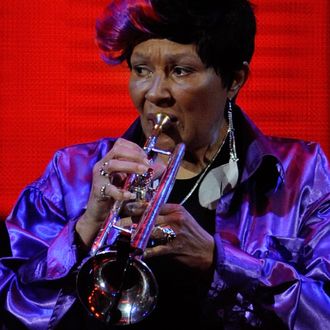 Cynthia Robinson.
Photo: Ethan Miller/2011 Getty Images
Cynthia Robinson, Sly and the Family Stone's co-founder and trumpeter, has succumbed to a battle with cancer. The news was posted on the musician's Facebook page Tuesday. She was 69. "She covered a lot of ground," Stone saxophonist Jerry Martini told Billboard, of his longtime bandmate. "She was the first female trumpet player and the first African-American trumpet player in [the] Rock and Roll Hall of Fame. She wasn't in the back. She was out front telling you to get up and dance to the music."
Martini's quote refers to the Stone song "Dance to the Music," in which Robinson tells the listener to do exactly that:
"I know the songs that Sly wrote still have meaning for those that are living today that weren't even around when we started playing before, in the beginning," Robinson told Huffington Post in 2013, referencing the music she performed and continued to popularize until her death. "His lyrics, to me, if you listen to them, they can form a lifestyle that will leave you a happier person, a better person on this planet. It's just lyrics to live by."
The trumpeter first teamed up with Sly Stone in 1966, staying with him as they forged music's first inter-gender, interracial group through the '70s and '80s. The Sacramento-born Robinson also performed and collaborated with such artists as Larry Graham, George Clinton, Prince, and her and Sly's daughter, Phunne, among others — most recently in a group simply called Family Stone (sans Sly) — in a career that spanned roughly five decades.
Upon hearing the news of her death, the Roots's Questlove uploaded a thoughtful, illuminating tribute to his Instagram, calling Robinson music's original "hypeman" and lauding her for her contributions:
She was a KICK ASS trumpet player. A crucial intricate part of Sly Stone's utopian vision of MLK's America: Sly & The Family Stone were brothers & cousins. friends & enemies. black & white. male & female. saint & sinner. common man & superheroes. guarded & vulnerable. poets & punks. hip & square. She was so cool to us the day we opened up for#SlyAndTheFamilyStone she never ever lost a step or a beat. Even when we weren't so sure if Sly was coming or going during that "comeback" tour (he'd play 20 mins, come onstage and cameo w em for 2 songs, leave, watch them then come back 30 mins later) Cynthia Robinson held that band down. Until her passing The Family Stone was one of the last few #RRHOFgroups from the 60s in which ALL original members were still present & accounted for. part of me held hope that#LarryGraham would bury the hatchet & return to the fold just one more time (could you imagine HOW powerful a Sly #GCScombo coulda been? Even if Sly pulled that 6 song ish you know and I know #Princewould be in the wings as pinch hitter and we'd all be the more wiser for it. Cynthia's role in music history isn't celebrated enough. Her & sister Rose weren't just pretty accessories there to "coo" & "shoo wop shoo bob" while the boys got the glory. Naw. They took names and kicked ass while you were dancing in the aisle. Much respect to amazing#CynthiaRobinson

Robinson is survived by her two daughters, her grandchildren, and the remaining members of her musical family. Those behind her Facebook have asked fans to continue contributing to the Cynthia Robinson Cancer Care Fund, here.