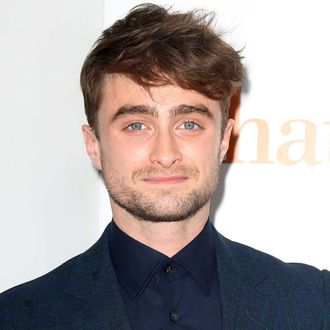 So freakin' relatable.
Photo: Splash News/Corbis
After retiring from playing Harry Potter, Daniel Radcliffe is really excited to watch the next schmuck who signs up to take on the iconic role in J.K. Rowling's planned sort-of-not-really sequel West End play, Harry Potter and the Cursed Child. In an interview with NME, Radcliffe said that he's happy for the franchise to go on without him, but that he's also excited to see a new take. "Now that I know [Harry's in it] I actually really want to see it," he said, "It would be a mental thing to try and see it with lots of very excited Harry Potter fans. But I kind of would like to know what happens now." Basically, good luck playing Harry Potter in front of Harry Potter himself.
Radcliffe also talked about the newest photos from Fantastic Beasts and Where to Find them — "Oh fuck you, Eddie, in your brilliant costume … I got jeans and a zip top for ten years and you've got a greatcoat already?" — and how he deals with the Harry Potter fans who are are grown up and "out in the world" now: "I still have a natural reserve that makes me go, 'Oh don't be so silly, I wasn't responsible for your childhood.' But I think about the stuff that means a lot for me from my childhood, like The Simpsons, and how, when I did a voice on The Simpsons I got a signed thing from Matt Groening and that was so fucking exciting."
Oh, and for the record, Radcliffe did not masturbate on the Harry Potter set. "Can you make this clear for me," he told NME. "I was not wanking during the filming of Potter — I managed to restrain myself until I got home." As they say, mischief managed.
Read the full interview here.