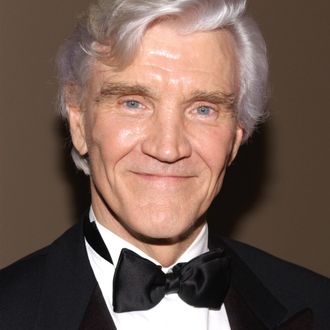 David Canary.
Photo: Lawrence Lucier
Actor David Canary, the All My Children veteran who played the show's good-and-evil twin brothers Stuart and Adam Chandler for nearly 30 years, died earlier this month in Connecticut. A newly released family announcement attributed his November 16 death to natural causes. He was 77. Canary was best known for his work on All My Children, which led to five Emmy wins for Outstanding Lead Actor. Although he retired from full-time acting in 2010, he had cropped up sporadically since then, most notably returning for the soap's 2011 finale.
"My career on All My Children has given me more than words could ever convey, both professionally and personally," he had said, upon retiring, according to the Akron Beacon Journal. "I have cherished each and every moment. I would like to thank all the fans who have tuned in throughout the years. Their love and support has meant the world to me."
The actor was born in Elwood, Indiana, and raised in Massillon, Ohio, where he played football and studied music. The Wilton Bulletin notes that after graduating from the University of Cincinnati, a young Canary turned down an opportunity to play pro football for the Denver Broncos, traveling instead to New York to kick off his acting career. He began with success on Broadway, then moved to the West Coast after a short stint in the Army. Aside from All My Children, Canary made a name for himself in Hollywood with roles in such shows as Peyton Place, Gunsmoke, One Life to Live, and Bonanza, among others. 
Canary is survived by his wife, Maureen; son, Christopher; daughter, Kathryn; grandchildren; and one of his brothers. The Bulletin reports that a memorial tribute is forthcoming, and that family members have requested donations be made to the Alzheimer's Association.