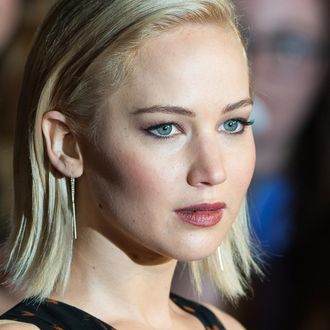 Mr. Jennifer Lawrence.
Photo: Samir Hussein/WireImage
Jennifer Lawrence is this month's Vogue cover star, and in a long interview that touches on everything from politics (Kim Davis makes her "embarrassed to be from Kentucky") to pizza (her order is pepperoni-and-jalapeño, with ranch on the side), Lawrence also goes deep on her creative partnership with David O. Russell, who has directed her in three films, including the upcoming Joy. The reason they work so well together, she says, is because they're both so intense: "Because I'm not so sensitive, we can really talk, like, man-to-man. Sometimes he accidentally refers to me as he or him." Weird! But Lawrence assures Vogue it's cool: "[H]e really respects and understands women, and by that I mean he doesn't treat a woman any differently than he'll treat a man. He would never tiptoe around a woman."
Elsewhere in the profile, Lawrence clarifies exactly what that on-set "screaming match" with the director was about. "I was fucking mean [to Russell] on set," she says. Once, when she was sick with the flu, she berated him to the point where he told her, "Genuinely, from the bottom of my heart, I am scared of you." When everybody else looks at Jennifer Lawrence and sees this, David O. Russell looks at Jennifer Lawrence and sees this.