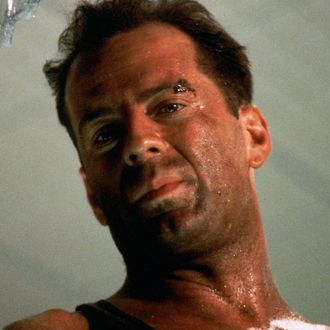 A Die Hard movie not written by Eric D. Wilkinson.
Photo: Twentieth Century Fox
Anyone who picks up a print copy of The Hollywood Reporter this week will be treated to a surprise: a full-page ad (see below) from Die Hard fan Eric D. Wilkinson pitching his idea for the upcoming sixth Die Hard movie. (It involves a murder case from the '70s, a handful of terrorists, and John McClain getting wrongfully imprisoned.) Now, Gawker has caught up with Wilkinson, an indie-film vet who produced the well-regarded Man From Earth, and who, it turns out, is very chill about the idea that he's spent all that money for nothing. "I'm not going to hear from them," he admits. "My chances are slim to none." So, why did he waste an unknown, but presumably very large, amount of his savings on the ad? "I'm a fan. I'm no different from anybody else that sits behind their computer and sounds off ideas for good movies. The only difference is I said, 'To hell with it, I'm going to take money out of my savings and do this.'" Wilkinson added that the ad was "a Christmas present to myself," thus proving America's film pedants right: Die Hard really is a Christmas movie.