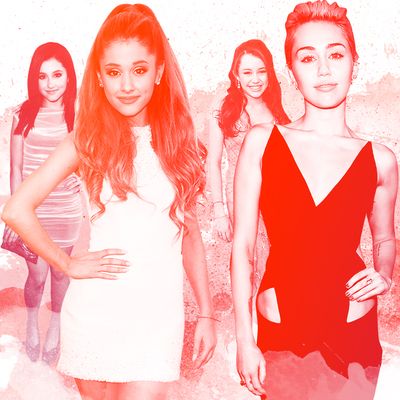 Photo-Illustration: Maya Robinson and Photo by Getty Images
It's been 16 years since the last tsunami of ex-Disney stars engulfed pop music with 'N Sync (and Justin Timberlake), Britney Spears, and Christina Aguilera. Collectively, the teenage former Mouseketeers sold tens of millions of albums and embarked on fully fledged adult careers. Now well into their 30s, Timberlake, Spears, and Aguilera remain everywhere, and set a template for transitioning from kid-friendly TV to teen-pop to megastar in the modern age.
So why does this generation's wave feel so much bigger? Probably because the Mouseketeer formula has become remarkably easy to replicate, both by Disney and rival Nickelodeon, and the airwaves have become overcrowded with grown-up versions of childhood stars. Disney alums Demi Lovato and Selena Gomez both debuted fully grown albums with frank talk about sex and breakups last month; ex–Jonas Brother Nick is reaching new "Levels" with his adult R&B; Nickelodeon star Ariana Grande is already promoting her third album with her new single, "Focus"; and grande dame Miley Cyrus has catapulted from Hannah Montana to High Priestess of Pop (in the most literal sense) in just four years flat. And they're not done: Keep an eye out for Zendaya, Joe Jonas's DNCE, Bridgit Mendler, and a whole other cadre of inevitable future stars from the current class.
With so many kiddie-TV graduates permeating pop culture all at once (and we're not even counting acting-only alums like Zac Efron, Nat Wolff, and Josh Peck), who has the most power these days? As VP at music marketing agency MAC Presents, I spend a lot of time working with brands and media partners to gauge the relative marketability (and, just as crucially, marketer-friendliness) quotient of artists, culled from years of on-the-ground research from my days as a reporter for Billboard and Advertising Age. Taking into account important metrics like record sales, streaming, endorsement deals, and other less-scientific factors (ability to get someone fired, anger parent groups, etc.), we put together this power ranking of the biggest post-teen-TV pop stars at the moment.
9. Bridgit Mendler
Child-Star Highlights: A Disney Channel trifecta: Wizards of Waverly Place (2009–2012), Good Luck Charlie (2010–2014) and TV movie-musical Lemonade Mouth (2011); plus debut album Hello My Name Is … (2012).
Adult Highlights: Co-starring role on NBC's Undateable season two (2014–present); forthcoming sophomore album. 
Chart Stats: Debut solo single "Ready or Not" peaked at No. 78 in 2013, while Lemonade Mouth standout "Somebody" reached No. 89; Hello My Name Is … went Top 30 upon its debut. 
Notable Deals: Nothing active, but Mendler teamed with First Book, Target, and Seventeen for cause-based campaigns during her Disney days. 
Power Move: Leveraging her new NBC role to record the (albeit cheesy) "Undateable" song and music video earlier this year. 
Power Miss: Mendler parted ways with Disney-affiliated Hollywood Records earlier this year, ahead of her yet-to-be-released second album. 
Bottom Line: She's still got some work to do before she catches up to former Wizards co-star Selena Gomez on the pop charts, but Mendler's Fugees-referencing debut single "Ready or Not" has enough plucky promise to make her follow-up efforts worth investigating.
8. Bella Thorne
Child-Star Highlights: Co-lead of Disney's Shake It Up (2011–2013); reteaming with pure co-star Zendaya for Disney's TV movie Frenemies(2012).
Adult Highlights: Lead mean girl in high-school hit The Duff (2015); the Drew Barrymore role in MTV's Scream TV series; 2014 EP Jersey; forthcoming novel Autumn's Kiss. 
Chart Stats: "TTYLXOX" is Thorne's only solo chart entry, peaking at No. 97 in 2012; Zendaya duet "Watch Me" also charted at No. 86. 
Notable Deals: Recent endorsements for Neutrogena Oil-Free Acne Wash and Candie's. 
Power Move: As gross as it sounds, Thorne's current romance with fellow Disney Channel star Gregg Sulkin seems to have elevated her tabloid interest.
Power Miss: Though she's released two EPs, Thorne is the only artist on this list who's yet to do a proper tour. 
Bottom Line: Thorne seems to be the least musically inclined of this current crop of stars — "I don't sing and I don't dance. I have no idea why I'm here," a teenage Thorne told Disney at the time of her Shake It Up audition, per a recent interview with J-14. That said, at 18, she's also the youngest on this list, and could easily enjoy an early Hilary Duff–esque string of hits with the right producers.
7. Joe Jonas
Child-Star Highlights: Lead singer of Disney's favorite family band, the Jonas Brothers (2006–2013); making tween hearts swoon in 3-D in both Hannah Montana & Miley Cyrus: Best of Both Worlds Concert and Jonas Brothers: The 3-D Concert Experience; romancing Taylor Swift and ultimately ditching her for Camilla Belle, inspiring Swift deep cut "Better Than Revenge."
Adult Highlights: Frontman of funky pop-rock quartet DNCE; making tween ears tune out his grown-and-sexy solo debut Fastlife (2011); romancing Twilight actress Ashley Greene (2011–2012) and, currently, Swift's #girlsquad member Gigi Hadid.
Chart Stats: Two Top 10 singles and five Top 10 albums with Jonas Brothers (plus two Top 3 soundtracks for Camp Rock); Fastlife debuted in the top 15 but quickly fell off the Billboard 200 album chart; DNCE's debut single "Cake by the Ocean" debuted and peaked at No. 79 on the Hot 100, while EP SWAAY entered at No. 79 on the Billboard 200 a couple weeks back.
Notable Deals: A 2012–2013 commercial campaign for Acuvue (alongside Lovato) is his biggest brand partnership as a solo artist, though the Jonas Brothers starred in TV spots for Xbox 360, Target, and Breakfast Breaks during their heyday.
Power Move: Penning powerful tell-all essay for New York Magazine (hey, that's us!) in 2013 about the pressures of doing a Disney series, toking up for the first time with Miley, and encouraging Lovato to enter rehab for drug abuse.
Power Miss: Solo album Fastlife tanked in 2011, after former label Hollywood Records scrapped a more "Hall & Oates–y" project with Rooney's Robert Schwartzmann.
Bottom Line: While brother Nick has blossomed into a full-fledged pop star, Joe is going a different, equally uphill route by fronting DNCE, after his own solo attempts did fare so well.
6. Zendaya
Child-Star Highlights: Starring role on Disney's Shake It Up (2010–2013); debut electropop album Zendaya (2013); currently starring on Disney's K.C. Undercover.
Adult Highlights: Runner-up on season 16 of Dancing With the Stars (2013); forthcoming sophomore album for Republic Records (2016); card-carrying member of Taylor Swift's "Bad Blood" squad.
Chart Stats: Breakout single "Replay" peaked at No. 40 in 2013, while her eponymous album peaked at No. 51.
Notable Deals: Commercial endorsement for Proactiv's X Out acne medication; promotional partnership with Carmex lip balm.
Power Move: Putting Giuliana Rancic on blast for racially insensitive remarks about Zendaya's own natural hair on Fashion Police, prompting co-hosts Kelly Osbourne and, eventually, Kathy Griffin to exit. And that's how you school someone.
Power Miss: Backed out of starring role in Lifetime's 2014 Aaliyah biopic, which turned out to be a savvy move after the film flopped. So no real misses, actually. 
Bottom Line: Nearly ten years to the day after another single-named starlet burst onto the scene with "Pon de Replay," Zendaya is poised in a big way for her own Rihanna moment (hell, she even had a minor hit called "Replay").
5. Nick Jonas
Child-Star Highlights: Five albums with the Jonas Brothers (2006–2010); playing Nick "Lucas" on Disney series JONAS (2009–2010); one album with soulful side project Nick Jonas & the Administration (2009–2011); briefly dating Miley Cyrus and Selena Gomez; proudly wearing a purity ring. 
Adult Highlights: A handful of brief Broadway and West End runs (Les Misérables, How to Succeed in Business Without Really Trying) (2010–2012); self-titled solo album with a parental advisory warning (2014); being one of the better parts of Scream Queens and Smash; dating former Miss USA Olivia Culpo; proudly wearing no shirt literally all the time, but especially in his role as an MMA fighter on DirecTV's Kingdom.
Chart Stats: Two Top 15 solo hits ("Jealous" and "Chains"), plus two with the Jonas Brothers ("Burnin' Up" and "Tonight"); solo debut Nick Jonas debuted at No. 6 on the Billboard 200. 
Notable Deals: Citi Private Pass presale for his upcoming Future Now arena tour with Demi Lovato. 
Power Move: Going solo in a big way last year with grown-and-super-sexy R&B singles "Jealous," "Chains," and current earworm "Levels." 
Power Miss: The youngest Jonas has made mostly the right moves in the last couple years, but 2013's failed JoBros reunion and subsequently canceled tour (due to "creative differences") marked a bit of a rocky start to a solo career Nick had already put in motion years before by branching out with Nick Jonas & the Administration.
Bottom Line: With Justin Timberlake heading back on hiatus and Bieber MIA last year, Nick Jonas successfully seized the one designated slot for American Male Pop Star, and continues to be holding his own amid increased competition the Weeknd, Drake, and, now, the Biebs himself (watch out for Zayn, Nick). With more movie roles to come (like in James Franco's forthcoming frat-haze flick Goat) and the formation of a new label with Lovato (Safehouse Records), we expect Nick's double-threat appeal to grow even more, undoubtedly egged on by his perpetual shirtlessness.
4. Demi Lovato
Child-Star Highlights: Barney & Friends (2002–2004); Disney Channel films Camp Rock, Princess Protection Program, and Camp Rock 2 (2008–2010); Disney series Sonny With a Chance (2009–2011); two shouty pop-rock albums; dating Joe Jonas; palling around with Selena Gomez. 
Adult Highlights: A four-episode arc on Glee as Dani, Santana's lesbian love interest (2013); lovable X Factor judge (2012–2013); gun-toting Maia on El Rey's From Dusk Till Dawn; three shouty pop-dance albums; dating Wilmer Valderrama; palling around with Iggy Azalea, if you happen to think of that as positive. 
Chart Stats: Demi's two Top 10 hits ("Heart Attack" and "Skyscraper" — "Cool for the Summer" peaked at No. 11) and an impressive five Top 5 albums on the Billboard 200 (seven if you include her two Camp Rock soundtracks) make her the second-highest selling star on this list.
Notable Deals: Multi-year Skechers Women endorsement; her own skin-care line, Devonne by Demi; Acuvue contact lenses endorsement (2012–2013).
Power Move: Turning her personal and public struggles with depression, bulimia, and self-harm into a best-selling memoir (2013's Staying Strong) and empowering hits like "Skyscraper."
Power Miss: New album Confident was shut out from the top spot on the Billboard 200 a few weeks back, thanks to a cappella powerhouse Pentatonix. 
Bottom Line: Her newfound body positivity and generally bold spirit seems to be suiting Lovato quite well: Bi-curious jam "Cool for the Summer" ruled the summer even if it didn't crack the Hot 100's Top 10, and brassy follow-up "Confident" could soon do the same. A co-headlining tour with Nick Jonas next summer should also be a top draw.
3. Selena Gomez
Child-Star Highlights: Barney & Friends (2002–2004); Disney's Wizards of Waverly Place (2006–2012); starring roles in family flicks Ramona and Beezus, Princess Protection Program, and Monte Carlo; two okay dance-pop albums with former "band" the Scene; romancing pre-bad-boy Justin Bieber and pre-beefcake Nick Jonas; Taylor Swift bestie (before she started collecting 'em like Pokemon).
Adult Highlights: Harmony Korine's Spring Breakers (2013); co-starring roles in forgettable flicks Getaway, Rudderless, and Behaving Badly; two very good dance-pop solo albums; romancing EDM koala bear Zedd; the subject of Bieber's public forgiveness tour; one of many Taylor Swift besties (after she started collecting 'em like Pokémon).
Chart Stats: Gomez scored her first Hot 100 Top 10 with 2013's "Come & Get It" and racked up two more with 2014's "The Heart Wants What It Wants" and this year's "Good for You"; current single "Same Old Love" looks to be headed the same way. Meanwhile, her two solo albums, Stars Dance and Revival, both debuted at No. 1 on the Billboard 200.
Notable deals: New spokesperson for Pantene; clothing collections for Adidas NEO and Kmart.
Power Move: Scoring a starring role as Katy Perry stand-in "Arsyn" in Swift's "Bad Blood" video.
Power Miss: A 2013 lawsuit from perfume-makers Adrenalina Inc. over unfulfilled promotional commitments to a now-defunct Gomez-branded fragrance (Selena later countersued and settled for an undisclosed sum).
Bottom Line: Gomez is perhaps the most effortlessly likable star of her generation, and has managed to stay remarkably scandal-free for an ex–child star of her stature. Even an abrupt tour cancellation in 2013 due to "rehab" was recently revealed to be a diagnosis with the blood disease lupus, not the more Lohan-favored phrase "exhaustion."
2. Ariana Grande
Child-Star Highlights: Co-starring in Nickelodeon juggernaut Victorious and its ill-fated spinoff, Sam & Cat (2010–2014); scoring a surprise Top 10 hit "The Way" and equally adorable follow-up single "Right There" featuring future boyfriend Big Sean (2013); wearing cat-eared headbands.
Adult Highlights: Blockbuster sophomore album My Everything and its four Top 10 hits (including "Problem," featuring now-ex-boyfriend Big Sean) (2014); all-too-briefly appearing in Ryan Murphy's Scream Queens (2015); selling light-up cat-eared headbands to thousands of teenage fans on her sold-out Honeymoon Avenue arena tour for $40 a pop (2015, likely forever).
Chart Stats: In just two years, Ariana has pulled grande-size sales feats, ranking as the third-highest-selling of this group with a bullet (and second-highest in terms of streams) — that includes six Top 10 singles (including the just-released "Focus") and two chart-topping albums.
Notable Deals: New Luxe Brands fragrance Ari by Ariana Grande; 2016 M.A.C Viva Glam endorsement; a custom line of handbags for Coach called Kiti Swagger; an equity partnership with kid-targeted bottled water WAT-AAH!
Power Move: Penning a pro-feminist essay on her social channels in June: "I am tired of living in a world where women are mostly referred to as a man's past, present or future PROPERTY / POSSESSION."
Power Miss: Doughnutgate 2015.
Bottom Line: The biggest vocal talent of this group, mini-Mariah seems to have graduated to the big leagues in record time, and her current streak of hits is quite enviable. With new single "Focus" just out and a third album expected in early 2016, Grande stands a very good chance at sustaining the run. However, this summer's Doughnutgate scandal left a notable blemish among certain parent groups (and brands), albeit one that's already prompted several televised apologies from Grande herself.
1. Miley Cyrus
Child-Star Highlights: "Hannah Montana" (2006–2011); top-ten hits "See You Again," "The Climb," and "Party in the U.S.A."; a "scandalous" Annie Leibovitz photo shoot for Vanity Fair (2008); taking a hit from a "salvia" bong on TMZ (2010).
Adult Highlights: Bangerz (2013); top-ten hits "We Can't Stop" and "Wrecking Ball"; twerking at the VMAs with Robin Thicke; "scandalous" fully nude photo shoots for V and Paper magazines; taking a hit from every bong (2013–present).
Chart Stats: Miley is far and away the best-selling artist of the current crop of kiddie-TV alums, with more than double the sales and streams of her peers — including seven top-ten hits, including one No. 1 ("Wrecking Ball"), and six top-ten albums, including three No. 1s (Bangerz, Hannah Montana 2/Meet Miley Cyrus, Breakout).
Notable Deals: 2015 M.A.C Viva Glam endorsement; nonprofit Happy Hippie Foundation.
Power Move: Leveraging her 2015 VMAs hosting gig to surprise-drop free album Miley Cyrus & Her Dead Petz, a psyched-out collab with the Flaming Lips (which is admittedly no Bangerz, but got the people going nonetheless).
Power Miss: Her take on cultural appropriation hasn't won her many new fans, least of them being Nicki Minaj.
Bottom Line: No post-millennium child star has grown up as wildly, rapidly, or successfully as Miley Cyrus, who has a tighter grip on youth culture than all of her peers here. Only Cyrus could weather multiple controversies, host the VMAs, surprise-release a defiantly noncommercial album for free, lend a 13 percent ratings bump to SNL in the span of a month, and still command a global audience while talking about sex and drugs every chance she gets.