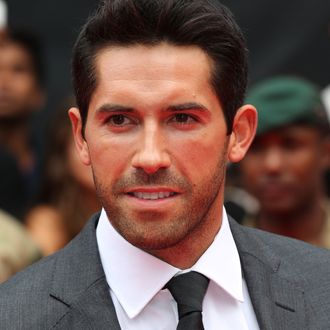 Photo: Chris Jackson/Getty Images
Doctor Strange's fight scenes won't all be CGI tomfoolery. At least that's what we can make of the news that, per TheWrap, martial artist Scott Adkins has joined the cast of Marvel's Benedict Cumberbatch–starring project. His role hasn't been revealed, but supposedly Adkins will take part in "several major action scenes featuring hand-to-hand combat." Also unconfirmed (but does this news even need to be confirmed?): Adkins's scenes will be freakin' awesome.
Why? Let's do a little bit of digging into his portfolio. First, there's this video, titled "The Way of Scott Adkins," which tells you that Scott Adkins feels very good about the way of Scott Adkins (in a way that makes other people feel very bad):
Now let's save some moves. This is a spinning hook kick:
And this one is called the "Ginger Ninja Trickster Grass Sampler." (I do not know what that is, but if it were offered in a Trader Joe's aisle, I'd take one sample and then another when the person wasn't looking.)
What? Are there any GIFs? Oh, you know there are GIFs!
That is a standing backflip. Can the Hulk do a standing backflip? Can Thor?
I … I don't know anymore.
Good luck, Benedict Cumberbatch.