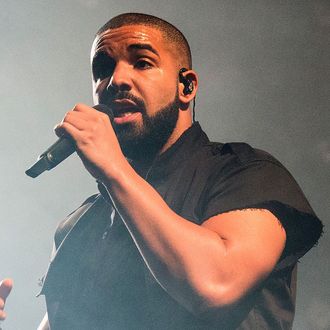 All eyes on the 6 God.
Photo: Erika Goldring/Getty Images
Wednesday night, Drake Instagrammed a picture of a new billboard that recently popped up in Toronto. No, it wasn't an ad for Norm Kelly; the all-black sign simply read "The 6 God Is Watching," with Drake's famous prayer hands symbolizing the actual "God" part. He captioned it with "Be home soon."
What does it all mean? If we're to go by Drake's history with billboards — which includes a fight with city officials over promo for Take Care and a well-documented billboard hyping up Nothing Was the Same — this might just be the first tease for his upcoming album, Views From the 6. Sure, Drake has already dominated 2015 with If You're Reading This It's Too Late, What a Time to Be Alive, and"Hotline Bling," but he's maintained that his fourth album proper is the top priority for the rest of the year. He even spent Halloween logging hours in the studio while you were out dressed like him. Of course, this is Drake we're talking about, which could very well mean he's just trolling and maybe thinks of himself as the eyes of T.J. Eckleburg à la Gatsby watching over the 6. Or maybe he's just taking his bid for his first solo No. 1 on Billboard very literally. Who knows? Drake will be Drake.