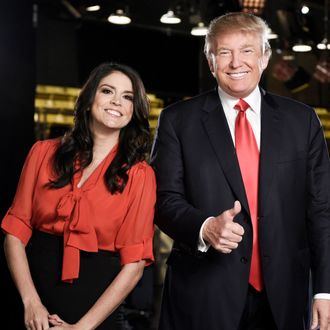 Cecily Strong's a big draw too you know.
Photo: NBC/2015 NBCUniversal Media, LLC
TVLine reports that last night's 90-minute Donald Trump–hosted Saturday Night Live brought in a 6.6 rating and 16 share in metered-market households, the show's biggest overnight numbers since January 7, 2012, when Charles Barkley hosted with musical guest Kelly Clarkson. SNL also did well in the 18 to 49 demo, drawing its biggest ratings since February 1, 2014, when Melissa McCarthy paired up with Imagine Dragons.
Now, the simplest conclusion would be that a whole lot of people tuned in last night to watch Donald Trump's antics — from his monologue to his dance moves — indicating that the presidential candidate has significant pull with American audiences, but let's remember that causation does not equal correlation. So maybe viewers tuned into watch musical guest Sia and then ended up watching Donald Trump. Or maybe people have gotten really invested in the state of the Jost-Che Weekend Update desk and they all wanted to check in on that. Or maybe the Trump campaign targeted Nielsen households with ads promising that Charles Barkley and Kelly Clarkson were bringing their killer act, whatever it was, back to the show. Or household pets! They sometimes turn the TV on accidentally. Maybe they're Trump fans.
There are a lot of factors in play here. Let's not be hasty.