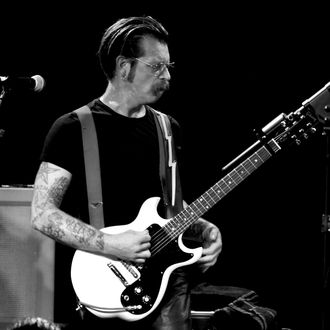 Photo: Kevin Winter/2015 Getty Images
The Eagles of Death Metal, the band that was performing at Paris's Bataclan concert hall, where at least 87 people were killed in one of several terrorist attacks yesterday, have canceled their tour plans in Europe. The band members all made it out of the theater safely and many have begun sharing their support on social media for those who were less fortunate. Three French employees of the band's label have now been reported as among the dead at the venue.
Despite the grim-sounding name, Eagles of Death Metal is known for a sound that combines cheekiness with with old-fashioned rock and roll guitar. California-based founding members Josh Homme (known for Queens of the Stone Age and Them Crooked Vultures) and Jesse Hughes have shaded many of their performances and press appearances with irreverent humor and meta commentary. The band released their debut album Peace, Love, Death Metal in 2004, and has since released two others: Heart On (in 2006) and Death By Sexy (in 2008).
"We kind of have a rule with Eagles of Death Metal that it's the fun show," Hughes told Rolling Stone in a September interview, "And we want everyone to belong."
The band was on tour in Europe to support their new album, Zipper Down. Homme does not typically tour the group, and was not present in Paris. Emily Dorio, wife of the drummer Julian Dorio, told NBC News that her husband told her everyone on stage managed to leave the stage safely. She later posted an Instagram photo of herself and her husband, writing, "I've never been so grateful and so heartbroken in the same breath of air."
Plans to continue in Europe have been cut short as the band returns to the United States, according to an official at promoters Nous Productions. The band's announcement has been mimicked my many others in the industry, as U2 also announced that it had canceled a concert planned for Saturday night in Paris, which would have aired live on HBO. The French premieres of the films Jane's Got a Gun and Bridge of Spies were also cancelled. Movie theaters across the city also announced plans to close early in the day.
The Foo Fighters also released a statement regarding the cancellation of their current tour:
It is with profound sadness and heartfelt concern for everyone in Paris that we have been forced to announce the cancellation of the rest of our tour. In light of this senseless violence, the closing of borders, and international mourning, we can't continue right now. There is no other way to say it. This is crazy and it sucks. Our thoughts and prayers are with everyone who was hurt or who lost a loved one.