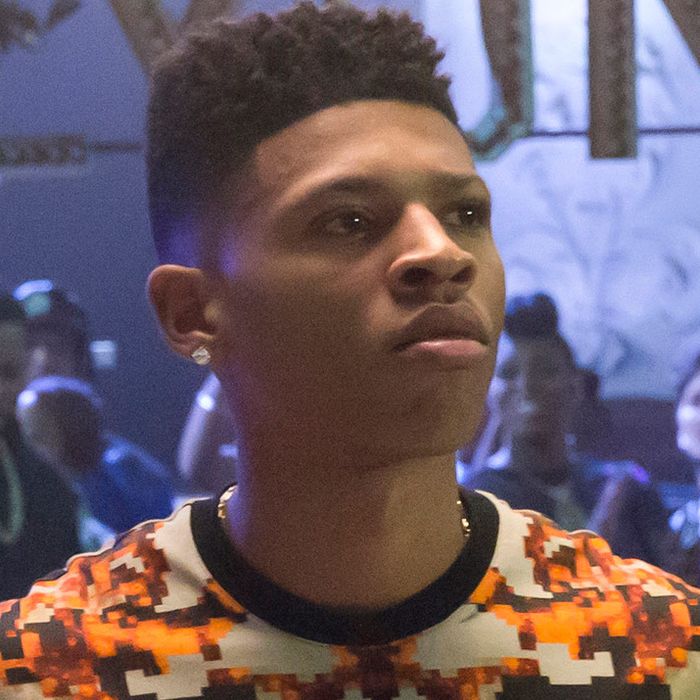 How does Empire do an entire episode about rap beef in 2015 without mentioning Meek Mill? How does that happen? I mean, damn. Meek could've been the Ghost of Beefs Past, warning Hakeem née Lyon and Freda Gatz about the dangers of feuds. This episode was pretty straightforward, as far as this show goes, but it still managed to pack a kidnapping, a baby, and Vivica A. Fox into an hour's time.
First, Lucious and Becky go to the club in that big space tube. Becky warns Lucious that his next move will go too far. C'mon, Becky. A month ago, Lucious killed a man in prison and now treats that man's daughter as if she were Lucious's own. You don't know how far Lucious can go. Propping up Ms. Keef to disown his own son is child's play.
Meanwhile, Hakeem is fooling around with his lil lead singer on a pool table when she reveals that she's a virgin. Hold the ever-loving eff on. First of all, of course this girl is a virgin who has never worn high heels and thinks attention is weird. Second: Were you really prepared to have your first time on a pool table? A POOL TABLE? I lost my virginity on an air mattress so I can't talk about luxury, but at least have some standards.
Hakeem sees a clip of Freda Gatz rapping and immediately jumps to the conclusion that Freda wants to take his last name … away from him … or something? I don't understand the consequences of this rap battle. I listened to "Ten Duel Commandments" from Hamilton a bunch of times, but it provided no clarity. Whatever the consequences, though, they're VERY IMPORTANT. Shout out to Hakeem's Periscope broadcast calling out Freda Gatz.
Andre tries to talk some sense into Lucious, but he's too interested in liquidating brain stems to actually run his business. Unsurprisingly, the man who signed a contract while drugged out of his skull is now giving Empire a hard time as they try to close their deal. Mimi Whiteman is there too, and we get a visit from Thirsty by the episode's end. What else matters?
Cookie works on Jamal's album and a new song while wearing gold pumps and the tank-top version of Marge Simpson's Chanel suit. In some clever product placement, Pepsi executives ask Jamal to pitch a song and (maybe) become a company spokesperson. Everyone is worried that Lucious will ruin this, because Lucious ruins everything he touches. Everyone is not wrong. Lucious busts in with an EDM song that he wants Jamal to whisper-sing to Pepsi. When he shows up, Cookie has to hide in the closet — where she eats a sandwich — so he doesn't find out she's helping Jamal. We get it, Empire. No one can know Cookie is there.
Then here comes poor, tragic Boo Boo Kitty. Y'all. She needs our help. Boo Boo Kitty stares at herself in the mirror, in her finest silk robe, just holding a knife. YIKES. Why? Because she's pregnant with dumb ass Hakeem's baby. Girl. Girl. Quit peeing on so many pregnancy tests. How do you have that much pee? And sweetie? Maybe just call a women's health clinic to talk about your options.
Hakeem asks Cookie to help him prepare for the rap battle. If Hakeem loses, he'll legally belong to the state because he won't have a last name anymore. (I think I'm following this right?) Adam Rodriguez is also there, trying to divert attention back to Cookie's Cookout. Hakeem hates that Adam Rodriguez is all up in Lyon Dynasty's business, so the two of them engage in some oedipal dick measuring. Cookie slaps everyone, physically and verbally, then Hakeem tells them not to worry because he's gonna "make that bitch my bitch."
I'm really uncomfortable with all the "Daddy's little girl" and "that bitch" of this rap battle. Oh, the struggles of an intersectional feminist of color watching Empire!
Boo Boo Kitty shows up at Hakeem's looking fab and acts all flirty, ready to tell him that she's pregnant. She even held a glass of liquor up to her lips but didn't drink it! She's ready to start a family! That's all it takes! After some VERY arousing talk about his father, she straddles him. He pushes her off, then delivers his own news. Confidence Killer #1: Hakeem tells her he's in love with someone else. Confidence Killer #2: He says they can still be homies, though.
Listen up, Boo Boo Kitty. It's time to start your life over. Change your name. Change your face. There's no coming back from that. It's done.
Jamal is tired of his parents' fights, so he puts them in the studio together. Cookie shows up in pedicure sandals, wet toenails, and a Technicolor Dream Coat. Lucious is furious that Jamal would add flutes to his drums, then threatens to kick everyone out because it's an Empire record. Well, guess what? Jamal paid for the session himself. SORRY, DAD.
Cookie and Lucious make an incomprehensible bet: If Hakeem wins the rap battle, Cookie will get to release Jamal's album. If Freda wins, Hakeem will return to Empire and become Hakeem X. Meanwhile, Hakeem and Freda are busy preparing. Hakeem asks for suggestions like he's a member of a college improv team. Freda just hangs out, eatin' wings. Hakeem raps about a phone. Uh-oh, he's in trouble. Jamal gives Hakeem some advice: If he can't beat Freda at the freestyle game, he needs to beat her with his performance.
WHAT ARE THE RULES OF THIS BATTLE? Can Hakeem bring props? Costume changes? Back-up dancers?
Lucious and Thirsty seal the deal with Jago, but Mimi is late. She's wearing an all-white pantsuit and dealing with "personal issues." Homegirl is on her period, so let's lay off her. Jamal successfully combines Lucious and Cookie's songs, performs it in a silky trench coat, then does a series of high kicks to win the Pepsi pitch. Somewhere, Don Draper is smiling.
It's time for the RAP BATTLE.
Where is this happening? It seems like a location dedicated for rap battles … and there's a Target logo on the ground? Has Target been secretly sponsoring rap battles? Freda takes round one because she calls Hakeem a little boy. In round two, Freda takes it again, even though she calls Jamal's tunics "dresses." In round three, Hakeem starts dancing by pretending to bounce basketballs and gets in the face of Freda's crew. Suddenly, the crowd KNOWS THE WORDS to his verse.
Let's recap that real quick: The crowd at this freestyle rap battle is somehow prepared to do a call-and-response without any prior instruction. Okay? Okay.
Hyped from his performance, Hakeem calls himself the Dalai Lama of hip-hop. I don't know what that means, but it sounds cool and doesn't reinforce the patriarchy. Then, he takes it one step too damn far — he bashes the neon light so his last name goes dark. Everyone is unsettled. We were all having fun until, in the words of President Obama, "folks want to pop off."
Lucious has a flashback to sleeping under a lion statue because … why not? How dare his child, who he already rejected, reject a last name with such mysterious personal significance!
The family goes out to celebrate when Vivica A. Fox shows up as Candace, Cookie's older sister. She is a treasure. Carol is missing, so Cookie and Candace have to look for her in Philly. (Spin-off!) Hakeem puts his virgin girlfriend into a car, then tells her they'll bang when the moment is right. That moment may never come, though, because the driver is … Boo Boo Kitty in a wig.
Are two kidnappings too many for a single season of Empire? Yes.