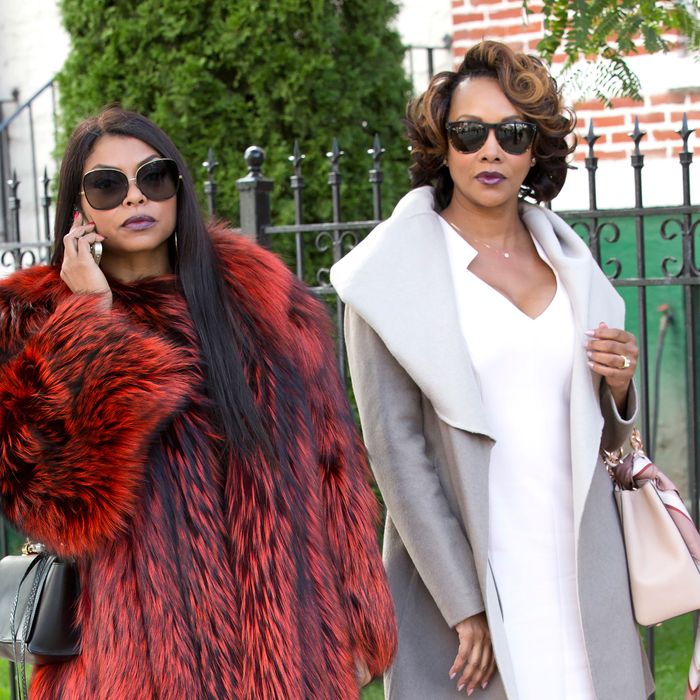 Taraji P. Henson as Cookie and Vivica A. Fox as Candace.
Photo: Chuck Hodes/FOX
Cookie and Candace are searching Philadelphia for Carol, who is on a drug bender across the city. The pair don't take in any of the sights: no montage of the Rocky stairs, no cutesy posing in front of the LOVE statue, they're all business. Cookie is wearing a red tiger-striped fur coat, the rarest of tigers. Candace is wearing all white and has a fabulous hairstyle, which I can only assume comes from the Vivica A. Fox wig line. Vertical integration.
Cookie decides that they need to expand the parameters of their search and goes on a crackhouse walking tour. Candace announces that she does neither prisons nor crackhouses, and Cookie calls her Diahann Carroll heffa. Candace and Cookie are the perfect pair.
Back at Lyon Dynasty, Hakeem and Esmeralda (wait, wasn't she kidnapped?) toy with the idea of doing it by making their staff watch them perform a sexually charged duet. Esmeralda gyrates around in a romper while Hakeem's entourage livestreams it on Periscope.
Boo Boo Kitty monitors the feed from a dark room. The serial killer starter kit she ordered is paying off in spades, and she has surrounded herself with a Se7en-like arrangement of surveillance photos of Hakeem and Esmeralda with the eyes scratched out.
C + C Fur Factory wander into a flophouse that looks like a rejected Walking Dead set. Wouldn't you know it? They're in the wrong crackhouse. Haven't we all been there?
This episode also introduces guest star Alicia Keys a.k.a. Sky Summers. She's a pop star collaborating with Jamal, and he gushes over her like he's telling Mean Joe Green "good catch." Sky's manager is doing Mary Poppins cosplay.
Back at Lyon Dynasty, Hakeem and Esmeralda are still practicing while Adam Rodriguez meets with the Cau Caus. They're ready to shake down Cookie and Co. for more money. Adam is not having it, pulls a gun on his boys, and orders them to back off because he's in lurve. The head Cau Cau glowers at him as he smacks his lips like a hyena from The Lion King.
Meanwhile, Lucious reveals he bought Andre and his growing family a new mansion on Long Island, complete with nanny's quarters. Lucious is excited at the prospect of a grandson to fill out the depleted Lyon ranks. Lucious barely contains his excitement, unleashing some sort of Ewok war cry as he pats the baby bump.
Never one to relinquish an opportunity to mix business with pleasure, Lucious really needs the Swift Stream deal to work, so Andre suggests that the best way to accomplish this would be to sell the rights to Lucious' early songs. All they have to do is ask Cookie. Has Andre ever talked to or met his mother? How does he think this is going to work?
Cookie is still searching Philadelphia for her sister. She whispers into her cellphone that she's in a dangerous neighborhood. The camera pulls back and reveals that she's surrounded by white ladies in yoga pants and strollers. I don't trust Sandra and her growing influence over the PTA. Cookie connects with her best friend from prison. It's tired-faced Rosie O'Donnell! They reminisce about Cookie running the Correctional Cardio, which was just her yelling at people to run in the yard. Rosie puts her ear to the giant baker working in her kitchen, who is DEFINITELY still in a gang but also knows how to make scrumptious scones.
Jamal, Sky, and Sky's manager, Sherry Doppins, are having a jam session. Sherry gushes over Jamal, because he's an incredible artist who is able to express what's on his mind as well as in his heart. Ummm … Sherry … do you know what the purpose of music is?
Back in Philadelphia, Cookie, Candace, and Rosie run into Carol, just sitting on a couch on the street. Because that's a thing that crackheads do. Carol looks like she's been homeless for years with some real Color Purple braids. She immediately vomits all over Candace's shoes.
Having created a little extra room in her stomach, the crew goes to a soul food joint. The sisters clash over who gets to take Carol home. Carol wants to go to New York to stay with Cookie, who is the fun sister. She wears colors! Prints! Candace wears white. It's symbolism. She doesn't really care much what happens to her children because crack is a helluva drug. They can crash with Candace. Or whatever — either way.
Lucious meet up with Hakeem, framed in a high-backed black chair looking like Emperor Palpatine. Lucious asks Hakeem if he's sure that he wants to drop his last name, which can't be a legitimate legal process. You have to have a last name. I don't care what Prince says! He offers Hakeem a last chance to sign with Empire, and dangles a full partnership in Swift Stream as a signing bonus to sweeten the deal. Hakeem, however, is a bastion of integrity who used to bang his dad's girlfriend, and cannot be bought.
Jamal and Sky continue to hang out. Sky envies Jamal for being in charge of his identity, and for people loving him for it. Jamal wants to wear her skin like a dress, wants to help her bust outta her box, and probably also wants her collection of high-fashion bustiers. Their pairing is a study in contrasts because Alicia Keys is only able to shout-sing and Jamal can only whisper-sing. Jamal murmurs and Alicia roars. Whoever does the sound mixing for this episode deserves an Oscar. I know they don't give out Oscars for TV but the person responsible for letting us hear Jamal is a wizard.
Boo Boo Kitty joins Rhonda at their pad on Long Island. Boo Boo can't bring herself to reveal that she's with child and a straight-up stalker, but tries to get some advice out of Andre's wife anyway. She tells Boo Boo about a story from back in college, when she scared off a girl trying to get at Andre by breaking into her room, cutting off her hair in the middle of the night, and threatening that she would continue cutting if she didn't leave Andre alone. If you find someone worth fighting for, that's exactly what you have to do — even if that means murdering someone in their sleep.
Hakeem throws a party, and is busy making out with Esmeralda when Anika walks in uninvited. "Do I know you?" asks Esmeralda. "Not unless you bus tables at Nobu," retorts Boo Boo — oooh, showing some signs of life! Boo Boo tells Hakeem that his girlfriend lives in a hovel with her seven brothers and sisters, and that he needs to drop that zero and get with a boss that owns a collection of bandage dresses.
Lucious doesn't have access to his old catalog of songs, and is at an impasse in terms of raising the capital to execute the Swift Stream deal. He doesn't want to sell off Empire's other assets — the fashion interests, the alcohol. Wait, Empire has alcohol? Jesus be a triple-distilled, high-end vodka. Lucious watches Jamal high kick his way through his Pepsi video shoot directed by Lee Daniels.
Back at Lyon Dynasty, Hakeem and Cookie argue about Cookie's Cookout and Adam Rodriguez's not-helpful suggestion to change venues at the last minute. Lucious pulls a Cookie and busts into the meeting, then lets them know that Adam Rodriguez is a Cau Cau. Cookie is incredulous, and walks up to him to tear off his shirt to check. Apparently they've had sex all over New York City but she's never seen his upper back? She walks out on him with Hakeem, leaving Lucious and his hired thugs to take care of Adam.
At Hakeem's apartment, Boo Boo Kitty pushes hard on Hakeem that they belong together. She's running a flawless Mystery Method on him: negs … linguistic programming … she's flawless in the paint. Right as she's about to reveal her pregnancy, Hakeem makes his saving roll to resist her charm and tells her that she will never be a Lyon. EVER.
That night, Sky and Jamal work on their Black Lives Matter song that secretly might be an All Lives Matter Song. He leans in to play the piano over her shoulder, which transitions into a hug, which turns into a kiss. SEXUALITY IS A SPECTRUM, Y'ALL.