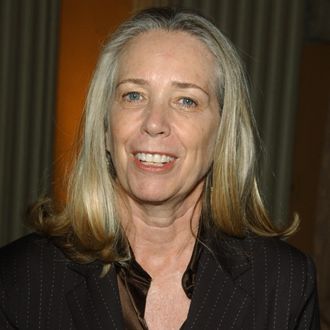 Melissa Mathison.
Photo: Amy Graves/Getty Images
Veteran screenwriter Melissa Mathison has died of neuroendocrine cancer at the age of 65. Mathison was most famous for writing E.T., though in the course of her three-decade career she also penned The Escape Artist, Indian in the Cupboard, and Kundun. Her most recent script was a reunion with Steven Spielberg on the upcoming Roald Dahl adaptation The BFG. Unlike many writers, Mathison was a frequent presence on the E.T. set, and worked closely with the film's young cast. "In 1982 I was not yet a parent, but was a stepmother, and had been a consummate babysitter and an older sister," she told The New Yorker in 2012. "The kids in E.T. can be directly linked to kids I knew. I even stole some of my little friends' best lines: i.e. 'penis breath.' What adult woman could have thought of that?"
Mathison got her start in Hollywood thanks to a connection with Francis Ford Coppola, whose family she had babysat for as a preteen; years later, the director hired her as an assistant on The Godfather Part II and Apocalypse Now. It was on the set of the latter film that Mathison met her future husband, Harrison Ford. The couple was married from 1983 to 2004, and had two children.