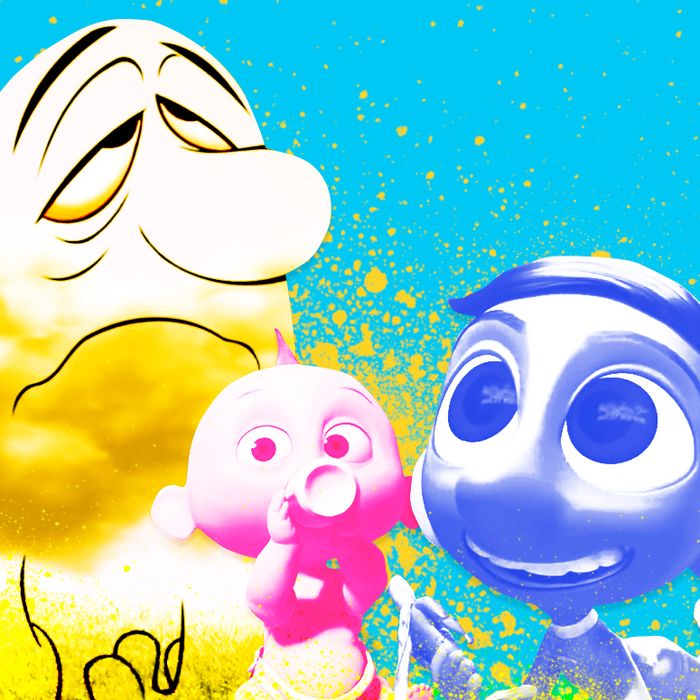 Photo-Illustration: Maya Robinson
2015 marks the first time that Pixar has released two major films in a single calendar year: Inside Out this summer and The Good Dinosaur this past Thanksgiving weekend. Of course, animation geeks are ecstatic, not just because there are two new Pixar features to pore over — but also two new Pixar shorts. Long before Toy Story, the company established its reputation by producing award-winning computer-animated cartoons, showcasing the latest technology via entertaining little vignettes, mostly conceived by Disney-trained animator John Lasseter. As Lasseter led Pixar into blockbuster territory, he kept his shorts division open and active, so that the next generation of artists could have the same experience he did of experimenting in public. The result has been three decades' worth of some of the funniest, most imaginative, and most technically accomplished mini-movies ever made.
Next year marks the 30th anniversary of Luxo Jr., the first animated short to bear the Pixar name (although 1984's The Adventures of André and Wally B. predates it, created when the nascent version of Lasseter's team comprised Lucasfilm's Computer Graphics Division). After establishing themselves in the mid-1980s as the best in their field, the growing staff at the newly Steve Jobs–owned Pixar honed their craft by working on commercials and TV interstitials; even then, the studio's primary focus in its early days was to ready short films that could compete at festivals and major awards. Even now that other animation shops have begun to catch up with Pixar, Lasseter's still striving to push the medium forward, amuse audiences, and win Oscars.
For this ranking of Pixar shorts, we've focused primarily on the ones that either screened in theaters alongside one of the studio's features or were included on the DVD/Blu-ray release of those films. Excluded are the recent animated shorts from Pixar's parent company Walt Disney (although many of them, like the Oscar-winning Paperman and Feast, are excellent), and any of the specifically made-for-TV Cars and Toy Story cartoons. We ended up with a clean list of 30 — perfect for commemorating Luxo Jr. Together, they represent the remarkable evolution of a company that broke into computer animation at a time when vector graphics and trippy patterns were state-of-the art. Through their emphasis on storytelling and wit, these 30 films changed what the medium could be.
30. The Adventures of André and Wally B. (1984)
Made so early in the Pixar story that it's actually credited to the Lucasfilm Computer Graphics Project, this two-minute short is mainly a proof-of-concept for CG character animation, taking a slight premise — about a sleepy forest-dweller trying to distract an angry bee — and using it to show off facial expressions and small gestures. This is very rudimentary stuff, intentionally designed by Lasseter and writer-director Alvy Ray Smith to hark back to the simplistic, wacky early cartoons of animation pioneer Ub Iwerks. (The major innovation that had computer programmers everywhere buzzing was Pixar's introduction of a non-standard shape.) But the vivid colors of the backdrops and the timing of the jokes point the way toward what was to come from a company that would combine technical innovation with crowd-pleasing movie-making.
29. Lava (2014), paired with Inside Out
Hoo-boy. I'll say this for what may be Pixar's most widely loathed short: It looks gorgeous. The design and animation of two lonely volcanic islands (not to mention their surrounding clouds and sea life) is as vividly rendered as anything the studio's ever done, with subtle pastel shading and complex textures. But writer-director James Ford Murphy's story is slight and corny, and delivered via a repetitive song that sounds cloying while it's playing and sticks in the head for days afterward. Pixar goes to the "inanimate object needs a friend" well quite often, which may be part of why Lava feels so trifling. Or maybe a grating musical about lovesick rocks can never be anything but a groaner.
28. Red's Dream (1987)
After working on a couple of shorts that were essentially demos, Lasseter and his team moved toward a fuller sketch — if still not yet a film film — with this four-minute piece about the fantasy-life of an unwanted unicycle. The bulk of Red's Dream is set at a circus, where a grotesque-looking clown juggles for what seems like an interminably long time. But what really distinguishes this short are the non-dream scenes, set in a darkened bike shop on a rainy night. The moodiness and melancholy of these images helped prove that computer animation didn't always have to be about hard lines and bright colors. Pixar would continue to build on the emotional resonances of Red's Dream in the decades that followed.
27. Mater and the Ghostlight (2006), released on Cars DVD/Blu-ray
Cars is easily the most divisive Pixar feature: beloved by kids, tolerated by parents, snarled at by movie buffs. Rusty tow-truck character Mater is representative of the broad comedy that pulls some people into the Cars-verse and repels others. Of all the Pixar creations to be spun off into ancillary entertainments, Mater has been utilized the most, perhaps because he's ideally suited to quickie, old-fashioned cartoon gags — or perhaps because John Lasseter just can't escape the world of Radiator Springs. Mater and the Ghostlight is one of the longest short cartoons Pixar has ever made (topping out at eight minutes), which gives its story time to develop. It also features a pretty full cast of Cars favorites, conspiring to out-prank their buddy by convincing him that he's being haunted. Folks who hate the Cars movie should steer clear; but on its own merits, this one's fairly charming. At the least, it's way better than most of the TV-bound Mater's Tall Tales series.
26. Mike's New Car (2002), released on Monsters, Inc. DVD/Blu-ray
One reason why Pixar fans don't hold its recent sequel madness against the studio — besides the fact that Toy Story 2 is one of the studio's best films — is that the most familiar characters have been repurposed so well, and in so many different ways. Mike's New Car was the first short to bring back the stars of an earlier feature, with Billy Crystal and John Goodman reprising their roles as Monsters, Inc.'s odd-couple buddies Mike Wazowski and James P. Sullivan. This film is pure slapstick, taking place almost entirely inside of Mike's malfunctioning auto, where every special gadget and add-on goes haywire in succession. It's no classic, but the monster world is fun to revisit and the jokes well-paced, so who could complain?
25. Partysaurus Rex (2012), paired with Finding Nemo 3-D
Partysaurus Rex is far from the best of the Toy Story shorts, but there's really never been a bad entry in this series, which keeps finding new subcultures to explore within the vast universe of playtime. In this film, bath-time toys get their moment, as Rex becomes the hero of the tub for his ability to turn on the water (even with his tiny arms). The problem with tub toys — as they're the first to admit — is that they can't really move when they're not wet. And the problem with Partysaurus Rex is the characters aren't that cute or fun even when the faucet's gushing. But given how traumatic Toy Story 3 could be at times, it's pleasant just to know that the gang's still together, all happily being played with.
24. Tokyo Mater (2008), paired with Bolt
Beyond the homespun warmth of Radiator Springs, the Cars franchise's best feature has been its gearhead enthusiasm for old-fashioned racing movies, and for the infinite variety of motor vehicles around the world. Those two traits come together well in the dazzling Tokyo Mater, a semi-parody of the Fast and Furious series packed with souped-up autos and a riot of local color. Mater himself is still an acquired taste, and the Cars team's approach to other cultures remains loving but shallow. But this is still the most entertaining installment of the Mater-centered shorts — which is probably why it's the only one to play theatrically, attached to Disney's Bolt.
23. Riley's First Date? (2015), released on Inside Out DVD/Blu-ray
Just reading the plot description for Inside Out is enough to make parents who've seen it start tearing up all over again, so the prospect of a short about the movie's preteen heroine going through a romantic rite of passage is almost too much to bear. But Riley's First Date? is actually more about mom and dad, and what goes on inside their heads when some scruffy-looking boy shows up to take Riley skating. There's no insight or humor here that wasn't handled much better by Inside Out itself, but any excuse to spend five more minutes even adjacent to one of Pixar's masterpieces is too inviting to pass up.
22. Boundin' (2003), paired with The Incredibles
One of the more divisive of the Pixar shorts, Boundin' seemed a little out-of-character when it was originally released. The musical fable with a simple lesson about persevering through adversity was nowhere near as sophisticated or sly as what the studio had made before. But it's best to think of Boundin' not only as a Pixar project but as the work of Bud Luckey, a veteran animator who worked on some of the classic Sesame Street cartoons of the 1970s. (Remember The Ladybug's Picnic? That was a Luckey, co-created with his longtime creative partner Don Hadley.) Bud joined the Pixar team early on, courtesy of Lasseter's immense respect for the older pen-and-ink animators he grew up admiring. Boundin' then can be read as an expression of Pixar's appreciation for Luckey, who got to write, direct, do the voices, and pen the music for one more short, as a kind of grand summation of a distinguished career.
21. Geri's Game (1997), paired with A Bug's Life
If nothing else, Geri's Game marked a significant advance in Pixar's ability to animate human characters, after some rather off-putting earlier efforts. Writer-director Jan Pinkava doesn't just design a credible-looking, albeit cartoonish, senior citizen; he also brings him to life with remarkable subtlety, capturing the frailness in his every step. As the old man engages in a chess match against himself, Pinkava actually has his two Geris behave slightly differently, depending on whether they're winning or losing. Ultimately, there's not enough going on in Geri's Game: It's just a sweet, somewhat sad scene of a lonely grandpa in the park. But the editing, the music, the lighting, the textiles, and the characterization were all astounding back in 1997, making this more than just another Pixar experiment. It won the studio its second Oscar for Best Animated Short Film (following a 1988 win for Tin Toy), and established that the post–Toy Story shorts were going to be just as story- and character-oriented as the features.
20. For the Birds (2000), paired with Monsters, Inc.
A throwback to the early days when Pixar would dedicate an entire short to one gag and a few new techniques, Ralph Eggleston's For the Birds has the advantage of a strong punch line and some beautiful artwork. For a little more than three minutes, Eggleston and his team carefully build a scenario where a flock of tiny birds (who look like Angry Birds prototypes) gather on a telephone wire, eventually joined by one hulking beast who makes the line droop. As the little chirpers conspire to peck away at their oversize sibling, Eggleston gets in close enough for us to see the tiny scratches on their beaks and the fluttering of their feathers. The animals are so pretty to look at, it's easy to lose sight of what's obviously going to happen when a heavy creature falls off the taut wire that it's been dragging down. That makes it all the more fun when the inevitable occurs.
19. Partly Cloudy (2009), paired with Up
It takes a minute or two to adjust to the squishy premise of Partly Cloudy, which conceives of a society in which storks are assigned to deliver babies created by puffy, jovial clouds. But writer-director Peter Sohn isn't really interested in the particulars of what the birds and the clouds do for a living; he's more interested in the relationship between one offbeat fellow who only makes dangerous baby animals, and the the skittish stork who has to find a way to carry them without getting pricked, bit, butted, or shocked. This is really a film about embarrassment and partnership, with an ending so moving that even viewers who roll their eyes at the start often end up dabbing them at the finish.
18. Jack-Jack Attack (2005), released on The Incredibles DVD/Blu-ray
Here's a good idea: Given how time-consuming it is to animate a sequence that doesn't belong in a feature, why not build that "deleted scene" into an entire short? Had The Incredibles director Brad Bird wanted to, he could've kept cutting back occasionally to the home of the super-powered Parrs, where babysitter Kari was having huge problems with little Jack-Jack while his family was off saving the world. Instead, that story line becomes a perfect little Looney Tunes–esque cartoon, full of violent mayhem as the tot flies around, shoots lasers from his eyes, and spontaneously combusts. It's both cute and thrilling, and works as a nice supplement to one of Pixar's most popular films.
17. Party Central (2013), paired with Muppets Most Wanted
As both a piece of storytelling and as an emotional experience, Monsters University pales next to its predecessor Monsters, Inc. However, the sequel does sport a more detailed setting, and a greater variety of kooky characters. Party Central combines some of the best of both movies, using the college locale for some zippy gags built around the inter-dimensional gateways that the monsters use to travel into our world (to collect our screams). Here, Mike and Scully take a couple of doors down to their old fraternity house, and trick the partygoers at a more popular frat to wander through a sleeping human couple's bedroom on their way to the basement of Oozma Kappa. Party Central is pure anarchic energy — like a classic campus comedy, but with freaky creatures taking the place of John Belushi.
16. The Legend of Mor'du (2012), released on Brave DVD/Blu-ray
Brave remains one of Pixar's most disappointing projects: a film with a compelling heroine, a psychologically rich mother-daughter relationship, expressive voice work, lovely art, and a unique setting, but not quite enough story to fill out a feature. Production delays and creative disagreements probably played a hand in the movie coming off as rushed and underbaked as it did, as The Legend of Mor'du helps clarify in a way. Though the animation's limited and the artwork square (looking like illuminated illustrations in an ancient text), this full-on blast of Highlands mythology suggests more of a larger narrative that Brave trimmed away. At the least, it's enough to indicate that Pixar should seriously consider more spinoffs, or maybe even an animated TV series (like a Game of Thrones for beginners).
15. La Luna (2011), paired with Brave
La Luna has one of Pixar's stranger premises, imagining the nightly work of three Italians — a father, son, and grandson — who sweep the moon's glowing fallen stars into a pleasing crescent shape. Unlike a lot of his shorts-making peers, writer-director Enrico Casarosa doesn't mine this story for jokes so much as he tries to make a lyrical mood-piece, dwelling on the magic of the night sky and the complexities of intergenerational relationships. There's not a lot to La Luna, but the lavish Michael Giacchino score and the soft and luminescent art make it an enchanting way to spend seven minutes. It's like a lost Fantasia segment that just dropped unexpectedly from the sky.
14. Hawaiian Vacation (2011), paired with Cars 2
The first of the Pixar shorts to follow up on Toy Story 3's emotional ending — by showing Woody, Buzz, and the gang still living happily at Bonnie's house — Hawaiian Vacation proved the flexibility of that franchise, by recognizing the Toy Story films had introduced enough characters and concepts to fuel stories at any length, in any genre. This one's a sort of romantic comedy, set entirely in Bonnie's bedroom, where the toys use props to replicate the experience of an exotic resort for Barbie and Ken. Part of Toy Story's kick comes from the way Pixar's writers build on the preexisting: taking a familiar toy, filling it with personality, and then giving it a variety of roles to play based on what kids might do with their stuff. In Hawaiian Vacation, making Mrs. Potato Head into a tour guide and Chuckles the Clown into a nightclub singer — and so on and so on — is both an astute illustration of actual playtime and a prime example of how diligently Pixar recycles.
13. Dug's Special Mission (2009), released on Up DVD/Blu-ray
This Up semi-prequel ends where a key scene in that film begins: with the adorably dim but loyal Dug the dog meeting Carl and Russell on a foggy South American cliff, just beginning the adventure that will prove him worthy. Knowing what's going to happen after the closing credits of Dug's Special Mission gives the short a special resonance, since the four minutes leading up to Dug finding new friends consists of him being teased by the other dogs in his pack after he screws up their simple assignments. It's hard not to love Dug, and hard not to want to see him do well, which makes most of this film more funny-sad than funny-ha-ha. But in the end, the one thing Dug gets right is the most important: being friendly to good people.
12. Luxo Jr. (1986), paired with Toy Story 2
Though it's only two minutes long, this is arguably the most famous of all the Pixar shorts — if only because its punch line of a tiny lamp crushing an inflatable ball has become part of the company's logo, seen before nearly every one of its films since. Because of the groundbreaking rendering of shadows and the realistic wavelike movement of the title character's power cord, Luxo Jr. was an instant sensation in both animation and computer graphics circles back in 1988, and was later added to the Library of Congress's prestigious National Film Registry. But for something that came so early in Pixar's existence, it's remarkable how entertaining the short still is. Credit Lasseter's understanding of how to instill inanimate objects with recognizable — and adorable — emotions. With just a few small tilts of their "heads," the relationship between "parent lamp" and "child lamp" here is completely clear.
11. Tin Toy (1988), released on Toy Story DVD/Blu-ray
Pixar's first Oscar winner was so popular that it eventually led to Toy Story, which started off as a Tin Toy TV special. The premise is classic Pixar: A mechanical "one man band" attempts to flee a slobbery baby, but then feels bad and turns the situation around, trying to delight the crying child. On a technical level, Tin Toy isn't as impressive as some of the shorter Pixar works that preceded it. The baby looks hideous, the set's underdressed, and the other toys that "Tinny" sees cowering under a couch are crudely illustrated. But Lasseter packs a lot of story into five short minutes, with several funny, unexpected gags. Most important to the development of the company, the animators' concern with the physics of the main toy's movements — his inability to move fast, and the way his instruments clank and honk with every step — both helped make the character feel more real and added to the overall humor. From this moment on, Pixar would exploit the creative possibilities of limitation.
10. The Blue Umbrella (2013), paired with Monsters University
The level of realism in The Blue Umbrella is beyond anything Pixar had attempted before, with rainy urban streets rendered to look like moving, artful photographs of real spaces. Writer-director Saschka Unseld's story is bare-bones, presenting yet another romance between lonely objects — umbrellas, in this case. But Unseld throws some genuine complications in the way of the two moony-eyed bumbershoots; by making it so that the entire city smiles and urges the lovers together, the film generates some poignant whimsy. With Jon Brion's score pinging along to the rhythm of the rain and Unseld's team creating astonishing, Wong Kar-Wai-esque slow-motion effects, "The Blue Umbrella" becomes a Pixar version of a Sundance indie — akin to something Michel Gondry might make.
9. Knick Knack (1989), paired with Finding Nemo
A staple of animation festivals throughout the early 1990s, Knick Knack is still one of the most flat-out hilarious movies Pixar has ever made. The rendering of a shelf full of touristy souvenirs is more simplistic than some of what the studio had done before — and way rougher than what came later — but the gags come rapid-fire, like a Road Runner cartoon at triple-speed. As a snowglobe-bound snowman tries to escape his plastic home, Lasseter puts him through his paces, visiting the trials of Job upon the tchotchke's stovepipe-hatted head. By the time Knick Knack reaches its cruel twist ending, just about every bit of hope and joy has been beaten out of the hero. Who says Pixar is all sweetness?
8. Lifted (2006), paired with Ratatouille
Oscar-nominated sound designer Gary Rydstrom made his directorial debut with Lifted, a science-fiction comedy that goofs on some of the blockbuster movie shtick that established his career. The joke's simple — a trainee alien invader has trouble abducting a sleeping farmer from his shack — but Rydstrom works multiple variations on it, thrashing his poor human around a remote ranch house while an expressionless mentor-blob watches his alien student fumble his way through the test. While Lifted is a crowd-pleasing piece of physical humor, it's also quasi-personal, inspired by the director's own feeling of being in way over his head the first time he sat down at a mixing board.
7. Your Friend the Rat (2007), released on Ratatouille DVD/Blu-ray
One of the great advantages of Pixar's short-film program is that it allows the studio's artists to experiment not just with different techniques but with other styles. Your Friend the Rat is pure bliss for animation geeks, jumping between CG, 2-D cells, stop-motion, and more, all over the course of an 11-minute film that traces how rodents have shadowed the history of human culture. The short is a self-conscious throwback to the educational cartoons that used to be a major part of Disney's output (and Bell Labs, and UPA, and others). It's more homage than spoof, and genuinely informative — not just about rats, but about an artform. The "vermin" in this case are animators, infesting cinema with their wonderful germs.
6. BURN-E (2008), released on WALL-E DVD/Blu-ray
Similar to Jack-Jack Attack, BURN-E runs parallel to the main plot of a Pixar feature, following the adventures of the poor repair-bot who keeps seeing his work get ruined by WALL-E's clumsiness. The difference is that writer-director Angus MacLane includes actual WALL-E footage throughout his short, making it feel more like a piece of the whole — a part of the story that should've been told in the first place. Like its parent picture, the humor here is in the vein of master-mimers like Jacques Tati and Buster Keaton, while the theme of BURN-E is about how even an entity with one primary function can develop quirks and imagination. This film is an accelerated, concentrated version of WALL-E — not as much of a timeless classic, but every bit as much fun.
5. Sanjay's Super Team (2015), paired with The Good Dinosaur
Like Luna and Lifted, Sanjay's Super Team is an unusually personal Pixar short, though unlike anything the studio has produced before, the film is more open about its inspiration. Writer-director Sanjay Patel based the hero on his younger self: a typical pop-culture-obsessed American boy who resented his Indian immigrant father interrupting his TV shows with Hindu prayers. The plot — and point — shifts halfway through, in a fantasy sequence that sees Sanjay's superhero obsession collide with his spiritual heritage. The action's legitimately exciting, and the animation varied, mixing more abstract forms with hyperrealism. The real kicker to Sanjay's Super Team, though, is an ending that brings son and father together, both in the cartoon and in photographs of the actual Patels. This short is a prime example of how the specific can become universal, which is something that Pixar has always understood very well — whether its artists are accurately re-creating old toys or telling true tales from their childhoods.
4. Small Fry (2011), paired with The Muppets
When Toy Story came out in 1995, much of its acclaim was directed toward the animation's sense of movement: the way the plastic soldiers could only shuffle because they were attached to a base, the way Woody was all loose-limbed and gangly, and so on. Small Fry is the perfect short for anyone who finds the limited motion of the Toy Story characters inherently amusing — which should be everyone, because it's hysterical. Writer director Angus MacLane (who also made BURN-E, and has gone on to helm the TV special Toy Story of Terror!) sticks Buzz Lightyear in a fast-food restaurant after dark, where he's brought into a therapy group for abandoned kids-meal giveaways. The setup is mainly just an excuse for Small Fry to trot one dumb toy idea after another: a karate-chopping deer (Tae-Kwon Doe!), a see-through miniature anatomy model (Nervous Sys-Tim!), a tiny garbage can (Recycle Ben!), and more. These are all crappy, crappy "prizes," and MacLane has a blast riffing on them, generating gags from how little these toys can actually do. This is easily the funniest of Pixar's spinoff shorts — and that's saying something, because Mater aside, they've all been pretty sharp.
3. Presto (2008), paired with WALL-E
There are about a dozen high points in this five-minute masterpiece, nearly all of which spring from the ingenious premise: a magician with two actual magic hats that connected via dimensional portal, Monsters, Inc.–style. Taking that basic idea, and adding the Bugs Bunny–like scenario of a persistent rabbit sabotaging his owner in order to get a carrot, writer-director Doug Sweetland locks very early into a comic groove and just keeps bopping away, coming up with all kinds of ways for "Alec Azam" to mess with the magician, via his hat. And yet for all the wacky antics in Presto, the funniest thing about the short is the little musical "ta-da" burst that plays every time the star gets topped by his assistant. The faster the tricks whoosh by, the more frequently the "ta-da"s blare. It's amazing how one little music cue can make such an enormous difference.
2. One Man Band (2005), paired with Cars
A few different Pixar themes come together in this magnificent wordless comedy. As two street musicians compete to win the attention (and the gold coin) of an adorable little girl, One Man Band recalls the fast-paced face-off of Geri's Game and the melodic clamor of Tin Toy. What makes it peak Pixar, though, is the punchiness of the one-upmanship, which sees the troubadours adding instruments and gadgetry to impress their customer, all shown from forced perspectives that put the viewer in the child's shoes. Throw in a clever plot twist and a sprightly Michael Giacchino score, and One Man Band becomes almost the platonic ideal of what a Pixar animated short should be: smart, side-splitting, and super-crafty.
1. Day & Night (2010), paired with Toy Story 3
As phenomenal as Pixar's features are, to a large degree the studio's soul is in its shorts, where newer employees and old-timers alike get a chance to play around with the medium. The process itself echoes the way Lasseter took the crude computer-graphics tools he was given back in 1984 and looked for a way to make something with life and humor. On paper, writer-director Teddy Newton's Day & Night sounds like a case of Pixar anthropomorphism gone mad, following the physical embodiments of daytime and nighttime as they first fight over who's superior and then learn to love what the other has to offer. But within that rough premise, Newton and his team find so much to explore, using a layered composite of 3-D and hand-drawn animation to make the characters into windows onto a landscape that shifts to reflect their emotional states. Day & Night is continually surprising and delightful, right down to an ending where the two entities are touched and transformed by Dr. Wayne Dyer's voice on the radio, delivering a message that resonates through the Pixar filmography: "The most beautiful things in all the universe are the most mysterious."