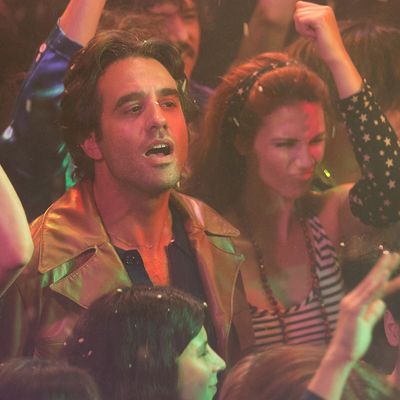 Vinyl — HBO's highly anticipated sex-drugs-and-rock-and-roll drama from Martin Scorsese, Mick Jagger, and Terence Winter — doesn't drop till Valentine's Day. But, we got to sample the 1970s music-biz saga, starring Bobby Cannavale as a record exec trying to get his company back in the groove, via recently released trailers that embody Scorsese's signatures: frenetic action, precise period detail, and a questionable main character telling his story, all set to classic rock (specifically, the New York Doll's "Personality Crisis"). Though the clips don't reveal much, it's taken a lot to get to this point in the evolution of Vinyl; Marty and Mick's idea was, at one juncture, a feature for Disney. Here's everything we know so far about the show, set in New York during that quaint time when records were pressed, not compressed.
Start Me Up
Jagger and Scorsese hatched the idea back in 2006, when Jagger asked the famed director — who's shot documentaries for the Band and about Bob Dylan — to direct yet another Stones doc, 2008 concert film Shine a Light. According to Deadline, Jagger suggested during filming that they "make a movie like Casino in the world of the music biz." Jagger's original concept: "An epic tale of two friends and their 40 years in the music industry from the early days of R&B to contemporary hip-hop." Scorsese was set to direct for, of all studios, Disney, with The Departed writer William Monahan penning the screenplay.
The "History of Music" project, as it was known then, also spent some time at Paramount before landing at HBO in 2010 with Monahan out and Boardwalk Empire's Terence Winter in. Ultimately, the "Untitled Rock 'n' Roll Project" pilot was written by Winter (who also wrote Wolf of Wall Street) and Breaking Bad's George Mastras, with filming taking place in the summer of 2014.
Time Is on My Side
When the remaining episodes began shooting last May, so did reports of iconic locations being re-created. In July, cast and crew showed up in Williamsburg, Brooklyn, and turned Rough Trade's storefront into a '70s-style Sam Goody. Brooklyn Vegan reported the street "also had half a dozen vintage cars, some old phone booths and a newsstand, and there were dozens of extras in 'me decade' polyester fashion." Gothamist said a meticulously re-created Max's Kansas City — the Andy Warhol hangout where bands like the Velvet Underground, the Ramones, and Patti Smith played — sprung up a couple of blocks away from the original location. The club's exterior was dressed with "old cars, including the 'official pace car Mercury Comet Cyclone GT' … and a newsstand with of-the-era covers from Life, Penthouse, Telegraph, and Ebony."
A funeral scene got real, courtesy of a shoot inside East Meadow, Long Island's Temple Emanu-El; a crew member told the LI Herald the show also shot at a nearby Friendly's. Bedford + Bowery got word of filming on the Lower East Side's Alphabet City, blocks from where the Stones' "Waiting On a Friend" video was shot. B+B also snapped pics of some of the '70s styles the cast rocks for a scene at the Metropolitan Playhouse.
Sympathy for the Devil
Last March, Cannavale, who won an Emmy for his role as Boardwalk gangster Gyp Rosetti, told Esquire he's been signed to do the show since 2012. "I've had this script for years," he said. "No one is anticipating it more than I am, believe me. It's pretty great." His character, Richie Finestra, is the founder and president of American Century Records. Though the one-time A+R rep is known for his great ear, he's now past his prime and possibly out of his element in the soon-to-arrive disco, punk, and hip-hop scenes that defined New York in the years following 1972, when the show begins. "He's got his eye on this young band," Sonic Youth's Lee Renaldo told Bedford + Bowery of Richie. "I'm making some of the music that you'll hear when they're on stage." There's also the matter of Richie's coke habit: "So this is my story, clouded by lost brain cells and maybe a little bullshit," he says in the trailer.
Honky-Tonk Women (not really, but just go with the Stones theme)
Olivia Wilde plays Devon Finestra, Richie's wife and mom to his two young kids. The ex-actress and model, who had Andy Warhol's attention in the '60s, dives back into her old bohemian life when Richie's work puts a strain on their relationship. Juno Temple (The Dark Night Rises) is ambitious A+R assistant Jamie Vine, hustling to make her mark at American Century. Indiewire says Vine "uses her keen abilities to manipulate people and blend into the various subcultures of the New York music underground in order to break through the glass ceiling and get ahead." Temple has her own rock roots: Her filmmaker father, Julien Temple, shot music docs for bands like the Sex Pistols (The Filth and the Fury) and Joe Strummer (Joe Strummer: The Future Is Unwritten). Birgitte Hjort Sørensen (Pitch Perfect 2, Borgen) is Ingrid Superstar, a Danish actress and Devon's close confidante, who was also part of Warhol's world. Annie Parisse (The Following) is Andrea Zito, a no-nonsense PR woman at a rival record company.
Street-Fighting Man
Ray Romano is Zak Yankovich, one of Richie's partners and his go-to guy, not to mention American Century's tough-as-nails head of promotion with mob history. Max Casella (Inside Llewyn Davis) is Julius "Julie" Silver, American Century's hot-tempered and aging head of A+R, doing his best to adapt to the quickly changing scene. Jack Quaid (The Hunger Games) is Silver's underling, Clark Morelle, a junior A&R guy trying to make his mark in the company's cutthroat environment. J.C. Mackenzie (Hemlock Grove) is Skip Fontaine, another of Richie's partners, and head of sales. P.J. Byrne (Wolf of Wall Street) is Scott Levitt, American Century's lawyer. Andrew Dice Clay is Frank 'Buck' Rogers, a coked-up radio-station mogul. Paul Ben-Victor (The Wire) is Maury Gold, an amiable record-company owner who's pragmatic about money. Joe Caniano (Boardwalk Empire) is Richie's longtime chauffeur Leo.
Of course, this being Scorsese and Winter, gangsters want to muscle in on the action. Bo Dietl, a former New York City police detective, plays Joe Corso, a freelance promotion guy who may be connected. Armen Garo is mob boss Corrado Galasso. Robert Funaro is Galasso's enforcer, Tony Del Greco.
It's Only Rock 'n' Roll (But I Like It)
Brooklyn Vegan says Christian Peslak, of the band Saint Rich, plays New York Dolls singer David Johansen, and ex–the Drums drummer Connor Hanwick plays Lou Reed. James Jagger (guess whose son?) is punk-rocker Kip Stevens, lead singer of fictional band the Nasty Bits. Ato Essandoh (Elementary) plays Lester Grimes, a former singer and ex-colleague of Richie's, who at one point is seen in the midst of a violent fight. Douglas Smith (Big Love) is party-band Karisma's keyboardist Xavier, a naïve and gentle soul.
Oh, and in case you were wondering: "Stones music will be in the series," said HBO programming head Michael Lombardo, "but not with any more frequency than any other music of the period."