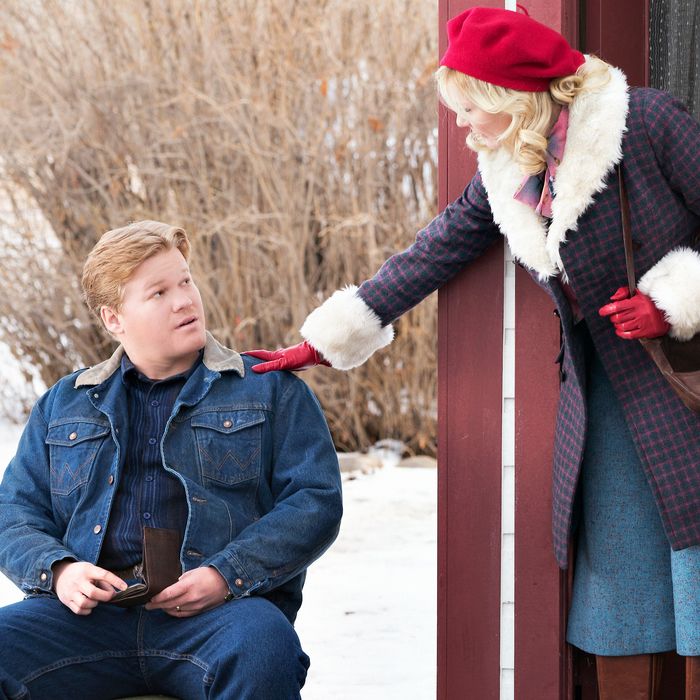 L-R: Jesse Plemons and Kirsten Dunst as Ed and Peggy Blomquist.
Photo: Chris Large/FX
FX's brilliant second season of Fargo is entering the final stretch of its 10-episode run, and each passing episode grows more tensely plotted than the one before it. We understand you're working your way through the just-launched full seasons of Jessica Jones and The Man in the High Castle, but over in the world of episodic cable programming, the time to catch up on Fargo is now. Why is Fargo so deserving of your attention? Let us count the ways.
It has the best ensemble cast on television.
It's tempting to avoid hyperbolic claims like "Best on TV" regarding any aspect of a current program, but as someone who has watched hundreds of hours of TV this year: It's not even close. Yes, the casts of The Knick and The Leftovers deserve mention (as do the crazy kids of You're the Worst on the comedy side of the ledger), but if they give away an award to TV casting directors, they should name it after the people behind Fargo (Rachel Tenner and Stephanie Gorin). It's a show with a carousel of great performances as a different actors seem to have their time in the spotlight every week. Standouts include Patrick Wilson, Jean Smart, Kirsten Dunst, Jesse Plemons, Ted Danson, Bokeem Woodbine, and Jeffrey Donovan — some of whom are doing the best work of their careers. Like the best ensembles on TV, they all feel united by the same vision, but they're giving totally unique performances. They stand out, but they stand together. They've sketched characters who both feel unique and of the same piece, which is a testament to creator Noah Hawley and the directors he's assembled to bring his vision to life.
The Coen connection is strong, yet subtle.
Let's say you don't care about TV, even in this so-called "Golden Age." You're more of a movie person. And if you're a film nut in 2015, you're likely a fan of the Coen Brothers' films and may think that the TV version of Fargo is merely a mirror image of their Oscar-winning 1995 black comedy. Yes, the Frances McDormand–William Macy flick is the main blueprint for Hawley's show (although that was more true in season one), but the creator and his writers are constantly calling back to other Coen films as well, from subtle visual cues to characterization. The hall of the Pearl Hotel reminds me of Barton Fink; the driven purpose of Hanzee (Zahn McClarnon) reminds me of Anton Chigurh in No Country for Old Men; a man is even buried alive like in Blood Simple. It's like Hawley uses the rest of the Coen résumé as seasoning on the main dish that is Fargo.
It's hilarious.
It's that deadpan, dry brand of comedy that the Coens do so well, but Fargo is one of the most laugh-out-loud dramas on TV. Whether it's the malevolent stupidity of characters like Dodd producing a giggle or the way poor Peggy Blomquist (Kirsten Dunst) seems "a little touched" or even two hit men (Brad Garrett and Bokeem Woodbine) talking about the shampoo they used that morning, Fargo never fails to produce a hearty laugh or two. And I'll pay to see the first prog rock band to actually call themselves Mike Milligan and the Kitchen Brothers.
It has impressive musical range.
Speaking of music, most of the best shows in the history of television have deftly woven music into the fabric of their programs. Think about David Chase's choices at the end of every episode of The Sopranos, or the social commentary Matthew Weiner often embedded in his song choices for Mad Men. Noah Hawley & Co. often use music as a callback to Coen brothers' films — tonight alone uses songs from O' Brother Where Art Thou?, The Big Lebowski, and Miller's Crossing, but what's interesting is none of them are literally the same version from the films, adding to the alternate-universe feel of Fargo. Hawley and his team are also using music of the era brilliantly from Three Dog Night's "Shambala" to Jethro Tull's still-awesome "Locomotive Breath" to open tonight's amazing chapter.
It's smart!
Every episode of Fargo to date has been titled after a piece of literature, and characters have quoted everyone from Lewis Carroll to Albert Camus. The literary choices never seem random, thematically commenting on the action of the show. Episode three is named after Camus's The Myth of Sisyphus and feels like a major inspiration for the entire season, given Noreen's extended philosophical discussion of it with Ed and Charlie in episode five (and Ed's subsequent misinterpretation of it in episode six):
How many TV shows in 2015 can introduce you to the works of Kafka, Camus, and Ionesco?
It's not afraid to kill your favorite characters.
People have fallen in love with AMC's The Walking Dead for a number of reasons, but the main one seems to be that the creators of the show raise the dramatic stakes by being remarkably unafraid to kill your favorite characters (up until recently). The same holds true for Fargo. Without spoiling anything, Fargo is one of those shows in which no one feels safe. Every episode could open with a major character getting whacked, and the only two people we know for sure will survive this chaos are Lou and Molly (they're both in season one and this is a prequel). In an era in which everything gets spoiled on Twitter moments after it happens, you really should watch the last four episodes of season two of Fargo as they air. Not everyone is making it out alive.
You can prepare for the final four episodes On Demand or through FX Now.