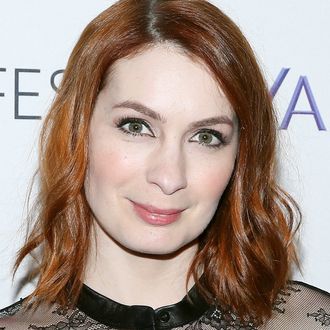 Felicia Day.
Photo: Jemal Countess/2015 Getty Images
Joel Hodgson's Mystery Science Theater 3000 revival has found its new villain, along with the voices behind Crow T. Robot and Tom Servo, according to a hefty update from the show's Kickstarter page. The MST creator semi-confirmed three casting rumors behind the roles (semi- because he has to wait until the end of fundraising to officially set anything) one week after announcing Jonah Ray could be the new host. Comedians Hampton Yount and Baron Vaughn are set to voice Crow and Servo, respectively, and Felicia Day will take a turn as Kinga Forrester (the next Mad, and Dr. Clayton Forrester's daughter). At time of publication, MST's nearly half-finished campaign had raised more than $2.6 million, which translates to at least three episodes for the time being. Watch Hodgson's latest update video here:
The new talent confirmed their spots thusly:
You can learn more about the MST revival here.