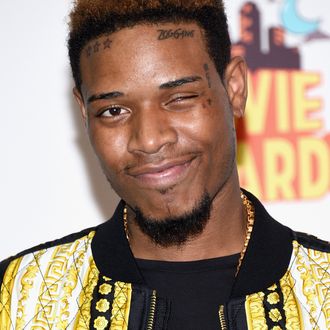 Fetty Wap.
Photo: Michael Buckner/2015 Getty Images
Fetty Wap made holiday shopping easier for patrons (and secret Santas) of New Jersey's Garden State Plaza this weekend by tossing cash bonuses at them like some sort of human ATM. The rapper was seen walking along the upper deck of the Paramus mall Saturday, according to social-media posts, when he, upon noticing hordes of onlookers, threw $2,700 ($2,000 in singles and $700 in $20s, per reports) over the balcony and onto the floor below. "Got to see my daughter today, took her shoppin and I was so happy I threw 2k in the mall," he tweeted later that day. "Never no who needed it." Here's some videos-or-it-didn't-happen proof of what has been heralded as the artist's best good deed to date:
Fetty Claus also took some time to weigh in on T-Swift, kind of:
Because why not? Rain, rain, don't go away.