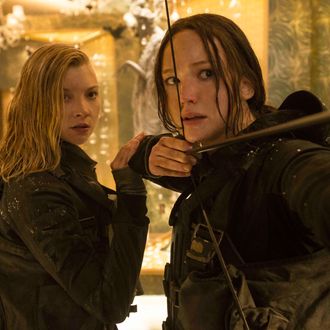 Photo: Murray Close/Lionsgate
Spectre, being touted as potentially the final Daniel Craig James Bond movie, has been breaking records like crazy since its premiere. But the film has been slowing down tremendously, only making $14.6 million in its second week for a total domestic gross of $153.7 million. With a certain movie set in a certain galaxy far far away on the horizon, it remains to be seen if Spectre will live up to the enormous box office hype. This week, James Bond was no match for Jennifer Lawrence, as the verbosely-titled The Hunger Games: Mockingjay — Part 2 absolutely destroyed every other movie at the box office this weekend, pulling in over $101 million. That's admittedly $20 million less than its predecessor, but when you beat James Bond by over $80 million, that ain't too bad. Mockingjay — Part 2 is the fifth film of 2015 to open with a $100 million haul.
The rest of the weekend's top five includes The Peanuts Movie with $12.8 million ($98.9 million cume), the Seth Rogen Christmas and drugs comedy The Night Before with $10.1 million, and the remake of the Secret in Their Eyes with $6.6 million, which is Julia Roberts's worst wide-release opening since Mary Reilly (1996), a movie that made back 1/4 of its budget, and for which Roberts was nominated for a Razzie for worst actress.
On the indie side, the delightful Turkish/French movie and Best Foreign Language film contender Mustang opened to $22,151 on three screens. You should see this movie ASAP. Legend, starring Tom Hardy and Tom Hardy as two identical twin limey gangsters, made $83,000 on four screens. Angelina Jolie's By the Sea made $185,000 in its second week for a total of $312,597. And Todd Haynes's gorgeous Carol, one of the year's best films, opened with $248,149 on four screens.