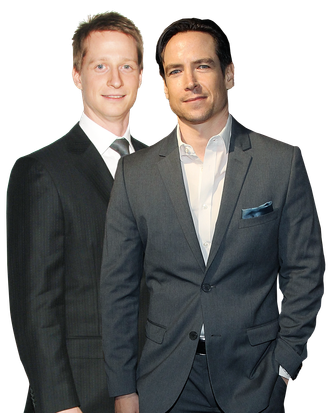 Photo: Jamie McCarthy/Bennett Raglin/WireImage
To hardcore ballet fans, Ethan Stiefel and Sascha Radetsky are two of the greatest male dancers of the past decade, both of whom retired after storied careers at American Ballet Theatre. To everyone else, they will forever be Cooper (Stiefel) and Charlie (Radetsky), the swoon-worthy guys vying for the heart of Jody Sawyer in Nicholas Hytner's Center Stage.  In real life, the fan fiction writes itself: Stiefel and Radetsky, along with their ballerina wives (ABT principal dancers Gillian Murphy and Stella Abrera, respectively), are total besties. They're reunited on Flesh and Bone, Starz's new ballet-centric drama miniseries debuting Sunday night, created by Breaking Bad producer Moira Walley-Beckett.  Stiefel is behind the camera as choreographer, while Radetsky's warming up his acting chops again as Ross, a talented dancer with his eye on the troupe's latest addition, Claire (Sarah Hay). Stiefel and Radetsky chatted with Vulture about just how realistic the series is, being stereotyped as male dancers, and the legacy of Center Stage.
How did you each get involved in the show — was one of you involved in roping the other in?
Ethan Stiefel: I was sitting in my office in New Zealand and got a phone call from the producer, John Melfi, and he simply said, "Hey, we're looking to do some auditions for this show on Starz, would you be willing to come on board as a consultant for the casting?" To find dancers that were of professional caliber and could also act.  He also said they were interested in me choreographing for the show, but first things first, we have to make sure we have a cast. The entire production team, including Moira, wanted to be sure there were no body doubles.  So I flew out to New York for a week for auditions. Some people were invited in, some were open calls, and one thing led to another. Sascha was there at that time, but I kind of kept everything on the down-low in terms of our friendship so it wouldn't compromise either of us — so if Sascha got the role, it was certainly based on his talent.  At that time, the show was really in its infancy and neither of us knew if it would happen.
And Sascha, I assume it had been awhile since you'd acted?
Sascha Radetsky: Yeah, I hadn't really thought about doing any acting at all post-Center Stage. Ethan and I both dove back into our dance careers and focused on that, seeing as it's such a short career and it's what we trained for and loved.  I caught wind of the show and was like, oh, cool, Ethan's got a new gig. But I didn't even think about auditioning. I just started working with an agent for dancing gigs, and he said, "this casting agency invited you to come audition."  Initially I balked at it—I didn't envision myself trying to act.  But I went in and read for it. Ethan being involved lent it legitimacy on the dance side of things, so I got more interested in it. It felt like a good vehicle for transitioning out of ABT — I was reaching that point where I was thinking about retirement, so it all came along at a very fortuitous time.  I actually didn't dance in the audition until later in the process.
Since Center Stage, ballet is portrayed much more in pop cultural contexts. What kind of concerns do you have, if any, about how realistic the portrayal is on a show like this?
ES: It's a dramatic portrayal, an artistic impression, of personalities and people that, in the history of dance, have existed, and do exist today to a certain extent. Is it a portrayal of what all people are like? No.  There's a base line of reality the show is working off of, but at the same time, it is looking to make engaging, gripping television.   We both wanted to make sure that at least the dance portions represent the art form as well as possible.  But as a choreographer, I was following the script. I had my own ideas, and I was able to express them, but the writers and producers have strong ideas of what should be happening, and in television it's a different approach.
SR: It's really not a documentary. That said, there are elements of truth.  Ethan has said before, which I'll steal, there are these personalities in the dance world, and on this show they're kind of all in one room (laughs).  And as long as there was some dance shown, that's one way to reassure ourselves that we're engaging in a worthwhile endeavor.  The show is also more of a human drama, and dance is really more the backdrop to these other plotlines and narrative arcs that are laid out.  The dance is like another character in the room.
As someone who has sat in on a lot of ballet rehearsals, it seems like a fairly dark interpretation of what the social life of a company is like.  Did that ring true for you guys? Was it tough to forge a friendship as strong as yours when you were coming up?
ES: On this show, there's a lot that we see going on with the characters outside the company, so we're not seeing the dance world solely.  It is dark and intense, and as an artist I respect that point of view, but it's not always 100 percent of the experiences that happen in dance. I think it's worth saying that a lot of folks in the ballet world are very supportive, very nurturing, that there's a lot of mutual respect and love in the dance world as well.
SR:  I think guys, because we share a history growing up of being stereotyped, because there are fewer of us in the dance world, that contributes early on to a bond among us. A lot of us share stories of being harassed or teased growing up — there's a certain deep camaraderie that's formed through that shared struggle. It wasn't hard to form friendships, and once you get into a company, you tour together, you cry, you sweat, you become more of a family.  I never cried, of course. But sure, in the dance community there will always be competitive people. People come and go, and I've certainly had experiences with overbearing figures and conflicts here and there, but for the most part I've found the dance community to be really supportive and I've formed some lifelong bonds, like with Ethan.
You both met your wives in the company. On the show, we see some inappropriate-seeming interaction between guys and girls in the company — Sascha, your character gets a little handsy in the studio. I can't imagine that flying in real life…
SR: There are more straight guys than you would imagine — and we respect our female colleagues. Working in an environment where you're always touching one another and you're with each other 24/7, sure, relationships happen all the time.  The boundaries in general have to be expanded, and this goes for gay men and women too — when you're inhabiting a role, dancing with and touching one another, it's a bit looser than in a corporate job.  Maybe they don't start out quite as lecherously as Ross's relationships do.  You can sense when someone is crossing a line, but I guess I don't remember it happening very often. Once we had a sexual harassment seminar and the person who came in to give the talk to all the dancers — and I'm sure she had just been at like, a bank or something — was like, "Okay, touching one another under any circumstance is not okay." And we were like, "um, that's what we do?" What do you think Ethan?
ES: Men and women in other professions, there's flirtations, and that certainly happens in dance. We're working in a dramatic place, a place with emotion and sensuality and sexuality in terms of some of the content we're asked to execute.  So there's a real openness of emotion, but also a foundation of respect.  You're being asked to embrace or kiss someone — that's entertainment.
Are you happy to have this excuse to be together again? Or are you hanging all the time anyway?
ES: I mean, he's my best friend, my wingman.  But it was great to work with Sascha as choreographer — we hadn't worked together in that way.  We were always colleagues as dancers.  We were working very quickly, so to have Sascha there and to have his belief in me — not just as a friend, but as someone who can be very professionally objective, telling me if something's good or bad — it was really a great resource. This was new territory for me; I wasn't making just ballet, I was making cocktail party numbers, stripper numbers….
SR: I will say it wasn't like we were hanging out joking around on set. Ethan was flying back and forth to New Zealand, where he had another job, and I was also finishing out my last season with ABT. So we'd come to set and just try to be professional. Being as close as we are, I think that helped make things run smoother. It was fun for me to see Ethan tap into this other talent that I hadn't seen much of before. Sometimes it's a tense environment, and he always kept his eye on the ball. I think we both took a big deep breath when it was all over, and then just resumed being buddies and giving each other crap all the time.
Do you two still encounter rabid Center Stage fans?
SR: They're a little less rabid — they're like, more middle-aged now.  But Center Stage was so much fun, and somehow the movie has legs.  One kind of funny story — Ethan and I were doing a cross-country motorcycle trip years ago, and we'd been camping — we were filthy, dirty, sunburned, and I had just had a little… mishap. Just a small accident and my head was kind of split open. We go to this clinic, scruffy and probably smelling very ripe, matted with blood, in the middle of Colorado somewhere. And the nurse, after she stapled my head together, was like, "Uh, I really liked you guys in Center Stage."
ES: That movie has been great to me.  I think Sascha's right that the fans are a little less rabid now. The producer on Jimmy Kimmel's show the other day said, "I just want to let you and Sascha know my wife was more excited about you two coming than for us being in Brooklyn an entire week." And we love the Center Stage fans! I don't deal with celebrity on a Brad Pitt level, so it puts a smile on your face when someone recognizes you.