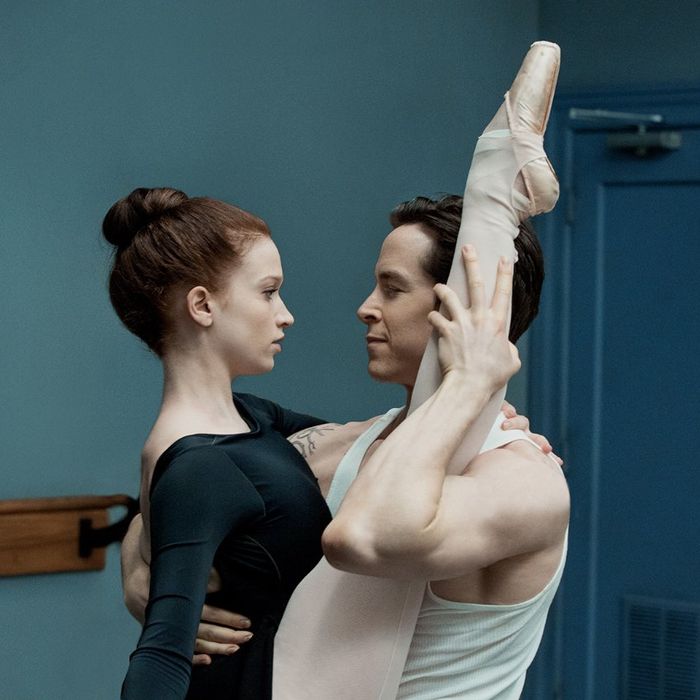 Photo: Patrick Harbron/Starz Entertainment
Spoilers ahead for the entire eight episodes of Flesh and Bone, all of which were released at once to Starz subscribers on November 6.

Plenty about the Starz mini-series Flesh and Bone follows ballet-movie tropes: the newcomer, Claire, who challenges the aging prima ballerina. A roommate with an overbearing ballet mom and a rotating cast of sexual partners. A corps full of gaunt sniping dancers. Two male dancers — the ostentatiously gay one and the casual player. And over them all, the sadistic, abusive, and sometimes seductive creative director of the company. If you've watched enough of the genre, you know that the ballet company Claire joins is on its last legs financially and will commission a daring new ballet in an effort to fill seats and save itself from financial ruin. And along the way, there will be the inevitable angling for the best place at the barre, sabotage, shards of glass stuffed into a pointe shoe, eating disorders, and gruesome toenail injuries.
But somehow, the show is simultaneously weirder and more realistic than any other ballet drama (with the possible exception of Robert Altman's The Company), and part of this realism comes from the decision to cast real dancers and dwell on performance. Creator and Breaking Bad alumna Moira Walley-Beckett layered something more into Flesh and Bone, though, which is way more explicit than its closest cousin, Black Swan. Critics compare the two, but Black Swan was basically body horror, its DNA drawn from the same pool as Rosemary's Baby. It translated the fear and pain felt in an awakening female body that's trying to distinguish itself from mother into something visceral.
Flesh and Bone is horror, too, but of a different sort, and with a different aim. Its most head-scratching elements are drawn from gothic horror, a genre that evolved in the middle of the 18th century to tell stories of terror, death, and desire — and one from which ballets often borrow elements. Black Swan focused on a young woman individuating herself from her mother and unearthing her latent dark side; Flesh and Bone is about domination and abuse, and about the difference between loving someone and owning someone.
What's more, the show itself takes on the form of a ballet. And that's a truly original way to tell a dance story.
A typical classical ballet is based on fantasy or fairy tales, but not the Disney-fied type (though they're sometimes tweaked in that direction for market appeal). They're darker and more unsettling, frequently drawn from or related to gothic sources. In repertory staple Giselle, for instance, the heroine dies of a broken heart when she discovers her lover is betrothed to another, then encounters a group of women who sentence men to dance to their deaths; in Swan Lake, Siegfried and the white swan, Odette, leap to their deaths; Coppelia ends with a happy wedding, but only after a long plot involving a man who falls in love with a life-size doll and almost dies; Petrushka is the story of a lovelorn puppet in love with a ballerina who eventually takes revenge on his maker. In The Rite of Spring, a young woman sacrifices herself in a Pagan ritual.

Flesh and Bone is a contemporary twist on these familiar tropes. The princess escapes the tower of her imprisonment and flees straight into another evil lord's hands, and must struggle to free herself from him while battling the dragon of her past as well and severing its final chains. Along the way, she encounters several would-be knights — a donor to the company who will only donate if she spends the night with him; a strip-club patron who means well but is from a different world; the strip-club owner, who turns out to be imprisoning underage girls of his own as a trafficker — and dodges the rival fading queen/ballerina who wants to see her destroyed.

Certain characters turn up regularly in gothic horror: the ingenue, for example —that's Claire. There's often an aloof, dark-haired girl — in this case, that's Daphne, the talented dancer with a rich father who moonlights at a strip club and becomes tentative friends with Claire. Then there's the Dracula-like character of Paul, who bleeds everyone around him completely dry.

Paul, creative director of the fictional American Ballet Company, is one of the most domineering characters on the show. He is given to standing at his office window looking angry, insisting that his staff perform impossible feats and saying things like, "Everyone and everything here is mine, to do with as I will." The window, though, is the key: It's framed by majestic gothic arches, the sort usually seen in cathedrals. Typically, the buildings in gothic stories mirror the characters' frame of mind in their surroundings, so it's also appropriate that Claire's childhood home is shot like an ogre's lair, all shadows and darkness, with her bellowing father in the next room.

The company also hires the bleach-blonde punk choreographer Toni Cannava to create its comeback ballet. She wants the dancers to open themselves up — to let out "the dark secret you keep locked up inside your most sacred spaces, hidden from yourself, especially from yourself," as she puts it — so her rehearsals are full of affirmation and exercises meant to get the dancers back in touch with their bodies. Predictably, Paul hates it, but Toni's character is in keeping with the typical gothic trope of the good, violence-avoiding, power-wielding blonde.

One of the odder characters in the show is Romeo, a kind but strange homeless young man who lives beneath the stoop of Claire's new apartment building and behaves like the caretaker of the estate, a Lower East Side Quasimodo. Of all the characters, Romeo is the most aware that he's in a narrative. He reads books and writes stories of heroism and danger. In a key conversation near the show's end, Romeo tells Claire that "in the story, sometimes it's hard to know what part you play." He wonders if he is a seer, or a prophet — or even, he fears, "What if the dragon is me?" As the show goes on, he begins to venture away from the stoop, feeling as if an evil force is approaching. "Blood is in the water!" he shouts. "Behold the dragon!"

The weirdest and queasiest subplot in the show is about a sexual codependency between Claire and her brother, Bryan (an element it shares with Crimson Peak), and its disturbing details roll out at an excruciating, insistent pace. We come to understand that Claire and Bryan were raised by an angry and emotionally abusive father. Their childhood closeness eventually twisted into a sexual relationship — and a pregnancy that ended Claire's apprenticeship at the Pittsburgh Ballet and forced Bryan into the military. She's hidden a memento of that time in the most obvious place for a gothic horror story: a box hidden beneath the floorboards at home.
By the show's final episode, the princess — Claire — decides to free herself, tapping into a Black Swan–like vein of darkness she'd tried to ignore. By the night of her debut, her rival deposed, her hair cut, Claire's apparent status as the ingenue has fallen away. But she is now something else, something more like a vampire, with blood dripping over her lip backstage. In the show's final moments, when Paul, formerly her master, approaches her and commands her to tell him what she's thinking, she refuses. His spell is broken.

But the more obvious nod to its balletic source comes from the climactic scene in which Romeo, having made his own chain mail from bottle caps and thereby transformed himself from Quasimodo to hero, slays the dragon — Bryan — who seems to know it's the only way to protect his sister from himself. It's completely over-the-top, a scene that skirts close to camp, but it also takes place under a makeshift proscenium arch in a New York City park. And as the camera pulls away on Bryan's bled-out body and the triumphant Romeo, the snow starts to fall. Could there be anything more theatrical?

That very theatricality, when tied to explicit and gritty realism, probably hampers Flesh and Bone's appeal to a lot of ballet fans as well as critics. But the structure gives it moral weight: In gothic horror, desire is not a failing to be quashed but a force to be directed, something that can kill a person or conquer abuse and domination. In choosing ballet as both the story and structure, Walley-Beckett focuses her attention particularly on the complicated relationships that stem from abuse and obsession. And she gives us a heroine who takes control of her own story, on her own terms.