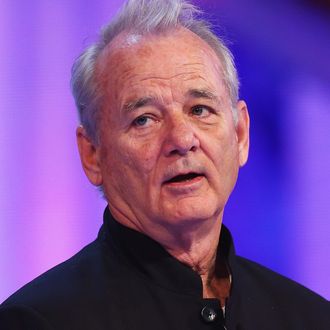 Bill Murray.
Photo: Ian Walton/2015 Getty Images
The end of the year is almost near, which means it's time to start thinking about 2015 in review. Forbes has begun by doing so this Thanksgiving with its list of Hollywood's biggest financial flops. Using box-office data and production estimates, the outlet determined flop-worthiness based on what percentage of a budget a certain project returned — or tried to. (Movies in question had to have opened before November, in more than 2,000 theaters worldwide.)
One of the more interesting takeaways from this year's list (below), as Forbes points out, is that the data show big names don't necessarily translate to big sales the same way they used to. An overwhelming majority of the flops served as vehicles for A-list talent: The leading Forbes flop of this year is Bill Murray's Rock the Kasbah, for example, followed closely by Sean Penn's The Gunman and Chris Hemsworth's Blackhat; Emma Stone-, George Clooney-, and Johnny Depp-led flicks round out the others.
Here's the publication's top bottom 15, in full:
1. Rock the Kasbah (19 percent return)
2. The Gunman (27 percent)
3. Blackhat (28 percent)
4. Unfinished Business (41 percent)
5. Jem and the Holograms (46 percent)
6. Self/Less (47 percent)
7. American Ultra (55 percent)
8. We Are Your Friends (60 percent)
9. Aloha (71 percent)
10. Mortdecai (79 percent)
11. Pan (80 percent)
12. Hot Tub Time Machine 2 (94 percent)
13. Jupiter Ascending (104 percent)
14. Tomorrowland (110 percent)
15. Crimson Peak (114 percent)
For more on Forbes's findings, as well as the full report, head here.