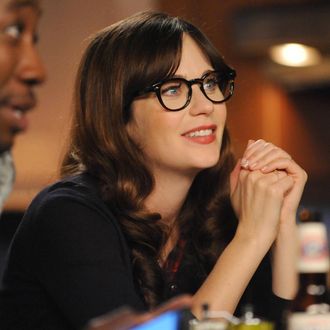 The Brooklyn Nine-Nine gang is headed back to Tuesday nights. As part of Fox's usual midseason schedule overhaul — necessitated by the annual return of American Idol — the network has decided to shift Andy Samberg's modestly successful cop comedy from its current Sunday perch to a 9 p.m. Tuesday anchor slot, starting January 5. New Girl, which had occupied that Tuesday time period for most of its run, will now lead off Tuesdays, with new John Stamos comedy Grandfathered sliding to 8:30 p.m. The Rob Lowe/Fred Savage newbie The Grinder will follow Brooklyn Nine-Nine at 9:30 p.m. Meanwhile, in other big shifts, Sleepy Hollow is being shuffled off to Fridays at 8 p.m. starting February 5; new comedies Cooper Barrett's Guide to Surviving Life and the animated Bordertown debut on Sundays, on January 3; new drama Lucifer replaces Minority Report Mondays at 9 on January 25; the Frankenstein-inspired Second Chance (formerly called Lookinglass) temporarily takes over the Empire time slot on January 13; and the final season (for now) of American Idol will air on Wednesdays and Thursdays beginning  January 7. (Yes, there will be a quiz on all these changes later.)
As for strategy, the Tuesday remodel is a bit of gamble for Fox: The network has struggled to make just two sitcoms work on the night this fall, and is now hoping it can convince viewers to tune in for a full night of half-hour comedies. But with Brooklyn having found a solid audience on Sundays, Fox execs may be hoping those viewers will follow it to a new night (or at least adjust their DVRs accordingly). Just as important, the network wanted to open up some real estate on Sunday in order to give its two new comedies their best chance to succeed. (Sundays have lately proven to be a better environment for Fox half-hours than any other night of the week.) Meanwhile, Sleepy Hollow fans will likely freak out at the news their show is moving to its third night in as many seasons, and for good reason: Historically, Friday has been where Fox has sent shows (particularly sci-fi shows) to die. In the age of time-shifting, however, it's possible the move won't automatically be a death sentence for the series.
A few other Fox scheduling notes:
• After wrapping up its winter season, Empire will return for the second half to its sophomore year on March 30. Rosewood returns to Wednesdays a few weeks earlier, on March 2.
• Gotham begins the second half of its season on February 29.
• As previously announced, the X-Files revival debuts Sunday, January 24 and then shifts to Mondays at 8 on January 25.
• No word yet on when Last Man on Earth or Bones will return for their spring runs.