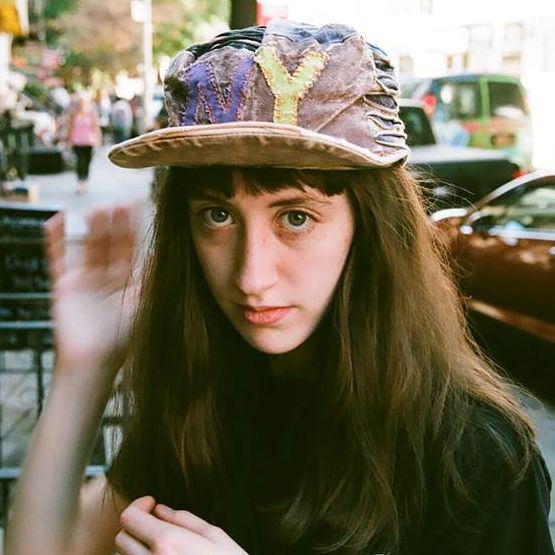 Photo: Matthew James Wilson
Before her debut LP Zentropy — one of our favorite albums of last year — came out on Brooklyn micro-indie label Double Double Whammy, Greta Kline would release torrents of unpolished, sweetly melodic songs on Bandcamp — first as Ingrid Superstar, then as Frankie Cosmos, the name she still uses for what's now a three-piece band. She processed her music quickly, almost automatically: write, record, upload, publish, forget. She didn't think about who would hear it, or if anyone would hear it at all.
"Two years ago, I would literally just write a song and record it directly into my computer, and then put it online and never listen to it again," Kline tells Vulture over the phone from her apartment in New York, the city she still calls home when she gets time off the road. "Now it's more like, 'When should we release it? How are we going to play it on tour?' All of this stuff that I never thought about before." Since Zentropy, Frankie Cosmos' output has slowed to a trickle, at least by Kline's standards — the self-release of two collections, affirms glinting and quick songs, in mid-2014 is still prolific by all accounts. Kline's first release of 2015, the four-song Fit Me In EP, comes out next Friday through Bayonet Records, but Vulture is streaming the release early.
Some of the songs on Fit Me In, the first Frankie Cosmos release to feature primarily electronic instrumentation, have been in the works for almost two years. "A lot of those songs I wrote right after Zentropy came out," Kline says. "I wasn't even thinking about releasing this kind of music. I just viewed it as a one-off thing, like, Ha-ha, we made a song that's really poppy and weird! I just thought it was funny to hear my voice over poppy sounds. I still think it's funny." But Fit Me In is pop music the way Frankie Cosmos' earlier work was rock music: in a niche sense only. It carries the casual air of its predecessors, invitingly simple and intimate, still warm despite the software that's been subbed in for guitars.
While Kline's pre-Zentropy output was written and released unself-consciously, parts of Fit Me In respond directly to the way Frankie Cosmos has been digested by both the music media and her newfound fan base. "Young" is a wry retort to the way the myth of the teen prodigy was superimposed on Kline, who was 19 years old when Zentropy came out. "I wrote some songs that I sung / And have you heard? I am so young," sings Kline over a drum-machine beat and splashes of keyboards. But there's a schism between how she's seen and the way she actually feels about herself: "I heard about being young / But I'm not sure how it's done."
"I'm still young. I'm only 21," she says. "But it was definitely scary having the selling point of that album be like, 'Oh, she's only 19.' I was like, 'Oh my God, that's not going to be happening in two years.' When I'm 21 and put out the next album, it'll be like, 'Oh, she's just a normal 21-year-old.' A boring age. Not relevant. For some reason, it was exciting that I was 19! That's what ['Young'] is about: all the novelty facts about me. This is why people are interested? Does anyone actually like the music? All those feelings."
Lyrically, Fit Me In bridges Zentropy and Frankie Cosmos' next album, due out this coming spring. It catches Kline at a moment of reflection on the beginning of what would become her full-time job. She's home now, at the end of a two-month break from touring, but she's spent most of the past two years on the road, where much of her next album was written. (That said, she'll hit the road again next week with pop-punk favorites All Dogs.) "It's really funny to have all these songs that are about being away from home and being a musician, which is kind of not a relatable thing," she says. "It's so different from Zentropy, which is about being in high school and going to college and being at home with your family and having a boyfriend. My subject matter has become so much less relatable to normal people. I'm curious to see what will happen when we put out those songs. It's a really different perspective on life."
Constant touring has forced Kline to be more deliberate about keeping in touch with her loved ones. Her boyfriend, Aaron Maine, who arranged the synths on Fit Me In, recently left his station behind the Frankie Cosmos drum kit to focus on his own band, Porches, which recently signed to Domino Records. Kline says she learned the importance of staying present while traveling in part from her father Kevin Kline, the Oscar-winning actor who just finished filming the forthcoming live-action take on Beauty and the Beast. (Her mother is Phoebe Cates, another angle gravitated toward by the press.)
"When you're on tour, you wake up, you get in the car, you're in the car all day, you get to the show, you load in, you sound-check, the show starts, then you go sleep somewhere. You really have to make an effort if you want to have a second to call home," Kline says. "My dad was really good at that. He would always fax us letters when we were kids. I think that's something that I am still working on. I'm not old enough or mature enough to be good at that. I just shut out the outside world when I'm on tour. I'm definitely going to try and do a better job of being in touch. Especially now, because this is the second tour that my partner's not in my band, I actually have to make an effort to call him every day. That was a learning experience for me."
But Kline, who just got her first iPhone in July, says technology makes it all easier. "I'm really into having a smartphone," she says. "It's a great world to live in if you want to have a long-distance anything."