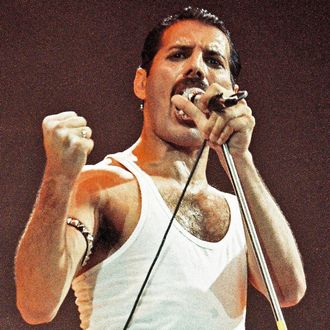 Freddie Mercury performs onstage at Live Aid on July 13, 1985, in Wembley Stadium, London, England.
Photo: Peter Still/Getty Images
I honestly did not see The Theory of Everything, but I have to assume Stephen Hawking had a ton of pelvis-thrusting rock numbers that showcased his operatic voice and high-octane sexuality? I don't know who Stephen Hawking is. If so, that explains why GK Films has hired The Theory of Everything scribe Anthony McCarten to pen a screenplay about the late, great Queen front man, potentially titled Bohemian Rhapsody. While Sacha Baron Cohen pulled out of the film back in 2013 over disputes with surviving Queen members, Deadline reports that Spectre actor Ben Whishaw has been mentioned to play Mercury. If he's not available, might Stephen Hawking be available? Again, I have no idea who he is or what he does. I'm just throwing that out there.