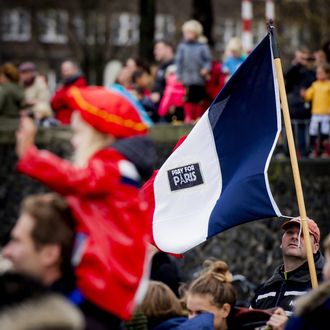 Mourners in Paris.
Photo: ROBIN VAN LONKHUIJSEN
The terrorist attacks that claimed the lives of more than 100 in Paris earlier this week have led to the postponement, for the second time this year, of a French film depicting a terrorist cell's activities in the city. According to The Hollywood Reporter, Made in France,was scheduled to open Wednesday, but has had its theatrical release canceled. The film, from director Nicholas Boukhrief, follows a French Muslim journalist who infiltrates a jihadist cell to uncover plans for an attack in the French capital. After the Charlie Hebdo attack earlier this year, distributor SND Films also dropped the project.
"Following the tragic events of last night, the distributor Pretty Pictures and producer Radar Films have immediately decided to postpone the release of the film to a later date," the filmmakers said.
According to The Hollywood Reporter, Paris transport authority RATP started to remove the film's provocative poster, which depicts an assault rifle in place of the Eiffel Tower, from metro stations early Saturday.