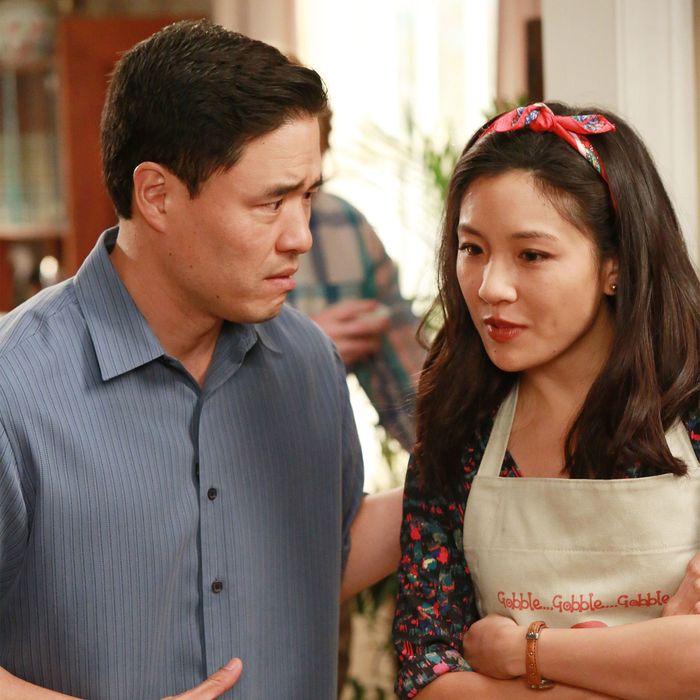 The Huangs are hosting Thanksgiving this year, and Jessica is determined to outdo her sister, who has hosted in years past. Clipboard in hand, Louis puts Emery and Evan on table-décor duty while he and Jessica prepare the perfect feast. But despite their best-laid plans, unexpected mishaps and hangovers force Louis and Jessica to scramble to get an edible meal on the dining table. Meanwhile, Eddie and his cousin discover the power of the internet.
Photo: Ron Tom/ABC
I've been wondering how the Huangs would handle Thanksgiving, a befuddling American tradition full of unfamiliar foodstuffs and forced family time. They did not disappoint.
My favorite episodes of Fresh Off the Boat tend to focus on the deranged, delightful inner workings of Jessica Huang. This one was no exception. I'll always hold a candle for Eddie, Emery, and Evan — they're the little brothers I never had — but my heart belongs to Jessica. Constance Wu forever!
As Thanksgiving approaches, Jessica eagerly awaits the time-honored tradition of nominating the holiday-dinner host. She crouches over the telephone, waiting for the call. Her sister Connie gets picked every year, but because sister competition is the realest thing you will ever know — see: the Kardashians, my own sisters, everyone in the world who has a sister — it makes sense that Jessica wants this so badly. This year, she campaigns by sending out Florida oranges emblazoned with her face. It's the easiest way to win a Chinese parent's heart.
Luckily, this year is Jessica's. Huangs win! No one will screw this up. There will be no charades at Huangsgiving. No roast duck either, but instead, Cornish game hens for all. (They're the personal pizzas of the bird world.) Huangsgiving will feature Monopoly, cranberry sauce made from scratch, and a tablescape by Evan and Emery. Eddie, true to form, will do his best not to knock over anything. The plan is in motion. Nothing will go wrong.
When the visitors show up, though, things seem … different. Justin wears one of those dumb checkered ties and a serious smoky eye. God help us, he's into ska. And, in a dark twist on his previous entrance, Steve doesn't drive up doing sick doughnuts in a Miata. He's driving a poop-brown hatchback that looks worse for wear, just like his marriage with Connie. With that tiny bombshell, the message is clear. Connie is stealing Jessica's Thanksgiving thunder away from her — just as she does with everything else.
Sisters can seem like the best thing in the entire world, like built-in bookshelves with greater emotional rewards. They're often wonderful, but sometimes, they're too much. Sisters are extra. Connie has upstaged Jessica during every personal milestone of her life, from her college graduation to her wedding. This is yet another a scam, and Jessica is no longer going to stand for that.
Alas, the best-laid plans are often thwarted by forces out of your control. This time, the forces are Louis and Sad Steve, who bro-ed out over Steve's relationship problems the only way they knew how. Here's a tip: If any of your relatives pull out a half-empty bottle of Wild Turkey that they brought to a family function, be afraid. One drink turns into a line of flaming shots on the piano, which turns into a mooning contest, and Louis ends up asleep on the driveway — with a half-eaten burrito on his chest! — while his mother-in-law sweeps around him.
Let's take stock. Louis is possibly drunk and definitely hung-over. Jessica is living her own personal nightmare — she's unprepared. The cranberry sauce is disgusting because cranberry sauce is gross unless it comes from a can. There's a pile of carrots that haven't been handled yet. Louis's Cornish game hens arrive, but they're alive and named Rose, Tori, and Sue. Everyone will go to bed hungry. Jessica will lose, and Connie will win.
Jessica's never without a secret weapon, though. It comes in the form of her ex-boyfriend Oscar Chow and his new friend Michael, a gentleman who wears an NPR tote bag with a smile. (He's just happy to be there.) Of course, Jessica's mom is obsessed with Oscar Chow. She ignores Connie's expertly sliced mango — seriously, how the hell did she do that? — and talks to him. The lesson here: Even when a kitchen contains a world of untold horrors, as long as Mom can't see them, it's all good.
In his best attempt to save the day, Louis snags a turkey out of the deep freezer, pops it in the oven, then heads outside to play a game of touch football. But because he's post-30th-birthday hung-over, he gets hit in the head and wakes up to a Thanksgiving nightmare: The oven was off, and the turkey wasn't cooking.
So the jig is up. Louis passes out on the couch from the hangover and the head trauma. Jessica tries to blow-dry the turkey. Connie, who understands full well how much food the the family expects to eat, runs out to get a deep fryer. This is how she'll save Thanksgiving. This is how she'll win.
The sisters' showdown, which happens in front of the stack of deep fryers at Glen's almost-out-of-business appliance store, is the best. Nothing says the holidays like yelling at a family member in public. That's when Connie finally opens up. Her marriage to Steve is maybe, actually falling apart. Meanwhile, she sees that Jessica has it all: the house, the kids, the husband. Thanksgiving is her only chance to shine. After a quick bonding sesh that maybe made me cry a little — I was sitting next to my actual sister when I watched it — Connie and Jessica leave in peace, a turkey fryer between them.
And what of the children? Justin, Eddie, and his cousin Justin didn't bond over Pearl Jam as expected, but they did bond over that great unifier of 12-year-old boys: naked ladies. Sadly, their tastes in music diverge as much as whom they want to see naked. After an off-camera discussion, they decide that the best compromise between Janeane Garofalo and Janet Jackson is Tracy Chapman, a joke that made me cackle with delight. (Who else was in the running?! I want to see receipts.) Evan and Emery, those blessed rays of sun, bicker over table decorations for most of the episode. Please consider this as my vote to replace David Tutera with Evan and Emery. Their tablescape was breathtaking.
In the end, Thanksgiving was saved! Everyone eats a lot of food and there's a giant plate of bok choy on the table, just as it should be. Gobble, gobble.
Authenticity Index
+All of my favorite sweaters to oranges, the preferred citrus fruit of Asian parents everywhere. If oranges were to disappear from the Earth tomorrow, what would your parents press into your hand as you tried to leave their house?
+1,890,999 for Connie on her mango skills: "Look how I haven't wasted any meat!"
+25 for the way Jessica's mom complains about the produce in D.C.