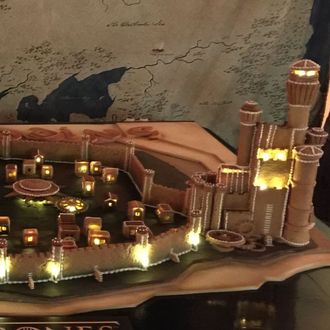 You're humming the theme music now, aren't you?
Photo: Facebook/Michelle Sugar Art
The British have a long history of making a troubled and violent history seem charming — see: colonial Africa, Downton Abbey — so it stands to reason that they would be the first to incorporate the charms of Christmas with the horrors of Game of Thrones. As part of the 2015 Taste of London festival, cake designer and sugar artist Michelle Wibowo created a gingerbread model of the capital of the Seven Kingdoms, which is almost endearing enough to make you forget that the city is home to several violent beheadings, brothels, and radical cults.
The Evening Standard reports that visitors will also get a chance to take what is theirs with flour and butter by sitting an Iron Throne replica and sampling a Wild Beer, right before a usurper seizes the throne and orders their death.
Don't make us say it. Don't make us say it.
Fine.
Winter is crumbling.
Read more details about the making of the gingerbread city here.