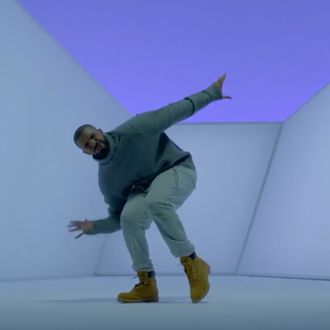 Sorry, Adele, but Drake is officially the most important pop star of 2015. Not only did he score two No. 1 albums this year, but "Hotline Bling" has literally taken over lives and ruined everyone's chances of being at all productive for the rest of the year. When the song isn't being subjected to various covers and memes, it's also invading places of worship.
For some reason, a gospel choir decided that, of all the songs to worship God with, nothing does it better than Drake's late-night booty-call anthem. It's hard out here for worshippers, and you need your own "Holy Ghost Bling" to go viral now if you want to keep providing folks with post-service cookouts. In this rendition, that infectious "You used to call me on my cell phone" refrain goes something like this:
"You always call me 'cuz I'm yours lord/

Calling me back to love"
Next week a pastor will sing "Bitch Better Have My Money" to urge patrons to drop coins in the collection plate.