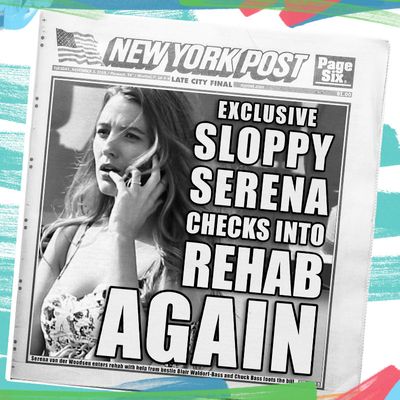 Photo-Illustration: Vulture
In the Gossip Girl finale in 2012, the writers jumped five years into the future to visit Dan and Serena's wedding. Blair looked on with her son, Henry; newspaper mogul Nate was planning a run for New York City mayor; Eric and Jenny were there, being awkward and forgotten about; Georgina Sparks was married to Chuck's creepy uncle, Jack; and the rest of the cast wondered why the hell Rufus was dating Lisa Loeb. The scene was meant to tell us they all lived happily ever after.

But these drama-loving characters can't be happy for that long, can they? I borrowed the writers' time machine, jumped five more years into the future, and picked up a copy of Gray's Sports Almanac and the New York Post. (Yes, print media still exists in the future.) Of course, there was a "Page Six" article all about our favorite Gossip Girl heiress. We've reprinted it for you below.
After a night at the hip boîtes in the Bronx's Über-trendy Grand Concourse neighborhood Thursday, poor little rich girl Serena van der Woodsen was discovered by her Uber driver passed out on the sidewalk in front of Aubergine, Paul Sevigny's new joint. The driver immediately took her to the emergency room at nearby Lincoln Hospital, where her stomach was pumped and her Hood by Air for Target dress absolutely ruined. At the hospital, van der Woodsen was met by her longtime bestie, fashion mogul Blair Waldorf-Bass. Our source says Waldorf-Bass drove her to an upstate facility to kick the prescription-pill habit that she's been dealing with for the past ten months.
It's been an especially difficult time for van der Woodsen. First her marriage to failed novelist Dan Humphrey ended after only two and a half years. The pair invested all of their money in a Broadway version of Humphrey's hit novel, Inside Out, partially inspired by his relationship with van der Woodsen and their group of socialite friends. Starring former Humphrey flame Olivia Burke and van der Woodsen relative Lola Rhodes, the couple sunk millions of their own money into the notorious flop, which closed after only eight performances.
Since breaking up with Humphrey, van der Woodsen has been spotted canoodling with Oscar-winner Nick Jonas (who has a thing for blonde older women) and romantically linked to Luke Hemsworth, the third-most-famous Hemsworth brother.
Former Vanity Fair scribe Humphrey has been unable to get anything published since his hot novel, suffering from a severe case of writer's block anytime he tackles a subject that isn't his immediate circle of friends. Recently, to pay the rent, he went back to his roots as blogger Gossip Girl and got a job at BuzzFeed, the internet's largest content provider, creating native advertising. His most popular post so far is a "Which '90s Indie-Rocker Are You?" quiz, where his father, Rufus Humphrey, is the only answer.
Humphrey isn't the only one with money troubles. Van der Woodsen lost most of her trust fund after investing it in the lifestyle website Reserve. Specializing in editorial content surrounding mason-jar crafts and promoting an artisanal, authentic lifestyle, Reserve became a bit of a joke after it notoriously tried to sell a knit bolero jacket made out of yak hair and recycled water bottles for $3,700. (Reserve's $28 sea-salted-caramel juice-cleanse diet bars, however, were a huge hit with the fashion crowd.) Reserve was shuttered after only 14 months.
As Serena struggled with her company and prescription pills, her mother, Lily van der Woodsen, saw her cancer return and passed away shortly after attending the inaugural ball of her son-in-law, Mayor Nate Archibald, who surprised many when he came out of the closet and married Serena's brother, Eric van der Woodsen, halfway through his first term. Apparently, the two had an unrequited love for each other ever since high school. Archibald is the city's first openly gay mayor, and his crusade to get rid of the multi-million-dollar luxury condos owned by foreign oligarchs and non–New York residents has made him a surprising ally of the city's middle and working classes.
Nate the Great's anti-corporate stance put him in hot water with his old friend, private-equity billionaire Chuck Bass, who managed to shake several investigations into insider trading even as the Knicks, which he purchased in 2019 for $3.2 billion, brought home their third consecutive national title.
Bass is said to be picking up the tab for van der Woodsen's rehab since she remains close friends with his wife and mother of three, Blair Waldorf-Bass. Her fashion line was bought out by Jessica Simpson Enterprises, the country's largest fashion-retail brand, and Waldorf-Bass now spends most of her time attending SoulCycle in the Hamptons, where she was sued by one mother on the PTA board of her son's school for "emotional distress and adult bullying" during the planning of a clambake held on her private beach. Waldorf-Bass irked local residents by fighting a zoning ordinance in court for three years so she could build the largest house in Southhampton, complete with its own helipad, Olympic-size swimming pool, and sizable guest house where daytime-cooking-show guru Dorota Kishlovsky lives when she is not showing the American public how to perfect their pierogi.
Still, with all of this going on in her life, it's unclear what's at the root of Serena's troubles. It may not be her relationship woes or financial foibles. The source close to van der Woodsen says her downward slide started three years ago, when she was randomly stabbed in the front row of a Zac Posen fashion show by Vanessa Abrams, a former friend with caveman hair who was shouting, "You stole my life, you stole my life," repeatedly as she was dragged away by police. Van der Woodsen recuperated well, but friends say she has never been the same and liked to joke that she was taking MDMA for her PTSD. Here's hoping to a speedy recovery from her newest ailment. Whatever the cause, there sure is a lot of gossip surrounding this girl.