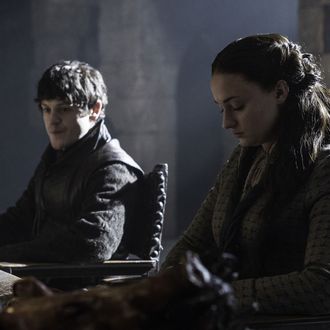 Is even this photo a spoiler?
Photo: HBO
Ever since Game of Thrones got to the end of A Dance With Dragons last season, book fans and show fans have been equally in the dark about what's coming next. Except, of course, for those of us who have been reading the set reports from the little birds at Watchers on the Wall, who for months have been passing along spoiler-filled info about the production of GOT's sixth season — and this week brings their most spoiler-y one yet. Seriously, even saying who's in it is a spoiler, which is why we're going to put all of the information about it below the jump, and also throw in a gratuitous spoiler warning. Got that? Let's go!
Gratuitous spoiler warning: Major spoilers below!
Okay, so, the scene concerns a pivotal conversation in the courtyard at Winterfell between four characters: Ramsay Bolton, whose family held the castle last year; Sansa Stark, last seen jumping from Winterfell's walls with Theon to escape her terrifying marriage to Ramsay; Jon Snow, who, duh, is alive; and Littlefinger, who is presumably very glad not to be the creepiest guy in a scene again. As the report states, "there's a great deal of tension" for obvious reasons: Ramsay raped Sansa, Littlefinger helped kill Jon and Sansa's dad, and Ramsay's family killed the rest of Jon and Sansa's family. Oh, also, Jon is supposed to be dead. But before we can get to the counseling session, the source says the tension is broken by a surprise: "A giant turns up at the gates!" Yikes.
It's unclear whether this scene takes place before or after the gigantic battle being filmed at Saintfield, which apparently pits Bolton soldiers, Stark loyalists, and Wildlings against each other in a snowy massacre. And it's also unclear whether any of this will eventually appear in The Winds of Winter. But one thing is clear: Sansa's getting a couple of family reunions next year — one she might welcome, and the other we suspect she'd rather skip.