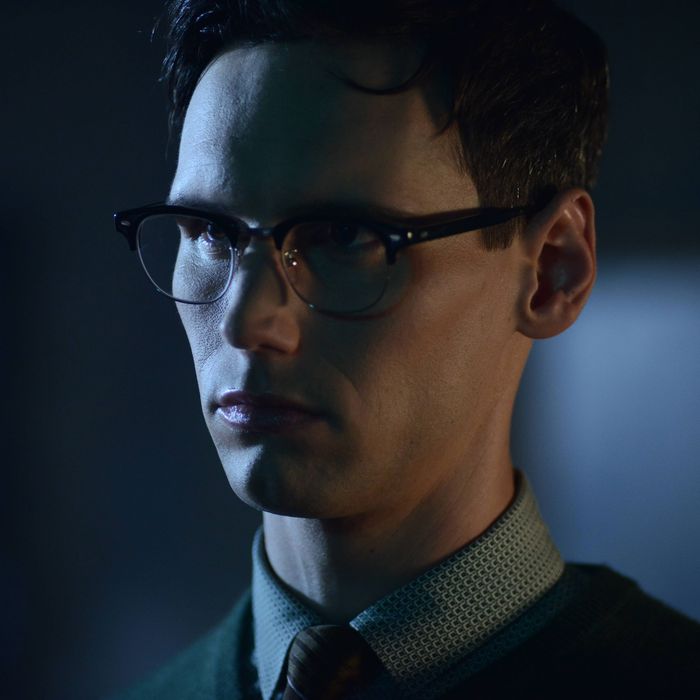 Gotham
A Bitter Pill to Swallow
Photo: Nicole Rivelli/ FOX
You may have watched this episode of Gotham and wondered: Is tonight the night Jim Gordon finally hits rock bottom with the tacit consent of Captain Nathaniel Barnes? Sadly, tonight is not that night.
On "A Bitter Pill to Swallow," Gordon endangers the lives of several cops and generally acts like a selfish sociopath because … well, he can, and it's the only dramatic card left in Gotham's deck. While the Theo Galavan subplot languishes — he's in jail as evil monks descend on Gotham City, beginning the final phase of a long-gestating murder conspiracy — Gordon fights for his life, and confirms some of the canned insinuations that Barbara Kean made last week about his "dark side." Gordon's temper has always been a staple of the show, but it's never so clearly been the source of the unbelievable split between the dark, psychologically complex show Gotham wants to be, and the juvenile, tonally chaotic show it often is.
After Gordon arrests Theo Galavan, Tabitha Galavan hires assassins to kill Gordon. This makes sense since Tabitha's motives are stupidly simple: She's an impulsive hothead who does whatever she wants. So, when Gordon returns to Galavan's office, he's ambushed by a killer. The two scuffle, and Gordon drags the assassin's unconscious body to Barnes's feet. At this point, Barnes does nothing. No connection is made between the punch that Gordon delivered to Galavan during last week's episode and the bruises that cover Gordon's body. Barnes doesn't even do anything when Gordon picks up his would-be killer's cell phone, and breathes so heavily he sounds like a prowler.
This, as I wrote last week, is the problem with Barnes. He's supposed to be the moral compass of the GCPD and the guy who controls Gordon. But so far, Barnes hasn't backed up any of his talk with action that reflects his supposed concerns. In this episode, Barnes remarks on Gordon's temper, even giving him a sympathetic counterexample from his own past. He talks about being a soldier, and how his anger led him to accidentally kill a kid when he really just wanted to threaten him. Gordon finds himself in an almost identical situation by episode's end, right down to the way he puts a gun in Eduardo Flamingo's mouth. Despite this parallel, Barnes doesn't pull rank on Gordon. Instead, he ropes inexperienced cops into helping Gordon clean up the mess: Poor inexperienced Detective Parks is endangered not once, but twice, and an unarmed forensic scientist is told to find a blunt weapon and get behind Gordon and Barnes.
Both of these supporting characters die as a result of Gordon's temper and Barnes's enabling order. And yet, Gordon gets to go home to Leslie Thompkins, enjoying her company after he promises to be as open with her as possible. Sure, their little heart-to-heart gets interrupted by a phone call that reminds Gordon that his actions have repercussions. (Parks, after all, dies because nobody on the force said, "Go home, you haven't been trained to take on a gaggle of assassins.") But how can you take that seriously after Gordon, looking like a Dirty Harry–style badass, dispatches a hitman with a bullet in the eye? He even delivers a macho one-liner: "You know what I like about those glasses? They look like bull's-eyes."
Gotham has always justified its extravagant violence with a sheen of psychological complexity, but Gordon's story this season has brought out the worst of the show's manic, hypersensational approach to drama. Tonight's Nygma/Cobblepot subplot has similar problems. It's essentially one character lecturing the other just to get his bad-guy mojo back. Nygma's supposition that Cobblepot is now a "free man" after the death of his mother ostensibly serves as a parallel to how Gordon remembers that other people rely on him and his actions. But again, there are no consequences to this story. If Cobblepot killed the Galavan lackey that Nygma served up to him, nobody would have noticed or cared.
These are the kind of unmoored stakes that this show routinely offers, and the reason why Barbara Kean's survival after a preposterous multistory drop feels like a toothless, desperate grab for attention. Characters live, characters die, and the lessons learned are meaningless excuses for character development. Nobody grows on Gotham because there's no line a character can cross that cannot be undone.
Granted, Gordon's quest to be Gotham City's moral compass must fail. He must get into fights he can't win, and he must never be put on the right path. Eventually, we know Batman will take over and give Gordon the support he desperately needs. Still, the problem with Gotham is that viewers are meant to watch Gordon struggle without any expectation of what comes later, in that far-off time when Batman patrols Gotham's streets. When you watch this show, you have to live in its present; you can't treat it as a preamble for a status quo. If what executive producer John Stephens said at New York Comic Con is true, Gotham will never spring ahead to a time when young Bruce Wayne is old enough to be Batman-lite. Gotham is about a city in perpetual transition, not one that's on the cusp of actually changing.
Maybe there is no rock bottom for Gordon to hit. Not even after he stuffs a gun into Flamingo's mouth, reads him his Miranda rights, then walks away. Gordon remains the show's white knight, so none of the dirt that should stick to him has. Will he ever face consequences for his actions?
Bat-Bullets:
Time for: Fanboyish Speculation! Who decided to throw the Flamingo into the mix tonight? That was awfully random …
Was anyone else distracted by the use of the Stranglers' "Peaches" during tonight's cold opening? Who puts together this show's soundtrack, and what is their deal?
Thompkins on Kean: "She's the devil." Is that, uh, your professional opinion?
Cobblepot to Nygma: "What are your intentions?" Strictly romantic, ow ow!
You just knew Parks wasn't long for this world after Gordon complimented her. It's like that Simpsons gag where McBain's partner talks about his plans to sail away on the good ship Live-4-Ever: Nobody gets to survive after a conversation like that.