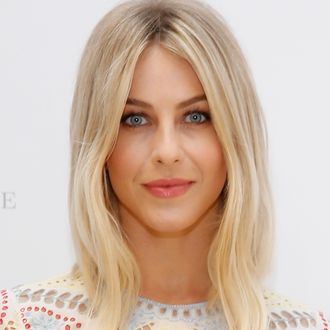 Julianne Hough.
Photo: Brian Ach/2015 Getty Images
Fox's attempt to introduce Grease to another generation fast approaches — so fast the time has now come for us to see what the characters will look like in costume. Earlier Monday, People shared a sneak peek of Julianne Hough as Sandy Olsen (times two!), Aaron Tveit as Danny Zuko, and Vanessa Hudgens as Betty Rizzo — all of whom look very, very sleek. "I'm excited about both looks," Hough told the magazine, in reference to her mid-show transformation. "I can't wait to go from young girl kind of figuring out who she is to owning this newfound sex appeal." Check out their three pics below:
The above trio joins Keke Palmer, Carly Rae Jepsen, Jessie J, and Mario Lopez, among others, for the live January 31 special.