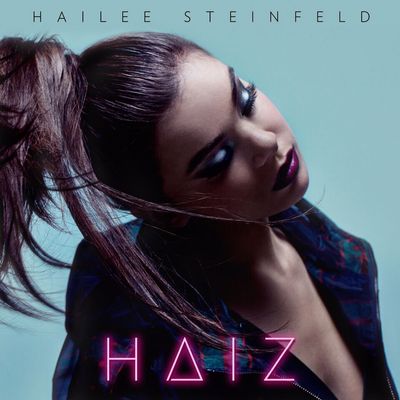 Hailee Steinfeld's 'Haiz'
For the past few months, I've been pondering what I believe to be 2015's greatest pop cultural mystery: Why is Hailee Steinfeld trying to be a pop star all of a sudden? Coincidentally, questions about her also round out the year's top 5:  "That Hailee Steinfeld?" and "Huh?" and "Like, the actress who was nominated for an Oscar when she was 14 for her performance in the Coen Brothers' True Grit?" and "… Really?"
These questions have been haunting me since early August, when Steinfeld released her debut single, "Love Myself." Partially constructed by producers-of-the-moment Mattman & Robin, the song is a perky and anthemic bit of sleek, millennial pop with an au courant message of self-empowerment. Also … very nearly every single line is a super-obvious double-entendre about masturbation. "Pictures in my mind on replay / I'm gonna touch the pain away," Steinfeld sings in breathy staccato. And: "I'm gonna put my body first / And love me so hard 'til it hurts." And, sure: "Got me speaking in tongues / The beautiful, it comes …" OK, I'll stop. You get the point. But just in case you didn't, you should watch the video, in which Steinfeld cavorts around an abandoned rooftop in a body-suit that says "SELF SERVICE." Subtle!
There is nothing wrong with this, in theory. Actually, there's everything right with it: Songs about masturbation can be awesome! And playful and sexy and subversively funny. Who among us would denounce "Longview," or "She Bop," or — one of the greatest parenthetical titles in pop music history — "Oops (Oh My)"? And let's not forget the latest entry into the canon, Nicki Minaj and Beyonce's power-duet "Feeling Myself," which pulls off its unapologetic raunch with such gusto, humor, and precision that it becomes a kind of manifesto. We're living in an age when sexual mores are loosening but, as Rebecca Traister recently argued here, female pleasure often still remains evasive, or an afterthought. We need these kinds of songs — particularly ones that normalize and even celebrate the glory of the female orgasm — now more than ever.
But "Love Myself" is not one of those songs. Steinfeld can't quite sell its message. The tone is off: The lyrics are pure camp, but she delivers them with all the self-seriousness of a Dove ad. What's worse, on her recent media blitz, Steinfeld has denied at every turn that the song is just one prolonged jerk-off joke, offering persistent interviewers such media-trained chestnuts as, "Honestly, I think most songs are subject to the listeners' interpretation, and that's absolutely the case with this song," and, "For me, it's an empowerment record and it's ultimately about taking care of yourself and indulging yourself, whether that be emotionally or physically or with material things." I want so badly to believe her! And I want to ascribe her the agency she deserves, since she's credited as one of the song's co-writers, along with four other men (one of whom is Semi Precious Weapons's Justin Tranter) and the young pop songwriter Julia Michaels. But given Steinfeld's reluctance to own up to and joke about the song's head-smackingly obvious double-meaning, I have a hard time believing that that was the part she contributed to the songwriting process. Which means I can't shake this admittedly imagined vision of some sort of producer or label executive scratching his chin at some point in the production process and saying, "Yeah, the self-empowerment message is good and all, but you know what would really make this song sell … ?" And for that possibly unfair but very real reason, a song that is supposed to leave me feeling awesome about myself actually leaves me feeling very icky.
Much like "Flashlight," her pleasant-but-faceless Jessie J cover on the Pitch Perfect 2 soundtrack, "Love Myself" does not tell us a whole lot about Hailee Steinfeld's musical personality (or whether she has one), so I was actually looking forward to her new Haiz EP, hoping it would fill in some of the blanks. Spoiler: It does not. In fact, if anything, it renders Steinfeld even more of a cipher than ever.
Part of the problem is evident in Steinfeld's second single, released this week, the awkwardly titled "Hell Nos and Headphones." The production here is more distinct than on "Love Myself" — the airy synths and Auto-tuned, sad-robot vocals on the verses create a cool, neo-80s vibe. But what is this song actually about, you ask? Well, Steinfeld's at this wild but dumb party where everybody's wasted. And she's not judging them but she's just not feeling that vibe tonight because she'd rather chill somewhere quiet and "stick with hell nos and headphones." So yes, this is basically just a blatant rip-off of Alessia Cara's introvert anthem "Here," but with way less attitude and way more confusing syntax. (Not that Steinfeld's denying it, at least: "Alessia Cara's 'Here' really struck a chord with me," she said in an Elle interview this week. "This does have the same message of realizing, 'It's cool that I was able to go and hang out with friends, but it was just not my night.'")
In a way, this is the "Love Myself" problem all over again: A song with a commendably "empowering" and "unique" message, delivered with such dead-eyed, finger-on-the-zeitgeist blandness that it ends up disproving the very point it's trying to make. A song about sexual pleasure that's squeamishly conservative? An ode to being an outsider that basically just imitates somebody else's popular song? At least two of our aforementioned mysteries here remain unsolved: "Huh?" and "… Really?"
The other two songs on Haiz are a little less maddening. "Rock Bottom" is a propulsive but forgettable 1989-indebted power ballad about a troubled relationship; the sassy, Charli XCX–esque "You're Such A" brings a welcome dash of honest-to-goodness 'tude ("See you smoking those electric cigarettes, are you joking?" is a legitimately sick burn), but really, it's hard not to imagine someone else turning this song into something punchier.
In its own way, the Haiz EP is fascinating, but for all the wrong reasons. Steinfeld is a perfectly competent blank slate, which makes this EP a pure time capsule of Pop Music Trends in 2015. There's definitely a post-Lorde streak of (carefully studied, if not deeply felt) defiance here, along with a subtle nod to the alt-pop sensibility of self-styled rebels like Halsey, Charli, and Tove Lo. Though, of course, the figure who looms largest over the whole enterprise is Steinfeld's friend Taylor Swift. (Though don't you always kinda want to put "friend" in scare quotes when the next phrase is "Taylor Swift"?) The latter has figured out better and more lucratively than anybody else in the pop game how to turn performed identities of outsiderness and female empowerment into sellable pop commodities.
The weirdest thing about all of this is that Steinfeld is a very, very good actress. She proved that she could talk tougher than Jeff Bridges when she was barely out of middle school, and she held her own at the Oscars that year with the perfect combination of poise and youthful spunk. So even if her heart's not really in this pop star thing — which is a message she seems to be telegraphing from somewhere just behind her eyes in every television appearance she's made to promote "Love Myself," from the VMAs to Fallon — shouldn't she at least be able to fake it more convincingly? Of course, she's still very young, so maybe Steinfeld will eventually find her voice, put "Love Myself" behind her, and record some songs that aren't quite so heavy-handed. And yes, Hailee, at least I'll admit it: Pun intended.