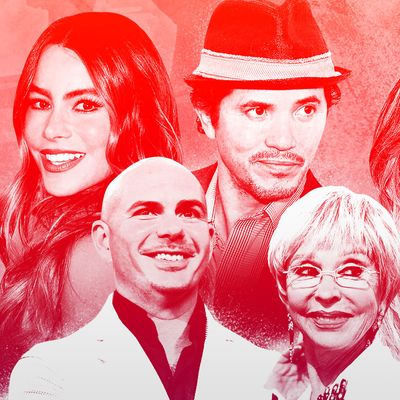 Photo-Illustration: Kelly Chiello and Images by Getty Images
Early in HBO's The Latin Explosion documentary, which premiered earlier this week, there's a vintage clip of Desi Arnaz onstage during Ed Sullivan's Toast of the Town, recalling his humble beginnings: "My first job in this country was cleaning birdcages," Arnaz said. At the time, as the executive producer and star of the hit show I Love Lucy alongside wife Lucille Ball, the Cuban immigrant was one of the biggest stars in the U.S. "It's very true. We came to this country, and we didn't have a cent in our pockets. From cleaning canary cages to this night in New York, that's a long ways. And I don't think there's any other country in the world that could give you that opportunity." For Arnaz, the American Dream and his own were one and the same. And of all the ethnic groups that have emigrated to the United States since its founding, arguably, none have embodied the American Dream more than Latinos.
It's that rags-to-riches story, that slow progress (paso corto, vista largo), that is at the heart of The Latin Explosion. The 64-minute documentary, narrated by John Leguizamo, looks back at the long history of Latino contributions to American culture, pairing interviews and archival footage of cultural touchstones with title cards that use statistics to illustrate Latinos' growing influence. The film was produced by Tommy Mottola, the venerable music executive who helped take the careers of Gloria Estefan, Marc Anthony, Jennifer Lopez, Shakira, and Ricky Martin to the next level. It was the pop-chart domination of the Latin artists he helped develop that led to a Time cover story that Mottola says inspired the film's name. The film's recent history lends a bit of airtime to acts that Mottola himself helped develop (no Christina Aguilera or Enrique Iglesias to be found here), but the chronologically ordered mini-bios that make up the film also stretch back to the likes of Pérez Prado, who was known in the 1940s as "the Mambo King."
While the film is very much a celebration, it's hard to hide the fact that the successes of today's Latino stars were built upon the suffering of those who came before. "The truth is, we were not welcome here for a very long time," Rita Moreno, the legendary actress, singer, and first Latina to EGOT, tells Vulture. "With respect to la lucha [the struggle], a lot of us went through that." La lucha is very much a part of the immigrant experience, and the embrace of it propelled many Latinos to success. Leguizamo believes that while it can be universal, Latinos' progress is directly related to this ethos. "You come here knowing that you're coming here to work, and you're gonna struggle," Leguizamo tells Vulture. "And you're coming here with that knowledge, as opposed to the rest of us here already, thinking we're more entitled to things. They don't come here feeling that they're entitled to anything. They feel like they're coming to sacrifice. And that's where the energy comes from."
At times, The Latin Explosion can read more infomercial than documentary, only touching lightly on the more complex issues of Latino identity and its influence in the marketplace. Visibility for Latinos in pop culture has never been higher, but early stars such as Prado — and even later ones, like Moreno — didn't have role models to look up to (Moreno regrets not highlighting this disparity in her 1961 Academy Awards speech). West Side Story, which featured Moreno in her Oscar-winning role as the proud Puerto Rican transplant Anita, put Latino lives and stories at the forefront of pop culture, despite their imperfect depictions (Moreno, for one, wore makeup to darken her skin). "West Side Story was the only form of Latin-ness when I was a kid," Leguizamo says. "That was the Latin Bible at the time. It celebrated who we were, even though it wasn't completely positive. As a kid, I didn't know the difference … we didn't know that some of the guys were Greek with brownface on. Then later on we go, 'Oh, taking jobs from us, huh? AGAIN.'"
The concept of "passing" for white is not unique to Latinos, but Latinos have arguably achieved more success with it than other cultures. And can you blame them? What other culture continues to have their stories depicted en masse by white people? Lead roles for Latino characters have long gone to Italians, Greeks, Jews, even Maori — while actual Latinos get typecast as janitors and maids. Natalie Wood as Maria in West Side Story is one of the more egregious examples, but there are almost too many to count; Al Pacino playing the Cuban Tony Montana in Scarface, Madonna playing the Argentine Eva Perón in Evita, and not so long ago (2009), Robert Downey Jr. playing Steve Lopez in The Soloist. The film reminds us that musicians in the counterculture '60s — such as Question Mark and the Mysterians and Cannibal and the Headhunters — were Latino, but downplayed their heritage to achieve commercial success. They aren't alone: Alexis Bledel? Latina. Hulk Hogan? Latino (Hulk's identity, like that of many Latinos, is complicated, as his ancestors were immigrants to Panama). (For those who remain unconvinced, Latina magazine collected more than 100 stars that you likely didn't know were Latino.)
Then or now, this downplaying of the Latino identity likely wasn't fueled by shame — it was survival. Latino entertainers often struggled with it morally, but to resist had very real consequences. Moreno recalls her friend Luis Ávalos, a beloved character actor who passed last year. "[He] looked no more Latino in the … stereotypical way than the man on the moon, but because of his name, he kept getting the roles of janitors," Moreno says. "I remember that at a certain very sad point in his life, he thought of changing his name. [But] he just couldn't do that. 'It's just not me,' he said."
These days, young Latinos have no shortage of strong, proud people that look and sound like them across pop culture (it can, of course, be more). Even at the most mainstream levels, we see Latinos being, well, unapologetically Latino. George Lopez sells out huge rooms and continues to collect syndication checks for his self-titled sitcom, one of TV's first representations of second-generation Mexican-Americans. Leguizamo has celebrated runs on Broadway of self-penned plays about his Latino identity (Ghetto Klown, Freak). Even Sofía Vergara's Latina caricature on Modern Family is made unabashedly her own. We celebrate things that are inherently Latin — like the telenovela — in previously white spaces: Jane the Virgin is a CW show adapted from a Venezuelan telenovela (and guest-starring Moreno).
Likewise, Romeo Santos, the Dominican bachata star who sold out two nights at Yankee Stadium last year, is held up in the film as the torch-carrier for the next generation of Latinos in entertainment. He acknowledges he can reach new heights with Spanish music by standing on the shoulders of, say, Marc Anthony, and talks of how he now has the privilege of being himself, fully: "I'm proud to be a bachatero … I don't change my genre, I don't change my music. It's still bachata, but I'm able to cross over without actually really crossing over … in fact, it's like the opposite. They're crossing over to my world."
As The Latin Explosion converges on the present, the theme of struggle turns to one of commercial success. Latinos have a seat at the table, they know the rules of the game, and they are less likely to be exploited. They know their worth and are capitalizing on it. One of the title cards harps on the $1.5 trillion that Latinos spend in the global marketplace every year ("If you're not paying attention to that … then you're just not paying attention to anything," Mottola tells us). And despite the diversity within the blanket term of "Latino culture," Latinos have a history of voting, both at the ballot box and at the cash register, as a block.
Pitbull is a pop star, but he's no fool. A proud Miami Cuban-American, he recognizes that Latinos are the "fastest-growing voting block" in the country, and uses his platform to encourage his fans to vote and enact systemic change. Near the end of the film, he gives one of the most Pitbull-esque quotes to have ever been Pitbull'd: "Just imagine if we used our power, our love and relation for the same struggle, the same outcome, the same goal … ay, mi madre … it would be a tsunami." And the product-placement-friendly superstar has no misconceptions of the value of his endorsement. In one particularly illuminating clip, Pitbull explains the influence Latinos wield in the marketplace: "We're a very powerful culture, we're a very loyal culture," he says. "That's why products want us so bad, because we're loyal consumers." Jennifer Lopez, who graduated from Fly Girl to actress to singer to global media executive, understands this as well: "Financially, the power that we hold in this day and age, everybody is always trying to tap into that market," she says in the film. "That's why a lot of people come to me, like, 'How do we do this? We want the Latino dollars.'"
One nasty side-effect of this, especially in music, is the ghettoization of Latin culture. We were okay with having big Latin music stars like Julio Iglesias (who's Spanish-born, actually) as long as they stayed in their lane. Then the narrative focused on Latin acts "crossing over," writing and singing in English to appease the mainstream American audience. It worked for Marc Anthony; it worked for Shakira. But they were still seen as undeniably "other." This is what makes Pitbull so interesting: He raps and sings in Spanish, and is both a domestic and international superstar. When Pitbull "crossed over," it wasn't from Latin America to the U.S., it was from the hip-hop charts to the pop charts. Regardless of what you think of the music, his success validates the viability of Spanish-language culture in the U.S. market. And Latino stars like Lopez, Vergara, and Pitbull wield that influence to command the kinds of paychecks that used to be out of reach.
Such calculating capitalism might sound odious to someone harboring notions of art over commerce, but culture has always been commodified, so why shouldn't Latinos reap the same rewards as their counterparts? What's more American than that?