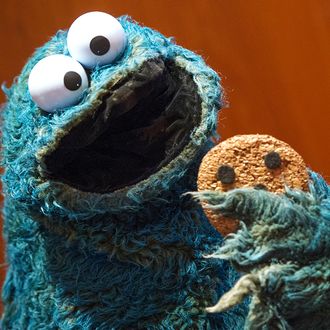 Ready for your close-up, Cookie Monster?
Photo: JIM WATSON/AFP/Getty Images
Sesame Street is undergoing some serious renovations as it moves to HBO in the new year. The children's show will premiere with a new 30-minute format, an updated set, a new cast member, Nina (a bilingual Latina played by Suki Lopez), new opening and closing songs (!), and a new segment for Cookie Monster, called "Smart Cookies." In the segment, Cookie Monster and "a team of crime-fighting cookie friends are on call day and night to thwart the continued efforts of The Crumb," and in doing so will learn valuable lessons in self-restraint and using your brain. The show will play host to a number of human celebrity guests, including Pharrell, Gwen Stefani, Alan Cumming, Nick Jonas, Ne-Yo, Tracee Ellis Ross, and Gina Rodriguez. Sesame Street will debut two new episodes at 9 a.m. on January 16. The same content will be available on PBS in the fall.