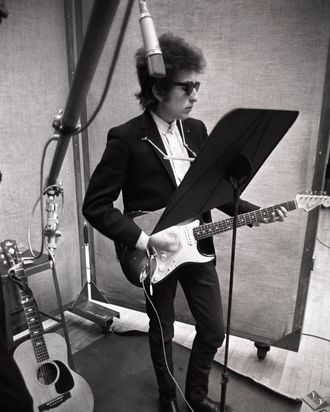 Dylan concerts have never really been intended for hit-seeking crowds (imagine that), as he's fond of reworking his most iconic songs into different styles and tempos. It can be a fascinating thought experiment, hearing what could have been of the '60s folk and rock canon — one that drives interest to a new Dylan box set, The Cutting Edge 1965–1966: The Bootleg Series Vol. 12, out this Friday. Over the course of many discs (one comprised of nothing but alternate versions of "Like a Rolling Stone"), listeners bear witness to Dylan's creative process in the studio during one of the most divisive moments of his career: starting with 1965's Bringing It All Back Home and culminating with his all-time classic Blonde on Blonde the following year, the period when he first gravitated toward electric sounds and more abstract lyrics.
On a micro level, "Just Like a Woman" — one of Blonde on Blonde's more pop-leaning waltzes — is equally divisive. Naturally, listeners have long debated whom the song is about, as there are lyrics seemingly inspired by different famous women in Dylan's life (the "fog, amphetamine, and pearls" line often linked to Edie Sedgwick, "Please don't let on that you knew me when / I was hungry and it was your world" to Joan Baez). Others (though not Shelley Duvall's Annie Hall character) have debated the song's alleged misogyny, a product of its broad (but somewhat scathing) summation of feminine wiles and vulnerability. Both are interesting angles to consider in listening to one of three "Just Like a Woman" outtakes (including a Bo Diddley–esque version of much interest) that appear on The Cutting Edge 1965–1966, one of which Vulture premieres exclusively below.
Here on his first studio take of "Just Like a Woman," Dylan is even more pointed in his critique of his subject(s), using second-person pronouns from the very first chorus instead of switching from "she" to "you" in the last chorus for effect. He repeats the cutting "fake just like a woman" line more than once here, too, and throws in lyrics about "how hard she schemes" and how he gave her the song's infamous pearls. Musically, however, the song is a little tamer: slowed down, with less prominent percussion and more smooth, soulful electric-guitar melodies in place of the original's flourishes of finger-picked Spanish guitar. Essentially, Dylan traded some of his lyrical directness for musical oomph in the final, more balanced version. Hearing this shift for yourself, to steal Duvall's line, is transplendent.