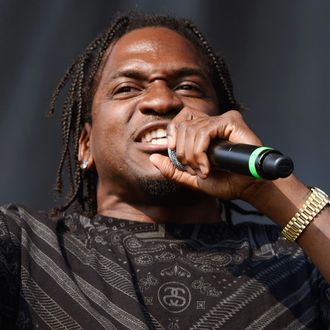 Yuugh!
Photo: Daniel Boczarski/Getty Images
Big day for Virgina hip-hop: First we got a new banger from Missy Elliott and Pharrell, now we have the return of King Push. Pusha T has debuted the Timbaland-produced "Untouchable," the first new song from his forthcoming sophomore solo album, King Push. And he's done it as the new president of G.O.O.D. Music, a title Kanye West passed on to his longtime friend this week. Already, Pusha's celebrating: "The president of G.O.O.D. Music has been announced / A quarter million a year and that don't bounce," he brags over an ominous keyboard-heavy beat that samples Biggie's ferocious verse from Pudgee's "Think Big."
This is the first new solo music we've heard from Pusha T since 2013's acclaimed My Name Is My Name, but it's not the only thing we've heard from the former Clipse lyrical giant. He's expanded his reach this year, collaborating with Skrillex on the ubiquitous "Burial" and with Axwell and Ingrosso on "This Time." But Pusha hasn't abandoned his rap sensibilities for the EDM world; on "Untouchable," he once again proves that he's got nothing but bars: "I drops every blue moon to separate myself from you kings of the YouTube / I am more U2, I am like Bono with the Edge / In Mexico, fuck Donald and his pledge." Yuugh!