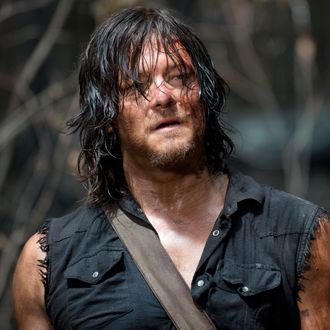 That you Glenn?
Photo: AMC
Spoilers up until last night's episode of The Walking Dead ahead.
Last night's episode of The Walking Dead showed us what happened with the motorcade of Daryl, Sasha, and Abraham after the zombie-herding went south. The obvious implication for those of us on Glennwatch was that we wouldn't know what befell the beloved pizza deliveryboy played by Steven Yeun. Yet again, Yeun was missing from the opening credits, and while it seemed the episode would pass uneventfully, there was a morsel at the very end. The walkie-talkies have played a crucial part throughout this season, with the field crew constantly checking in with one another. After not getting a response, Daryl checks in again on the walkie, and he hears something. "Say it again," he said. "Help," we hear on the other line. Help! Given all that's happened, it's impossible not to think that it could be Glenn on the other end. But is it? We've isolated the audio so you can listen and overanalyze along with us:
Does that sound like Glenn? As a point of comparison, here's another time Glenn says the word help:
Glenn truthers, we have to admit that it doesn't sound like him, but hey, the reception might just be patchy. In a post-mortem with Norman Reedus, the actor who plays Daryl, IGN had to ask him about that cliff-hanger: "Is that supposed to be …" Reedus cuts them off immediately, saying, "It's not Glenn! Don't ask me! It's not Glenn!" He continues, ominously:
People keep asking me. I'm like, "No!" I mean, I was in the episode when that happened on the Dumpster. [Pauses.] Like, I'm in that episode, and when that episode stops, I turned off the TV and I paced around the room like, "I can't believe that just happened." I mean, I was upset, and we filmed that a long time ago, and I was still upset. You see what you see and you make your own decisions. He's such a beloved character that people may hope things, but that's what we're doing. We're making that. It just makes we're doing a good job. Just wait. Everything from here on in is an "I just lost my mind" moment on this show. I mean, we're flying down the road right now. We're doing about 120.
Are we just hearing what we want to hear? Or is a voice crying for help in the zombie apocalypse just another voice crying for help in the zombie apocalypse?