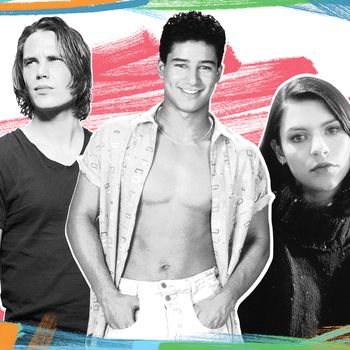 Photo-Illustration: Vulture
To get a spot on the starting lineup of the Dillon Panthers, the casting requirements were simple: You had to look like you were from rural Texas, could play football, and be in high school. Look is the operative word here. Athleticism can be faked; judicious camerawork will turn a fumble into a winning catch. Age is factor, but you make accommodations there, too — who hasn't seen a high-school show with actors in their 20s? Even that supposedly inimitable Texas air could be bottled elsewhere.
Still, a "look" is hard to find. Tim Riggins, the Texan heartthrob at the center of Friday Night Lights, was one of the hardest to cast. FNL casting director Linda Lowy needed someone with "major beauty and major edge." After a long search, her team had settled on Pennsylvanian Taylor Kinney, until a last-minute contract snag pulled him out before a network test. ("He was already committed to another show," Lowy explained, though the details of that commitment weren't made clear to her at the time.) She and her colleagues raced to find someone else. Eventually, they found Canadian Taylor Kitsch, who filmed himself drinking Lone Star beer in his an audition tape.
"The casting gods smiled on us," Lowy said. The new Taylor K. had the Riggins look in spades.
Lowy's best known as the casting director behind Shondaland's Scandal, Private Practice, How to Get Away With Murder, and Grey's Anatomy. But the process of building the cast of Friday Night Lights, in her mind, always involved a bit of gamble, because when you cast a high school TV show, you tend to cast unknowns. She described an "alchemy" that happens when an actor meets a character, when something that might not be fully realized coalesces around a personality and look.
"None of those kids on Friday Night Lights had done anything much. They were all at the beginning," Lowy said of the casting process. "When the show got picked up, [creator Peter Berg] called me and he said, 'Holy fuck, let's hope these kids can act.'"
***
While working on the fourth season of Gilmore Girls, casting director Mara Casey, her partner Jami Rudofsky, and their assistant started a betting pool. After every casting session, each of them would put a dollar in a jar and bet on which actors series creators Amy Sherman-Palladino and Dan Palladino would want to bring onto the show. "At the end of the season, I won the kitty," Casey said, "but only by one."
Gilmore Girls found most of its cast members through pre-reads and generals, during which actors were brought in, but not to audition for any specific role. Over the course of the show, Casey and Rudofsky picked up Sherman-Palladino's specific taste, which required a sense of humor, an ability to get through the series' fact-paced dialogue, and a certain quirky look. Then the two would champion actors whom they thought would fit in at Stars Hollow. They brought in Adam Brody (The O.C.) for several roles before he became Dave Rygalski, Lane Kim's guitar-playing boyfriend; they found a part for Danny Pudi (Community) after seeing him in a college showcase, and brought in Rami Malek for a general (Mr. Robot) after they found his black-and-white headshot with a note that said, "I'm great, you should meet me." Malek later joined Lane's Bible-study group.
Certain roles had to fit a certain look — "If an actor's going to be a love interest, they're going to be a looker," Casey said — but it was rare for there to be much intervention from the network. She remembered only a few instances where the WB "strongly suggested" that an actor find a place on the show, once with Chad Michael Murray, who took a role as Rory Gilmore's prep-school tormentor in season one.
***
Working with Ryan Murphy on Glee, Robert J. Ulrich got the chance to bring in actors to play characters who were racially diverse, queer, or had disabilities you don't always see on TV. In one famous instance, he also helped create a role that wasn't already on the show. Ulrich had Chris Colfer read for two parts (Artie and another character, Rajeesh, who didn't make it into the series). Neither quite fit, but after showing the actor to Murphy, the creator famously decided to write a new character, Kurt, for Colfer on the spot.
On Friday Night Lights, Lowy described a chain of support and respect, starting with then–NBC president Kevin Reilly through to creator Peter Berg and her team. Lowy said that she and her team never once had a problem with the network, which made her comfortable pushing for the actors she really wanted. In one famous instance, Berg thought Kyle Chandler wasn't a good fit for the part of Coach Taylor, but Lowy insisted the director sit down with the actor for five minutes — she thought she saw a sort of strength in him that hadn't yet been tapped — and eventually won him the part.
"As a casting director, that's my job," Lowy said. "To get people to open their minds a little bit, just for five minutes. Because if I don't do that, why did they hire me?"
That sort of freedom is never guaranteed, and the boundaries of casting directors' purview have changed over time. Robin Lippin recalled that on Saved by the Bell, she could hire whomever she wanted to for parts with ten lines or fewer, which meant bringing in actors like Tara Reid and Danny Strong. But she said the role of a casting director is always "a little political": You have to learn when to push hard for actors and when to push gently. In one case, Lippin decided to go to bat for Hilary Duff, who was auditioning for a role in Lizzie McGuire. "I knew she was it," Lippin said of the actress, but her producer, Stan Rogow, who liked Duff's performance, had another girl in mind for the part. When Duff's mother heard about the producer's preference, she decided not to let her daughter audition. Lippin decided to call Duff's agent and tell her she would get the part, convincing her mother to let her audition. And, well, hello, fabulous.
Since the advent of digital film, most casting sessions now are taped. The footage is then sent to more people along a network's chain of command. Where it might previously have been possible to exert creative freedom over small parts, more network involvement means that it's harder to get past first impressions, especially for untested performers.
"The fact that so many people are put on tape these days makes easy it for producers, directors, and other network people to look quickly and then approve people or not approve them," Lippin said.
***
Lippin cast the original Saved by the Bell crew, but one of her favorite experiences of working with young stars comes from the set of State of Grace. The 2001 show was a Wonder Years–like Fox Family series set in the 1960s, starring 12-year-olds Mae Whitman and Alia Shawkat, who became close friends on set. Most TV shows don't cast stars that young. Strict union rules govern how many hours actors under 18 can spend on set — though the number increases if actors are emancipated — but more often than not, producers and creators just want to avoid the risks that come with stars who can age quickly and unpredictably.
In Saved by the Bell, Lippin cast actors near the age of the high-school characters, which meant finding people who could look the part and have natural comedic timing. Slater was the hardest role to cast, she said, as the character was originally written as an Italian, Fonzie-like character "with a great body, and the right age." Mario Lopez filled the role once they expanded the search to include Latino actors, and, according to Lippin, he was right from the moment he entered the room.
Age requirements vary from show to show and network to network, often to fit the needs of specific shows. Lowy remembered working on the casting of My So-Called Life, which needed a "young young girl" — someone like the 13-year-old Claire Danes, who eventually got the part — to embody the perspective of the starring character.
Actors in the upper grades can be a few years older than their characters, but younger roles, Lowy said, tend to need that very young perspective. They tested Emma Stone for the part of Taylor's daughter Julie on Friday Night Lights and loved her performance, but decided that Stone, who already had a few credits to her name, "felt a hair too old" for the character, and they cast the younger Aimee Teegarden instead.
Not every show pays that much attention to age, often because there can be so many other considerations — like whether they can sing and dance, for instance. Ulrich said that he likes to cast as close to age as possible but pointed out that, as in most casting decisions, it's the audience's reaction that matters most.
"I don't think people who watched and loved that show thought, One person's so much older than the other," Ulrich said while discussing the difference in age between Chris Colfer (born 1990) and Cory Moneith (born 1982), whose characters on Glee were in the same class, but believably so, because of the strength of the actors' chemistry.
Lippin noted that these sorts of decisions often stem from networks' and creators' tastes, and it becomes the casting director's duty to work within those guidelines. Aaron Spelling, who oversaw the 90210 empire, favored characters with the right look above all else. He gave her some of her first work as casting director, and she quickly learned how to match his style. The WB — later the CW — tends to favor good-looking stars, according to Lippin, though it also puts a significant emphasis on acting ability.
"When you sign up, you know what they want," Lippin said of working with a creator or network with a specific style. "And when you cast, you cast accordingly."
***
Most casting directors don't get the chance to get too close to the actors they advocate for. The few minutes in the room can admittedly be powerful: Lowy described the experience of seeing Michael B. Jordan do a pre-read for season four of Friday Night Lights (she had not seen The Wire at that point) as equivalent to seeing Claire Danes read for My So-Called Life — "This is the guy, this is the person," she remembered feeling. But after the actors move on to set, there's not much reason to stay around or stay in touch.
Casey, who no longer works in casting, noted that connections can form when a director advocates for someone new to the industry, regardless of whether they get the part. She and Rudofsky brought in Robert Pine (CHiPs) for parts on Gilmore Girls several times, but they never found one that fit just right. Once Pine mentioned that his son, Chris, was starting out in the industry, and they decided to meet with him. They auditioned Chris Pine for a guest spot as a young Christopher. He lost out on the role to Phillip Van Dyke, but Pine remains thankful to Casey and Rudofsky for introducing him to the audition room and occasionally gives them shout-outs in the press.
As Lowy described it, this kind of connection is partially due to what's unique about casting young actors in the first place. If you become their advocate in the absence of other data, their success is nearly empirical proof of your taste. When actors thank Lowy for helping them get parts, she tends to have one reaction: "I always say, 'Look, you made me look really good.' I need them as much as they need me."