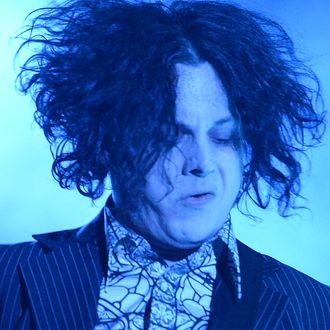 Jack White.
Photo: Jason Merritt/2014 Getty Images
Jack White gave thanks over the long holiday weekend by opening a Third Man Records store in his hometown of Detroit. It's the label's second location (the first came seven years ago in Nashville), which will similarly sell vinyl, limited-edition records, and other Third Man merch; and will serve as a low-key live venue for performances, readings, and signings in the city's culturally rich Cass Corridor area. (It will also house Third Man Vinyl Record Pressing, a release on the company's website says.)
"It's such a wonderful thing for Third Man Records to be here in the Cass Corridor, where so many of us made our bones and so many people from Detroit and our community did so many artistic things," White said of the homecoming Thursday, according to Billboard, which noted that Third Man selected the city because they wanted to contribute to the artistic revitalization happening there. "Everything about this neighborhood to me seems like the perfect place for the renaissance, the rebirth, the growth from the ashes that Detroit's gonna rise from."
Danny Kroha, Margo Price, and the Gories, among others, performed for the opening. First-time patrons were also reportedly treated to a full Thanksgiving dinner and late-night pizza snack because White is not stingy when it comes to holiday openings. (Should White team up with Billy Corgan's tea shop next year for the ultimate record-shop holiday experience? Maybe.) For more on the musician's new shop, as well as its opening festivities, scope out the video below or head here.