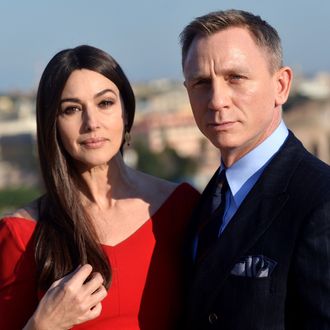 Photo: TIZIANA FABI/AFP/Getty Images
What do Spectre, a film about a sexy British spy who seduces women, kills people, and tries to avoid being murdered by covert splinter cell terrorists, and Peanuts, a film about animated kids based on Charles M. Schulz's iconic comic strip, have in common? They both dominated at the domestic box office for one of the best weekends of the year, that's what. Spectre made a smashing good $73 million, while Peanuts nabbed $45 million. Last week, the top five films put together made less than either Spectre or Peanuts made this weekend. Maybe someone should pitch a James Bond/Charlie Brown spin-off? The football Lucy is always pulling away from Charlie Brown could be a nuclear football or something. Rounding out this week's top five are The Martian ($9.3 million), which is now the highest-grossing film, domestically, of Ridley Scott's storied career with $197 million; Goosebumps ($6.9 million, $66.4 million cume); and Bridge of Spies ($6 million, $54.9 million cume).
The less blockbuster-y side of the box office also had a good weekend. The Michael Keaton–starring Spotlight earned $302,276 on five screens; the tear-jerking period piece Brooklyn earned $181,000 on five screens; Hollywood Blacklist drama Trumbo, starring Bryan Cranston, earned $77,229 on, you guessed it, five screens; the delightful documentary Peggy Guggenheim: Art Addict made $22,258 on two screens; and Frederick Wiseman's In Jackson Heights earned $15,150 on one screen. Overall, this was a Spectre-ular weekend for movies.