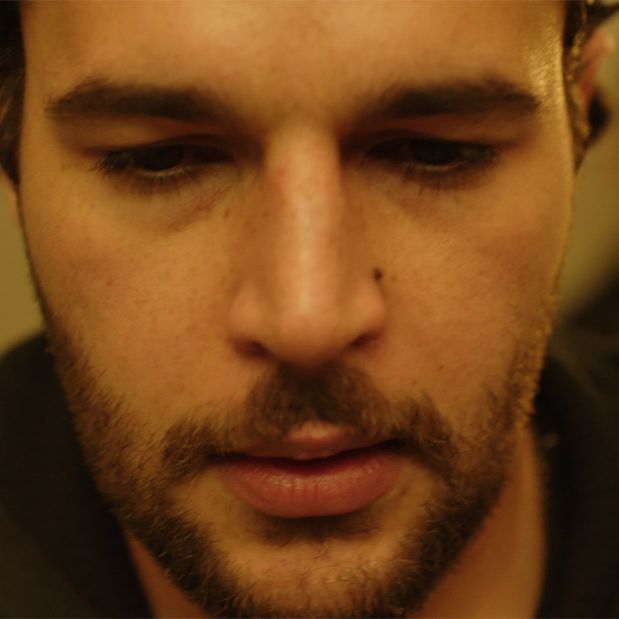 Despite what you may sometimes come to believe from reading this site, there's not much glamour in the daily life of a culture writer/blogger. It's a lot of staring at computer screens and sending Slack messages to each other while sitting at cubicles. (Or in the case of Jesse David Fox, standing at his, literally towering over me and Alex Jung.)
So you can imagine the excitement at work the day a film crew and Charlie from Girls (Christopher Abbott) and the dude from Office Space and Sex and the City (Ron Livingston) came into the New York Magazine offices to shoot a few scenes for an independent movie called James White — which is hitting select New York and Los Angeles theaters this Friday. We refrained at the time from handing Livingston Post-its saying, "I'm sorry, I can't, don't hate me," or fangirling (and fanboying, let's be honest) in Abbott's face. But now that the movie is going out into the world, we couldn't resist celebrating our minor involvement by throwing a party last Monday for staffers, Vulture Insiders, and many a film buff.
Watch the trailer below for a thrilling glimpse of our elevator bank and our COO Kit Taylor's office!
It helps that the movie — an intimate, 85-minute portrait of a mother battling serious illness (Cynthia Nixon) and her self-destructing 20-something son (Abbott) — is really, really good. Both Abbott's and Nixon's performances are being touted as awards-worthy; Abbott's been called "a young Harvey Keitel," who could easily be the volatile lead of a John Cassavetes film. It's also the first feature from writer-director Josh Mond, whose work I've written about for years as part of the filmmaking collective behind such dark, psychological thrillers as Martha Marcy May Marlene and Simon Killer. But I promise I had nothing to do with our critic Bilge Ebiri calling it "sublime," or the equally effusive reaction of our lead film critic David Edelstein, who moderated a Q&A on Monday with Nixon, Abbott, and Mond.
"This is strange, I'm sitting here talking calmly, rationally, but I'm so blown away by both your performances, if I haven't made that clear," Edelstein said to the actors, then later added, "The beauty of this film, and it's a great film, is it's so organic. You use the restrictions to create this high-wire anxiety. You have great actors. … It just gels. The damn thing gels."
Here are a few more things we learned about the movie — and ourselves — that night, including David Edelstein's talent as an armchair psychologist. (SPOILERS AHEAD.)
It's about the chaos of impending loss.
The movie leans into the idea of a fuck-up son having to become a rock for his single mother, while his already-shaky grounding is crumbling beneath him. Abbott calls it "a coming-of-age of someone who should have come of age already" — a portrait of a young man who's not so much getting his life together, but just barely staving off total disintegration. "I definitely connect to the chaos more," said Mond, "the urgency when you don't have a choice. You have to be there for her, there's nobody else. And the whole movie, that's what he's afraid of. He doesn't believe he can do it."
The hypnotic opening scene is meant to mimic a drug high.
Mond described what he calls the "beats" of a wordless opening scene that's meant to serve as a prologue. It begins by coming in and out of focus of an extreme, handheld close-up on James at a nightclub. "We started out like he's high, at his highest moment, and he's going to chase it," said Mond. "Then he loses that high and he puts on music [in his earbuds] in order to chase that high, then he gets a girl to keep the high going, then to the bathroom where he's at his full peak — we hear the music from his head — and you start to see his consciousness come into play." From there, he falls apart and the music goes away and he's at a Shiva for his estranged father at the house of his mother, who we quickly learn is undergoing treatment for cancer. Then it's back out to the nightclub, and back to the Shiva. "The beats of being as high as possible and chasing it and building himself back out, we decided you could copy and paste that opening and apply it to anywhere in the film," said Mond.
Edelstein: It's so awesome. I felt the shot as you described it. I can see why you were able to get the money for this movie.

Mond: Would you like to donate?
The film isn't autobiographical, but both Nixon and Mond had personal experience with the material.
Nixon's mother died under similar circumstances in January 2013, and the movie was shot that November. "Everybody's illness is different, everybody's death is different," she said, "but there are certain things that recur. And when you've seen it, you're much better able to re-create it." Mond was just turning the corner after years as an impoverished filmmaker when his mother, Corinne, passed away. "Things were just starting to work out for us as a company, we had just sold Martha [Marcy May Marlene] to Fox Searchlight and we had just gotten a two-year deal with them just before she died," he said. "I was literally in L.A. when I got the phone call to come home, that she was going to pass."
He got to tell her all the good things that were happening for him, but, he said, "It still was like this pipe dream, do you know what I mean? And there was a lot of guilt and a lot of shame, and I was there quite a bit for my mother when she was sick, but there were times where I wasn't, and I wanted to highlight those, because I think a lot of people who've gone through it can identify. I think it was important to heighten those few moments where you are acting out and you're trying to balance the intensity from when you are with that person who is dying to when you're alone and how to process it."
Nothing's more terrifying than playing a version of your friend in a super-personal movie.
Abbott and Mond have been good friends for years, so when Abbott agreed to take on the part, what scared him most was that pressure of having to do right by a friend. "It's really not autobiographical," said Abbott, "but there are elements of it that are and I know there's a lot of Josh in the script, so just as a dear friend I didn't want to ruin it. But then my ego and the actor part of me was terribly excited about that. I can't deny that. There are scenes in here that I get to show off and I mean that in the purest sense possible. It's well-written material, and it's just stuff you can really sink your teeth into and I was terribly excited to do a lot of the scenes. Terrified and terribly excited."
One of the trickiest parts about acting is being a believable liar.
Nixon said that her favorite thing about Abbott's performance are the parts when James is scrambling to justify his actions, like when he leaves her — still sick — and tells her he's going to Mexico to get his life together, but is really on a bender. "Just to watch him lie is fascinating," said Nixon, "because apart from the fact that Chris is playing it, I don't really understand how he makes so many mistakes and bad decisions and selfish decisions and I feel like when I watch the film I just always root for him. Because we see him trying so hard, even when he's fooling himself, we just see him trying so hard." The tricky part, she said, is not to think about lying or broadcasting the lie, but to put yourself inside the strange, self-destructive mind of someone who at the time really does believe the words coming out of his mouth, "because when you're lying," she said, "you really try and lie well or you wouldn't bother to lie at all." "You lie to yourself first," said Abbott.
Chris Abbott taught David Edelstein a word.
Abbott described James as "guttural," meaning he's a smart person who's incredibly inarticulate about his emotions, and Edelstein admitted he'd never heard the word. "I think he really means like from the gut," said Nixon, helpfully. "It's a fantastic adverb!" said Edelstein. "I'm going to use it from now on. I was just being guttural, dear. I didn't mean to erupt on you." "Get your mind out of the guttural!" said Nixon.
The movie is in many ways an ode to single mothers.
Mond and most of his closest friends (represented in the movie by James's best friend, Nick, played by Kid Cudi, who also did the original score) were all raised in Manhattan by their mothers, which was both "loving and very complicated," he said, particularly when they started rebelling as teens. Mond went to four high schools because he kept getting kicked out. "You don't have a father figure and your mother's trying to play both roles," he said, "and it's a dangerous line of enabling because they don't know what to do."
Adding illness takes a complicated relationship to an entirely new level. "As a parent," said Nixon, "I think you do everything you can for your kids and you try not to ask too much of them, you try not to place too many burdens on them. And I think that the thing with Gail [her character, James's mother] is she's placed in a position where she finally has to put the burden on him because there isn't anybody else. She doesn't have a boyfriend, she doesn't have a husband, she doesn't have a mate." She both needs things from him, and hopes for a future for him where he's freed of that, but there are no easy resolutions. "I think a less interesting film, a more obvious film," said Nixon, "would have used Gail's illness and James's coming through for her as his stepping stone to maturity, and I think this is a far more ambivalent portrait. Because this is not a film, I don't think, that says suffering is ultimately redemptive."
There's beauty in the sadness, though.
Edelstein pointed out a scene in the film when Gail's illness is peaking and James is holding her on the floor of a bathroom and they start spinning a story of the future they know they will not have. "I did think that that pipe dream they spun, that conspiracy of illusion, was one of the truest moments of love I've seen onscreen in a long time," said Edelstein. "And even though, as you say, it was false, there was an enormous amount of truth in it, in terms of the emotional longing and a kind of communication. I felt like I was going on a real journey with you."
David Edelstein can talk psychology for hours.
I've known David for years but I'd never seen him do a Q&A before and, boy, does he dig deep. It was hilarious and awesome. In one particularly fascinating round, he asked Mond if the secret to being a great writer is the belief that you're doomed and terrible and that the worst-case scenario is always around the corner. Why did Mond write James as a fuck-up, while Mond was so together and driven and had built this successful company with his friends? "James is sort of what you thought you were inside," said Edelstein, "even as you were successful and you were moving forward and being very constructive and relatively organized in your life. And yet there's almost this parallel thing going on of your failures, constantly, how you could fail or did fail from moment to moment to moment. I'm wondering as I listen to you if that's not something that many great writers share, however successful they are, they live on this worst-case scenario track."
Mond explained that his mind naturally goes toward the negative, but he's been trying to teach himself to live in the middle and be present through meditation. (Earlier in the evening he'd extolled to me the virtues of an app called Buddhify.) "I'm trying my best to feel my body," said Mond. "And I think I needed to examine the things that I obsess about, the hallucination of it all and get perspective that it's okay, that it's okay that I ran away, that it's okay that I acted out. It's human. Do you understand what I'm saying? That it is about acceptance and that you need to examine the shit." He paused and laughed. "I don't know if I'm having a therapy session."
"Well, that's what an interview should be, really," said Edelstein. "Actually, I come from a family of psychiatrists."
"Really? Not therapists?" Mond asked.
"It's a problem," said Edelstein. "I think Freudian perspectives can be dangerous." Though, Edelstein said, his personal philosophy is "post-Freud."
It was time to open up to questions from the audience, but Mond wanted to keep going. Did Edelstein maybe want to hear about the dream he had, perhaps prescribe some medication? "This is free for me," Mond said. "I don't have insurance. Can I come to your house?"
Additional reporting by Marcus Jones.