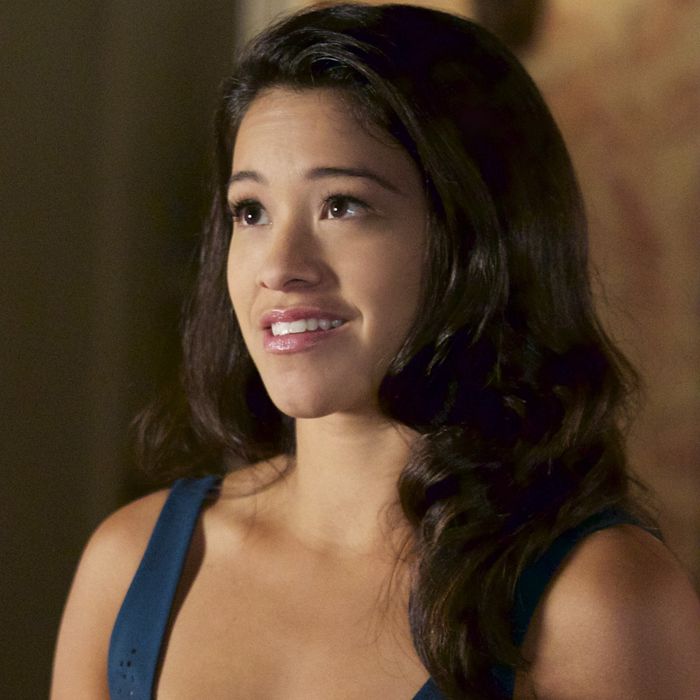 Gina Rodriguez as Jane.
Photo: Tyler Golden/CW
Jane the Virgin was one of the sweetheart shows of the 2014–15 TV season: bright and original, funny and smart. But lots and lots — and lots — of people somehow neglected to watch it. Luckily, JTV's first season is now on Netflix, and from our totally unscientific survey, it seems new fans are finding and falling in love with the show. Welcome to the fold, newbies! If you're just getting started, here's everything you need to know going forward. (Don't worry; no spoilers.)
Be ready to cry. JTV will sneak-attack you over and over again. What a fun, campy telenovela! Just kidding — it's more emotional than Parenthood, and the family's expressions of love are earnest and gratifying in ways that surpass understanding.
Pay attention to minor characters. Jane has a sprawling world, and while some folks only pop up for tiny guest arcs, lots of characters reappear. It's a soap, so … sometimes they appear in unexpected ways.
Don't watch more than four in a row. The show is dangerously binge-able, but its signature sudsy plotting benefits from some breathing room.
If you're multitasking, look up when you hear the typing sound. Oftentimes key information is conveyed through the on-screen text, and it's sometimes in opposition to what the narrator is narrating. Don't let it pass you by. Also, look up when you hear the texting sounds — again, important details.
Have an open heart. People you start out loving might take a turn, but more likely is that characters you start out not loving will win you over. Be ready and excited for this!
Prepare to suddenly find formal shorts more fashionable than you did before. There are a lot of formal shorts worn on this show. It works, but remember: This show is pretend.
You can find Vulture's recaps here, which start with episode ten. (Sorry!) Catch Gina Rodriguez's moving Golden Globes speech here.
After you watch episode 12 — and not a second sooner — read this interview with showrunner Jennie Urman. After that, read this interview with Jaime Camil, who plays Rogelio. Once you finish the whole season, read this interview with Anthony Mendez, the show's narrator.
Now it's time to catch up on season two! The CW is streaming all of the episodes so far. They're also on Hulu, if you prefer.
JTV is very Twitter-y. Once you're up to date on the show, here's who to follow. Note: Expect people involved in the show to tweet about an episode perhaps while it's airing, even if you are not in that time zone and are not watching it right then! It is on you to manage that however you choose.
Showrunner Jennie Urman: @jennieurman
Gina Rodriguez (Jane): @hereisgina
Justin Baldoni (Rafael): @justinbaldoni
Brett Dier (Michael): @brettdier
Andrea Navedo (Xo): @andreeanavedo
Jaime Camil (Rogelio): @jaimecamil
Ivonne Coll (Abuela): @ivonne_coll
Yael Grobglas (Petra): @yaelgroblas
Anthony Mendez (the Narrator): @anthonyVO
Yara Martinez (Louisa): @yara_martinez
Diane Guerrero (Lina): @dianeguerrero_
Azie Tesfai (Nadine): @azietesfai
Bridget Regan (Rose): @bridgetregan
The writers: @JaneWriters