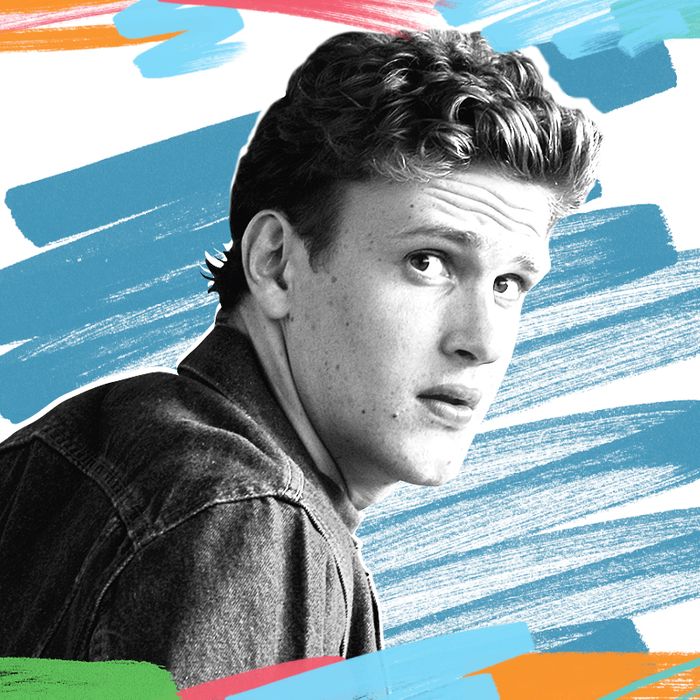 Photo-Illustration: Vulture
Freaks and Geeks, which was just eliminated from our High-School TV Showdown, is chock-full of embarrassing moments — after all, it's about what it's really like to be a teenager. But for Jason Segel, who played Nick Andopolis, what he calls "one of the most uncomfortable things I have ever put onscreen" is also a moment that helped change his career path and propelled him to become a writer as well as an actor.
"Judd [Apatow] casually said one day, 'I'm going to have you sing an embarrassing song to Lindsay in the next episode,' so go write it," Segel tells Vulture. One problem: The actor didn't know how to play guitar. Apatow's response? "You'll figure it out." So Segel sat down, learned to play guitar, and wrote "Lady L," making sure to work in a line about Lindsay's ubiquitous uniform, her green army jacket. "I have no idea if it's what Judd intended, but it makes me laugh," Segel said.
As a young actor, that was a transformative moment. Another one was learning to do improv in his comedy scenes, which he had never done before. "I realized I could write," Segel said. "When Judd and I first discussed improv, he said, 'If you can improv the way you can, you can write. That's just improv-ing on paper.'" The biggest lesson Apatow taught him was that he didn't need to wait or ask permission to write. "Judd said, 'Here's a pen and paper.'"

Even though the show was under pressure by the network to "create more victories" for the characters, Segel is proud that Paul Feig, Judd Apatow, and Jake Kasdan stuck to their guns and kept the show more honest. "Their response was to have Martin Starr catch the fly ball," Segel said. "And then you find out it's only the first out in the third inning, and it's totally meaningless, except in his own mind."

During Segel's recent appearance at the New Yorker Festival, they showed a clip of another moment of him singing on the show — kind of. "When I take Lindsay Weir to my basement, and she thinks we're going to have sex, and I sing 'Lady' to her, there was only a blueprint for that scene," Segel said. "It's one of the scenes I'm most proud of. But I haven't seen it in probably ten years, and it was probably the most uncomfortable scene I've ever watched! It's not like the audience was rolling in laughter — they were covering their faces!" He laughed. "And I was sitting there with such joy, going, 'Boy, that is devoid of shame or pride.'" Such was the beauty of Freaks and Geeks.