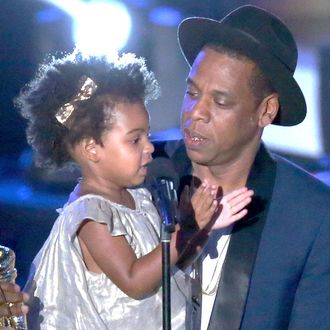 Jay Z and Blue Ivy.
Photo: Mark Davis/Getty Images
Jack White has his guacamole.* Grimes has her bulldogs. Now, TMZ has gotten its hands on Jay Z and Kanye West's tour riders and they reveal … not a whole lot, actually. Jay Z prefers the thermostat to be set at 71 degrees, Kanye requires that all vases be cylindrical, and both men are particular about their liquor. (Kanye wants three bottles of Hennessy, while Jay prefers his own brand of Champagne, just like Aziz Ansari predicted.) More adorable are Jay's requirements for Blue Ivy's hotel rooms. Per TMZ: "For starters, the entire suite must be childproofed with all corners, sharp edges, and electrical outlets all covered, and statues, lamps, and breakable objects removed." The rider also specifies that Blue only be served organic whole milk, which makes this literally the most wholesome list of tour demands ever.
* Through some sort of colorful mishap, this article originally stated that Jack Black's guacamole recipe went viral. It was Jack White's.