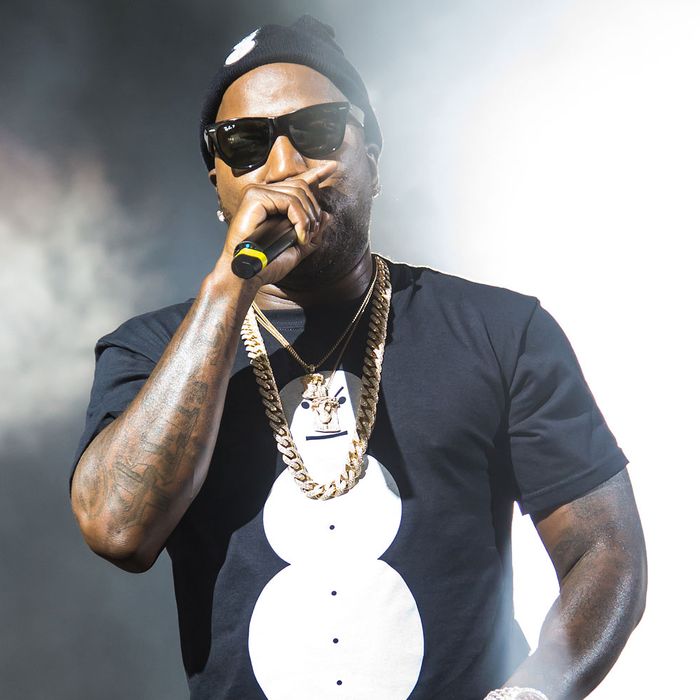 Pastor Young.
Photo: Ouzounova/Corbis
At Chance the Rapper's stop in Atlanta on his Family Matters Tour last week, the face of rap's next generation paid respect to one of the A's elders, bringing out Jeezy to perform one of his biggest hits, "Put On." Ten years ago, Jeezy (or Young Jeezy as he was known when he was, you know, younger) released one of Southern trap's seminal records with his major-label debut, Thug Motivation: 101, an anniversary he recently celebrated with a star-studded concert and documentary. Even at nearly 40, Jeezy has no intention of removing himself from the city that shaped both his sound and character. On Church in These Streets, his new LP out this week, he's back in Pastor Young mode for the first time since 2008's Recession, again placing a passionately delivered sermon to the hood at the album's heart.
Vulture recently caught up with Jeezy at the Manhattan offices of Avión Tequila, for which he serves as a "multicultural adviser" (smart move, you just made us say their name). Just two days prior, he'd surprise-released a new EP, Politically Correct, on the occasion of the 20th anniversary of the Million Man March, where he sat front-row alongside Diddy. We talked to the Snowman about his thoughts on Obama's presidency, the night he thought his past finally caught up with him, and why he's not here to bullshit anyone.
He's no politician, but he's got Election 2016 on his mind.
When Larry Wilmore invited Jeezy as a guest on The Nightly Show last month, he appeared sympathetic of President Obama's many roadblocks. "He had to fix the economy, healthcare," he reminded the other panelists. But he's quick to note now that that doesn't mean he isn't disappointed. "I've said [on the song "Streetz"] that I've seen a black president, but I didn't see change. Not the change I was expecting. Like everybody else, I thought we were gonna wake up and it was gonna all be better. I don't question that some people have been affected by what he's done, but some people weren't." Can Obama still redeem himself? Jeezy remains hopeful: "He has a little over a year left to turn up. I'd like to see him get a little more aggressive with what's going on. We've got a lot of problems on our front lawns and we need to clean that up first." He's been watching the next election closely — he held a viewing party for the first GOP debate — but he's already looking ahead to 2020. "I'd definitely have to see Kanye's plan and hear him out first [before I made another "My President"]," he jokes of his good friend's presidential aspirations. "I'll tell you what, though, I would love to make some music with the new president if Kanye happened to make it there."

Facing a potential long-term prison sentence brought up some old demons.
Jeezy's candor on his new album stems from a 2014 arrest, when he was falsely accused of being tied to a fatal shooting at a Wiz Khalifa concert in California last year and arrested on weapons charges. A judge later dismissed those charges, but the arrest and stint in jail were enough to shake Jeezy up. "Ain't shit cool about sitting in jail, especially when you're grown and have real-life responsibilities. I just felt like that was the ultimate slap in the face, because I tried my best to stay out of [those] situations," he says, referring to his drug-dealing past, "and ended up being in them anyway. You'll hear some of that frustration in my music. I wouldn't call it lashing out, but I'm not gonna hold my tongue just because you look at me in a better way." He's also not worried if that brutal honesty upsets fans. "I'm not here to bullshit anybody. On the new album, I've definitely got music that the people love me for. A lot of the records you've heard so far might give off that conscious direction, but that's the way I was feeling when I was doing those songs. They were my therapy, so when people hear them, they might think, 'Why he going that way?' But that's how I feel."

He's not afraid to talk to his 19-year-old son about the reality of police brutality.

Shortly after the death of Michael Brown, Jeezy's tour with Wiz Khalifa had a concert in St. Louis. "He'd been killed maybe two or three days prior. It was the worst show on the tour," he remembers. "It felt different, just not a good energy." But he won't shield his son from what happened. "I tell him straight up: You see what's going on out here? You have to make sure you're good. Anything a real father would tell their child: It's really real out here. I've protected you and kept you out of the way of a lot of that just because of my knowledge of what really goes on in the streets. Don't stray out there on your own, get in trouble, and get locked up because there's nothing I can do then. Once they've got you in the system, you're in it. That's my little dude, so I keep it real with him. I don't sugarcoat shit."

On the open letter he posted on Instagram about the quality of black life in America.

"I wrote it sitting it down while having lunch with my son. I'm good at writing. I started out writing poems to girls, that's how I got all the ladies in middle school," he laughs, "and I was good at it. When I sit down and really write things that are near and dear to me, they normally come out better than even writing music sometimes." But he still had reservations about sharing his most private thoughts with the rest of the world. "I didn't want anybody to look at me like, 'What is he doing?' because it's a different thing. It's a letter, it's a different way of communicating with people. I thought about it, and I just put it out there because it might [resonate] better than the music. I didn't put it out there to make people feel as if I was taking the position of being a pastor of the church. I was only speaking for the streets, as a pastor of the streets. As I was writing this album and people at shows were still calling me Pastor Young, it felt like a sign. All the stars aligned, like I'm supposed to be talking like this."