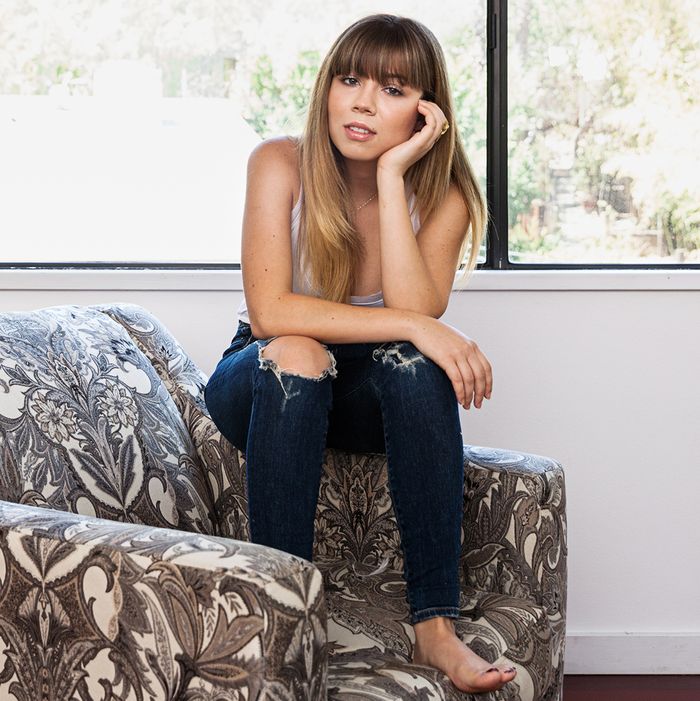 Actress Jennette McCurdy poses for a portrait at her home in Studio City, CA on Saturday, August 29, 2015. Photo by Emily Berl
Photo: Emily Berl
"I hate that so much," Jennette McCurdy says after taking a sip of my drink, a Hendrick's martini with a twist. "It makes me hyperventilate." Her face crumples like a piece of paper, and she chases the sip with her Moscow Mule, a drink she describes as so good it tastes "like Sprite." A curtain of bangs frames her big cheeks and expressive eyes, making it easy to see how she thrived on Nickelodeon for so many years. She tells me she's bewildered by my preference for alcohol that tastes like alcohol; gin, in particular, is offensive to her. "It tastes like the year you find out Santa's not real," she laughs.
We're in a deep leather booth in Bemelmans Bar, underneath the soft glow of Madeline artist Ludwig Bemelmans's murals of Central Park, listening to jazz by the Chris Gillespie trio. Bemelmans is impossibly adult but with a childlike whimsy, not unlike McCurdy herself, who turned 23 earlier this year. She was in New York for the week promoting her Netflix show, Between, a post-apocalyptic YA tragedy that was picked up for a second season. But she's best known to millions of people under 23 (and their parents) as Sam Puckett, the sarcastic best friend on Nickelodeon's teen show iCarly. Sam was the brash deuteragonist to the carefree, slightly prissy Carly Shay played by Miranda Cosgrove. She became popular enough to warrant her own spinoff, Sam and Cat — putting McCurdy alongside another Nickelodeon stalwart, Ariana Grande (who starred in 2009's Victorious), as roommates who start a babysitting business together. It was a move guaranteed to produce ratings, and it did. Sam and Cat became the network's highest-rated series in years, riding a 4.6 million viewer high when it premiered in June of 2013 before everything came crashing down a little more than a year later.
"It was somewhat dramatic," McCurdy says. "Emotions were running high, and a lot of that was just blown up because so many people found out about the show [Sam and Cat] ending."
At first blush, it all started with some sexy selfies: Photos of McCurdy in lingerie leaked in March 2014, a few days after she had gone on Pete Holmes's podcast, You Made It Weird, for a two-hour conversation in which she talked about — among many other things — her fling with Pistons center Andre Drummond the previous September. (That she's even an avid listener of Pete Holmes should tell you she is not your average starlet.) The gossip mill quickly zeroed in on her comment that Drummond was a "bad kisser," and the lingerie photos appeared online soon after, in what appeared to be an act of revenge by Drummond. Gossip sites gawked and leered, claiming to have "nude" or "topless" photos of McCurdy. The blog Perez Hilton, one of McCurdy's supporters, may have summed it up best when it said, "We're sure her fans are licking their lips in a frenzied delight right now!"
McCurdy was getting a taste of what happens to female teen stars when they reveal a sexuality of their own. "I didn't feel understood by anybody, and I felt really frustrated," she says, looking back. But as would become a hallmark trait, she fought back. After the photo leak, she tweeted, "To anyone disappointed: I sent those pics to 1 person. You can connect the dots. Shocked someone would stoop so low. I just speak w/ candor." (Drummond, for his part, has steadfastly denied the leak.) But really, this was all just presaging bigger controversies: McCurdy boycotted Nickelodeon's annual marquee event, the Kid's Choice Awards, later that month, even though Sam and Cat was up for Best TV Show and she was nominated for Best Female Actress. The show won, and she lost to her co-star Ariana Grande.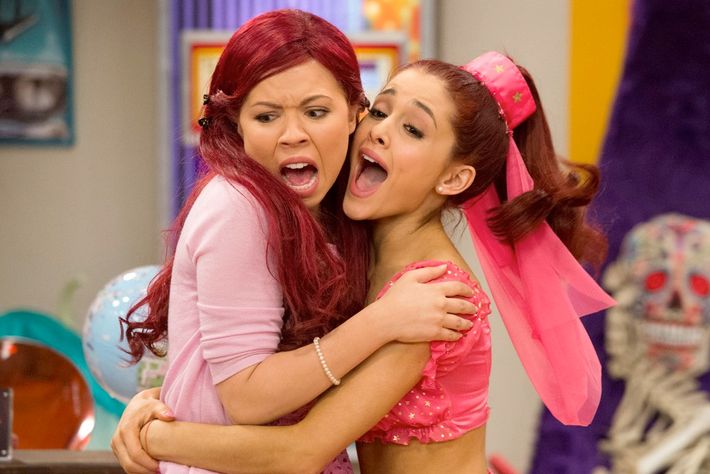 At first people speculated that McCurdy was laying low because of the photo leak, but there were reports that McCurdy was feuding with both the network and Grande, whose singing career was just taking off. TMZ reported that McCurdy was getting paid less than Grande, despite the fact that the duo had equal billing on the show. (In her only explicit comment on the matter, Grande flatly denied those rumors.) McCurdy herself was vague and circumspect, simply writing that the network had placed her in "an uncomfortable, compromising, unfair situation," and that she had to look out for herself. Production on Sam and Cat stalled in early April with the network saying that the show was going on hiatus. Eventually, and perhaps mercifully, the show was officially canceled in July 2014, with the 36th episode serving as the de facto finale. The network released a terse statement breaking the news: "Nickelodeon will not be producing any more episodes of Sam & Cat. We are very proud of the show and its talented cast and we wish them the best."
Much of this took place, of course, in front of the watchful eyes of social media. McCurdy's fans call themselves McCurdians, and there is no shortage of blogs, Tumblrs, and fan-generated content devoted to her. Her Facebook page has over 15 million likes, she has 6.3 million followers on Twitter, 4.2 million on Instagram, and 2.6 million on Vine, which she hasn't even used since June of 2014. During the spat with Nickelodeon, fans took to any number of social-media outlets to comment, analyze, defend, criticize, and extol her comings and goings, whom she was dating, what she was wearing, and whether she was making good decisions for herself.
One of their fixations was the reported beef between McCurdy and Ariana Grande. Since the two were savvy enough not to publicly say anything about the other, McCurdians and Arianators parsed their silence for meaning. For instance, some thought that McCurdy's Twitlonger essay on "fake friends" was a thinly veiled reference to Grande, and Deadline reported that McCurdy unfollowed Grande on social media (this is no longer true — the two now follow one another). After Sam and Cat's cancellation, Grande wrote a post expressing her gratitude about the show, but conspicuously left out any mention of McCurdy. "I think we butted heads at times, but in a very sisterly way," McCurdy told E! a year later. Perhaps indicating the pecking order, Grande, for her part, has not addressed this.
After Sam and Cat's cancellation, McCurdy became more outspoken about the teen television industry. She posted an entry on her own subReddit (her username is curmudgeon457) entitled "I am not a role model," in which she blasted the industry at large. "To remove myself from the role model battle, the falsified standard set by the bubblegum industry, is — in my eyes — to remove myself from the counterintuitive battle of attempting to be something perfect while being glaringly aware of my imperfections," she wrote. "Now before you start thinking I'm some sort of derelict that leads a life of crime, let me clarify. I am proud of the way I live my life. I am proud of my choices. I am proud that no one can call me fake or say I don't stand up for myself."
She was pointing out the inherent contradictions of teen-TV franchises. The shows' bright colors and easy plot resolutions belie the grueling work involved in their production with 16-hour days and 25-episode seasons. Kids shows, more than any other thing on TV, seem to most readily embrace the logic of Fordist production: "Once we didn't have child labor laws we could work like 16 hours a day," McCurdy quipped in an interview with E!, "So you are around these people constantly and it's just natural that you're going to have ups and downs." Nickelodeon, for instance, originally ordered 20 episodes of Sam and Cat, but immediately doubled the order to 40 once they saw the ratings. Stars like McCurdy become synonymous with the brand — Miley Cyrus becomes Hannah Montana, Selena Gomez becomes Alex Russo, and Hilary Duff becomes Lizzie McGuire.
Female teen stars in particular are placed under impossible constraints, and McCurdy's personal life was scoured for details online. One of those details happened to be her first major relationship with Paul Glaser, a man 13 years her senior who worked on iCarly. While there was no official comment from the McCurdy camp on their status, photos of the two circulated on the internet. McCurdians wondered if the two were actually together, and asked whether the family approved. One thread on fan forum McCurdian is called "What do you think of Jaul?": The age difference was a common complaint.
"People online would make very rude comments about him and say, What a creep to have had an eye on her for so long. But they didn't know the whole story." McCurdy says. She says they started dating when she was 18, when he came to work on the final season of iCarly. "That's an instance when I really resented social media because I thought, These people are making it hard on me."
There was a deeper fault line that ran underneath McCurdy's very bad year: She was grieving. McCurdy had lost her mother, Debra, in September of 2013 while she was shooting Sam and Cat. Instead of taking a break, she threw herself into the only world she knew: the show. "Six days after my mom died I went back to work," she said. "I thought, Oh if I do this Vine video, or If I do this episode, if I hit every mark, then I'll be fine because I'll have something else to focus on. But really I was just putting this huge life-changing event on the back burner and it was slowly causing me to unravel to the point where I would say I got to my lowest emotional point."
McCurdy's mother had been a constant presence on set since McCurdy started acting at 6 years old, shuttling her back-and-forth from home to set. "She was my biggest cheerleader, my biggest supporter, and also my hardest critic," said McCurdy. "She was very hard on me, but I always knew that it came from a place of love and that she wanted the best for me." When her mother died, Jennette lost her anchor.
"I felt like it would've done so much if somebody would've just fucking — sorry," she says pausing. She clears her throat. "It would've done so much if somebody would've just given me a hug. And I hope that that's something I can take with myself and acknowledge when somebody else is having a really hard time, that sometimes it's like, Give a person a break, you know?"
***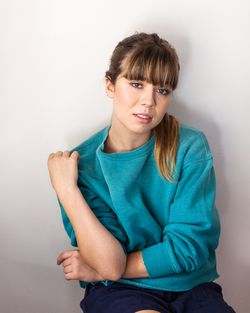 McCurdy grew up in 1,200-square-foot house in Garden Grove in Orange County, California, in a multi-generational household comprised of her grandparents, parents, and three older brothers along with three dogs, two turtles, and two birds. "I had this idea that my childhood was perfect. Everything was beautiful and wonderful and I was happy-go-lucky," she said. "But I think that in itself was an act. And that was me trying to overcompensate for the trials that I felt my mother dealing with. I was trying to be the person I thought would make her happy."
McCurdy had lived with the threat of her mother's death for her entire life. When she was 2 years old, her mother was diagnosed with Stage IV breast cancer, requiring marrow-transplant surgery and extensive chemotherapy. Miraculously, she survived. "Even when she was in remission, it was a constant fear of Oh, I'm going to get sick again. Oh, I'm going to die," she remembers. In 2010, the worst happened. Doctors found that the cancer had returned even more aggressively, spreading to her brain, sinuses, spine, and lymph nodes. Three years later, Debra McCurdy died. Jennette was 21 years old.
In the past year, McCurdy has started going to therapy to sort out everything that happened. She maintains a professional calm about the Nickelodeon drama. I ask her if she had wished the network would have done more to support her after her mother's death. "I knew I had a job to do, and I think I was not acknowledging what I needed," she says. "I don't think it's a network's job to understand emotionally where somebody is coming from. I think as much as they can try to appreciate and relate, they also have jobs to do." McCurdy won't go into details about what exactly transpired, but simply said that the show ended because she and Ariana Grande "both had very different ideas of where [they] wanted [their] careers to go." (Nickelodeon declined to comment on what had happened.)
Her relationship with Glaser was particularly edifying. They started dating when she received news of her mother's cancer recurrence, and she understands it now as a moment of displacement. "I put my feelings of love toward someone other than my mother, who had been the receiver of all that love up until that point. I knew she was leaving, and I was panicking, and I think there was just a part of myself that was ready to switch these feelings of love toward a new person." But when her mother's prognosis wasn't improving, McCurdy ended things with Glaser.
"I needed to go through that loss on my own," she said. "I felt that I would put too much of myself into another person, and become very attached. I thought, Oh, if I share this loss with someone, and I share this part of myself with someone, and this reality with someone, then they become my reality. And that thought scared me."
Miranda Cosgrove has been one of the constants in McCurdy's life. They first met during a screen test for iCarly when Cosgrove was 13 and McCurdy was 14, and they've been close ever since. (They spent McCurdy's 23rd birthday in Mexico.) McCurdy lives a quick 15-minute drive away from Cosgrove in Los Angeles, and often spends the night at her house in the Hollywood Hills. "I actually split my time between my parents' house and my house, because I haven't been myself," Cosgrove says to me over the phone. "I basically stay at my house whenever Jennette can sleep over, and I stay at my parents' house, so I don't have to be at my house alone."
"Jennette's not like that," Cosgrove continues. Over the years they've spent on set together, enduring press junkets and trips abroad, she's seen McCurdy become more grounded and self-assured, maintaining her sense of humor even as the world around her fell apart. "She stays there all the time by herself," she said. "She's the first person I would call if I needed somebody to pick me up from the airport. She's just always the one that's on time and around. She's really responsible. Out of all my friends, she's the most independent. Maybe that's the way she's changed the most."
McCurdy has been dating her co-star on Between, Jesse Carere, 22, who also plays her love interest, Adam, on the show for about a year now. Like McCurdy, Carere started acting at an early age, starring in MTV's remake of Skins and then Finding Carter. The idea of love — that is how to love — preoccupies her. I ask if she loves him. "This is maybe staking a big claim in my future self, but I would say that I certainly love him right, you know?" She turns inward. "I feel like I'm learning to love in all the right ways and to accept love for who I am versus an impressive version of myself. I think from an early age I learned to be whatever person people needed me to be."
***
We're on our second round, snacking on pita bread and hummus, talking fashion. McCurdy has been going through a number of closet purges lately. She got rid of all the Air Jordans she got while she was dating Drummond, and then gave away a bunch of sequined Miu Miu shoes, in part because she didn't think she was the kind of girl who wore sparkles anymore. McCurdy is a great conversationalist. She's candid and funny, with a fluid, almost mercurial disposition that's as ready for a good joke as a good cry. She adjusts her demeanor based on what she thinks will be received best at any given moment, a skill she honed from a young age. "I'm almost testing the waters of what the person across from me is going to believe and that will be the one that it is. Do they think I'm more kidding, because then I'll zing it up. Do they think I'm more serious? Because I'll shed a tear," she said. Cosgrove echoed something similar to me when we spoke. "Acting can be hard because you have to grow up fast," Cosgrove said. "You're always trying to make people like you — even in interviews. That part of it is kind of hard for a young person." The difficulty, in no small part, is figuring out who you are amid the din of other people telling you how you should be.
For McCurdy, her work after Nickelodeon has been a way to clear her mind. She took the role on Between because she felt the genre of post-apocalyptic fiction would offer her a chance to work through everything that had happened in the past year or so. "For young people my age, there's a conscious effort to discover ourselves, and I think right now it's manifesting in entertainment. Our worlds aren't literally falling apart, but it feels like that oftentimes," she said. On Between, McCurdy plays Wiley, a pregnant teenager who ends up giving birth on a table after both of her parents die. "I see these shows and I'm like, Oh, I'm going to be fine. Rocks aren't going to fall on my head." Between, she says, was a "way to access and tap into emotions" she hadn't allowed herself to experience before. "I feel like the whole process of the show was this arc of self-discovery."
McCurdy may be at her best, though, when she's writing and producing her own material. On Vine, she made punchy, observational bits — sometimes in the familiar "talk into the camera" selfie mode, but more often in the form of mini-sketches, where she would play various Hollywood personalities that orbited her life:
After Sam and Cat's cancellation, she wrote and produced her own web series, What's Next for Sarah?, in which she played a teen queen who suddenly finds herself single and jobless. The third episode of the series throws shade at Grande. Her fictional persona, Sarah, runs into Gloriana — a singer who wears her hair in a ponytail with a bright-yellow Minnie Mouse bow on top — at a juice bar. She has an annoying tendency to talk about veganism, but more aggravatingly, all of her accomplishments. Shade notwithstanding, the series was more of an opportunity for her to metabolize conflict and pain.
"I'd like to make something that breeds tragedy with whimsy," she said. Eventually she hopes to write and produce her own sitcom in the way Tina Fey, Mindy Kaling, and Amy Poehler have done. But she's giving herself time to figure it out. In addition to a second season of Between, she signed on to star in an independent drama called Pet, opposite Dominic Monaghan. Her creative choices reflect McCurdy's quirkier sensibility. The most successful route for female teen stars has been through music: Grande, Miley Cyrus, Selena Gomez, and Demi Lovato have alchemized their fame as teenage television stars to become pop stars. McCurdy dabbled briefly in music, releasing a self-titled country album in June of 2012 that didn't take off, and decided it wasn't for her. For now, she's okay not knowing what path she'll take, or who exactly she "is." "You is a work-in-progress," said McCurdy. "You think you're going to reach some day when you wake up and you're like, This is me! It's not going to happen. So accept who you are today, and do you that day, and accept that you on Tuesday? Might be different from you on Wednesday."